The Incredible Hulk
Director Louis Leterrier said in Dark Horizons that the $129.9 million so far in domestic box office dollars doesn't seem to be enough for Marvel to revisit the Hulk again in the future outside of an Avengers movie. Its estimated $150 million budget not even recouped, and there was some question on whether or not Ed Norton would return pretty well buried the possibilities for a sequel. Leterrier had been so excited about the "Captain America" movie that he offered to direct it. Marvel, however, turned him down. But, Leterrier said, it had more to do with the fact that the studio seemed to already have both a lead actor and a director in mind.
---
Dollhouse
Joss Whedon
has posted news that the first episode of his new Fox series will look a little different than originally planned. Whedon said:
"
The fact is, I'm very proud of the [episode] we shot and the series is making me crazy with the excitement. But I tend to come at things sideways, and there were a few clarity issues for some viewers. There were also some slight issues with tone - - I was in a dark, noir kind of place (where, as many of you know, I make my home), and didn't bring the visceral pop the network had expected from the script. The network was cool about it, but not sure how to come out of the gate with the episode. [
It's not Fox's fault that a new episode was needed
] It was mine. I understood their consternation, and saw the gap between my style and their expectations, and I suggested I shoot a new [episode] and make the one I'd shot the second. This show isn't going to be buried, like the pilot of Firefly. It's simply coming after another, slightly cleaner [episode]. And because unlike 'Firefly,' it isn't a two hour-epic which introduces everyone to each other, the onus isn't on the new [episode] to explain a million things.
"
---
TV DVD News
TVShowsOnDVD.com
has posted info about "Night Gallery" (Season 2) here, "Ghost Whisperer" (Season 3) here, "Mister Peepers" (Season 2) here, "The Spectacular Spider-Man" (Vol. 1) here, "Millennium" (Complete Series) here, "Saturday Night Live" (Season 4) here, and "Knight Rider" (Complete Series) here.
---
Cowboy Bebop
Erwin Stoff
told If Magazine that he's working on the live-action movie with Fox. He said: "
I'm really excited to be working on it, and it's in the really early stages. We just signed it the other day.
"
---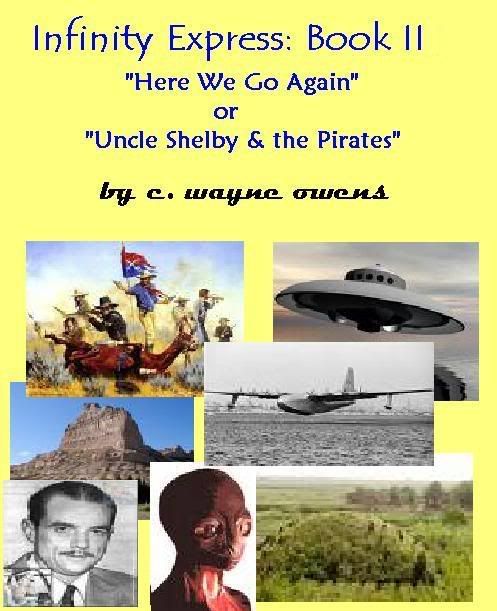 Infinity Express: Book II
The second edition has been released, you can get it at C. Wayne's Book Site. Here's the publisher's blurb: "
After returning from Victorian England, McCall loses his time bands and cannot contact Uncle Shelby. Life goes back to normal for a while. Then he finds that Dracula has survived and seeks revenge. After the bands return, McCall accidentally sets them off just as the vampire breaks into his home to attack his family. He rockets into the past, unable to protect them. If he can return, what can he do? Once he lands in the middle of the sinking of the Spanish Armada, his time band is broken and he becomes unhooked in time. The Time Police take him hostage but that doesn't last. He is hurled into the past where dinosaurs have evolved into highly intelligent beings. The future battle spills over into the past and forces McCall, his new friend Ber-Dath and the other dinosaurs to battle across time to keep evil forces from seizing control of existence. We encounter UFOs, the Little Big Horn, Hiram Scott, the Fairy Mounds, Howard Hughes and his Spruce Goose, young Clarence Darrow and the Underground Railroad.
"
---
Digital Comics on DVD
In case you were wondering why Marvel stopped making their comics available on DVD collections, they haven't. They aren't released yet, but Tales of Wonder is taking orders for the new versions. So far they have a Hulk collection and an Iron Man collection scheduled. These have 50 issues of the comics, but no Ads or Letters Pages. And they run $20.99 each.
---
---
Comic Previews
Comics Continuum has posted preview pages of
Avengers: The Initiative #15,
---
Black Panther #38
,
---
Daredevil #109
,
---
Immortal Iron Fist #17
,
---
Marvel Adventures Fantastic Four #38
,
---
New Avengers #43
,
---
&
Thunderbolts #122
---
---
---
---
---