Cartoon Network
Trio
The Network is developing three movies based on comic books. "
Firebreather
" by Phil Hester and Andy Kuhn, about a half-human, half-dragon teenager, "
Mice Templar
" by Michael Avon Oeming and Bryan Glass, tells of the adventures of Karic, a young mouse who wants to reunite the disbanded order of the Mice Templar and, finally, "
The Vanishers
" based on the Chuck Dixon comic book about the time-traveling adventures of two fifth graders named Andy and Arvis. "
Firebreather
" and "
Mice Templar
" will be CGI while "
The Vanishers
" is to be live-action.
---
Hercules: The Thracian Wars
Variety
says here that Peter Berg is adapting the Radical Publishing property. Radical's Barry Levine said: "
What resonated for them was that this was character driven, about a character who's more man than god, with conflicts and redemption.
"
---
TV DVD News
TVShowsOnDVD.com
has posted info about "Married... with Children" (Season 9) here, "How I Met Your Mother" (Season 3) here, "Family Guy" (Vol. 6) here, "The Simpsons" (Season 11) here, "The Outer Limits" (Complete Series) here, "Supernatural" (Season 3) here, and "The Sarah Jane Adventures" (Season 1) here.
---
The Rocky Horror Picture Show
MTV
is remaking "The Rocky Horror Picture Show," with new music added to the original screenplay by Jim Sharman and Richard O'Brien. No cast or a director has been named, nor has a timetable for shooting been established. Spokesman Adler said: "
I'd like to see it shown a year from this coming Halloween, but that's up to MTV.
"
---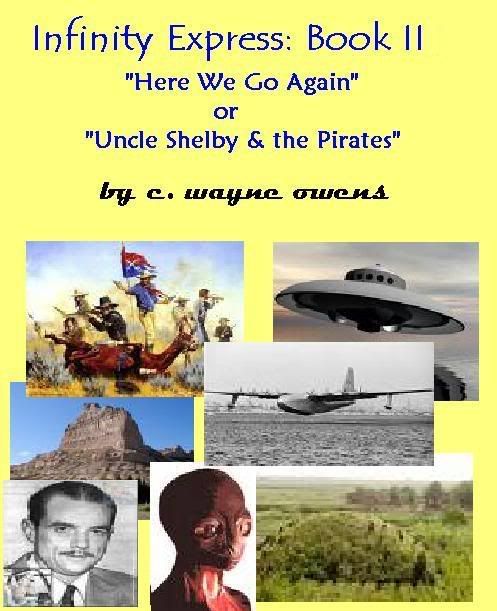 Infinity Express: Book II
The second edition has been released, you can get it at C. Wayne's Book Site. Here's the publisher's blurb: "
After returning from Victorian England, McCall loses his time bands and cannot contact Uncle Shelby. Life goes back to normal for a while. Then he finds that Dracula has survived and seeks revenge. After the bands return, McCall accidentally sets them off just as the vampire breaks into his home to attack his family. He rockets into the past, unable to protect them. If he can return, what can he do? Once he lands in the middle of the sinking of the Spanish Armada, his time band is broken and he becomes unhooked in time. The Time Police take him hostage but that doesn't last. He is hurled into the past where dinosaurs have evolved into highly intelligent beings. The future battle spills over into the past and forces McCall, his new friend Ber-Dath and the other dinosaurs to battle across time to keep evil forces from seizing control of existence. We encounter UFOs, the Little Big Horn, Hiram Scott, the Fairy Mounds, Howard Hughes and his Spruce Goose, young Clarence Darrow and the Underground Railroad.
"
---
Robin and the 7 Hoods
In the spring of 2010 get ready for a Broadway revival of the stage version of the Frank Sinatra, Dean Martin, Sammy Davis, Jr. and Bing Crosby film "Robin and the 7 Hoods" Producer Bruce Charet said: "
It's a fascinating little moment in history when the old culture met the sexual revolution. It is the Rat Pack and James Bond and Playboy - this very attractive, sexy period when all people were interested in doing was getting laid and drinking martinis.
"
---
---
Comic Previews
Comics Continuum has posted preview pages of
Broken Trinity #1,

---
War Heroes #1
,
---
Nocturnals: Carnival of Beasts
,
---
Secret Invasion: Thor #1
,
---
The Art of Witchblade
,
---
Fall of Cthulhu #14
,
---
&
Secret Invasion: X-Men #1
---
---
---
---
---