Caliber
Variety
says that John Woo will direct comicbook adaptation (with a release window in 2010), to be announced at next week's Comic-Con in San Diego. The film will not be Woo's next, as he is editing part two of "Red Cliff" for a January release in Asia. But that done he will move on to the western. Here is the official plot synopsis for this Mythical Western/Fantasy: "
The Arthurian legend as retold in the American Old West, with all of its great symbolism, magic and spirit of adventure. The Knights of the Round Table are all gunslingers bound by a code of honor to protect the weak and defend the innocent until they are undone from within by their own moral corruption. In this tale, Caliber itself is a tattooed six-gun, given to Arthur by the Indians and imbued with supernatural power. The secret of the gun is that it is never loaded with bullets, but when a man with Justice on his side is holding it, it can fire. When it does, it fires Thunder itself and never misses.
"
---
The Flash
Chuck Roven
told Slashfilm, in an article here: "
We had hoped to be able to get a new draft going before the writers' strike and we weren't able to. And since the writers' strike, we just haven't been able to find the right creative compatibility between what we're looking for and a writer and you know, we're a little bit dragging our feet, we're just waiting to see what's going to happen with this actor's strike, you know.
"
---
TV DVD News
TVShowsOnDVD.com
has posted info about "Silverhawks" (Season 1, Vol. 1) here, "The Shield" (Season 6) here, "One Tree Hill" (Season 5) here, "Nash Bridges" (Season 1) here, "The Smurfs" (Season 1, Vol. 2) here, "That '70s Show" (Complete Series) here, and "Beauty and the Beast" (Complete Series) here.
---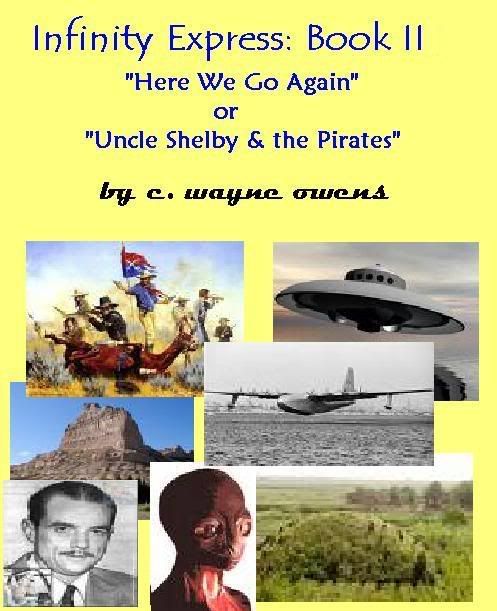 Infinity Express: Book II
The second edition has been released, you can get it at C. Wayne's Book Site. Here's the publisher's blurb: "
After returning from Victorian England, McCall loses his time bands and cannot contact Uncle Shelby. Life goes back to normal for a while. Then he finds that Dracula has survived and seeks revenge. After the bands return, McCall accidentally sets them off just as the vampire breaks into his home to attack his family. He rockets into the past, unable to protect them. If he can return, what can he do? Once he lands in the middle of the sinking of the Spanish Armada, his time band is broken and he becomes unhooked in time. The Time Police take him hostage but that doesn't last. He is hurled into the past where dinosaurs have evolved into highly intelligent beings. The future battle spills over into the past and forces McCall, his new friend Ber-Dath and the other dinosaurs to battle across time to keep evil forces from seizing control of existence. We encounter UFOs, the Little Big Horn, Hiram Scott, the Fairy Mounds, Howard Hughes and his Spruce Goose, young Clarence Darrow and the Underground Railroad.
"
---
Dr. Horrible's Sing-Along Blog
Remember, Act III is up. If you haven't seen the first to, go to the link above. Dark Horse Comics has posted the comic here, it also is worthwhile.
---
---
Comic Previews
Comics Continuum has posted preview pages of
Amazing Spider-Man Family #1,

---
Chopper Zombie
,
---
Zorro #5
,
---
Brothers in Arms #2
,
---
Blood Bowl: Killer Contract #2
,
---
Scream Queen #2
,
---
&
Warhammer 40,000: Exterminatus #1
---
---
---
---
---