Superman: Man of Steel
Empire Online
confirms here what was reported as a rumor here by IESB.net that Bryan Singer has returned to work on the proposed sequel to "Superman Returns." Another rumor, as yet unconfirmed, is that "Transformers" writers Roberto Orci and Alex Kurtzman would rewrite the script. Singer said: "
Yes, I'm just getting back with writers after the strike. We're just in the development phase. I'm starting to develop a sequel . . . with the intention of directing it. The first one was a romantic film and a nostalgic film. I'll be the first person to own up to that without making any apologies for it. I knew it was going to be that from the outset. And now that the characters are established, there's really an opportunity to up the threat levels. Clearly there'll be a body count [laughs]. From frame one, it will be unrelenting terror! All those teenage girls who found the movie and mooned over
James Marsden
or
Brandon [Routh]
? Well, I'm going to wake them up!
"
---
Attack of the Killer Tomatoes!
M. Dal Walton III
will produce a remake of the 1978 film "Attack of the Killer Tomatoes!" Kent Nichols and Douglas Sarine, creators of the Ask A Ninja humor Web site, will write and Nichols will make his feature-film directorial debut.
---
TV DVD News
TVShowsOnDVD.com
has posted info about "The Bill Engvall Show" (Season 1) here, "Square Pegs" (Complete Series) here, "Weeds" (Season 3) here & here, "The Dead Zone" (Season 6) here & here, "Fastlane" (Complete Series) here, "Lil' Bush: Resident of the United States" (Season 1) here, "The Vice" (Season 2) here, "Meerkat Manor" (Season 3) here and "The Magnificent Seven" (Complete Series) here.
---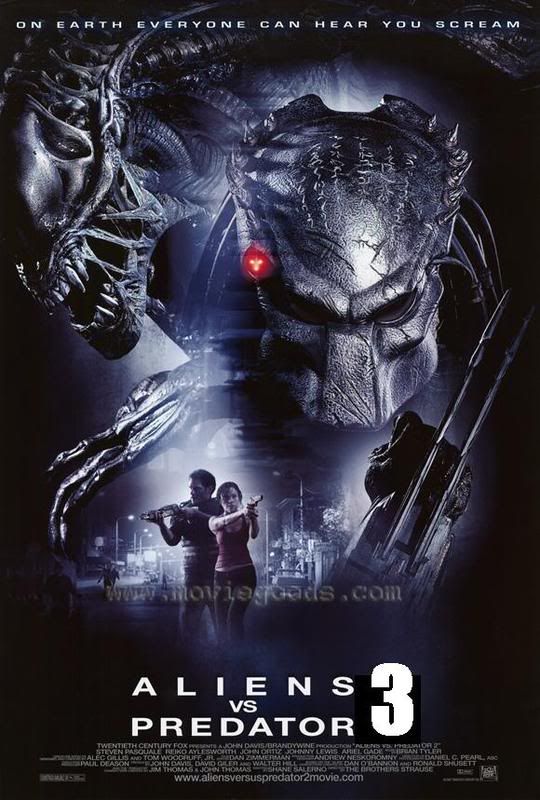 Aliens vs. Predator 3?
20th Century Fox is leaking that another Aliens vs. Predator sequel is a "
certainty
" at this point. ShockTillYouDrop.com had talked to
"Aliens vs. Predator - Requiem" directors Greg and Colin Strause about a possible sequel, but things were on hold. Now it seems to be going forward, but no word if the brothers will return to the franchise.
---
The Movies Crank On
The first three weeks after the writers strike saw the number of permits for location shooting in Los Angeles for theatrical movies rise 61.9 percent from the same period a year ago. The Associated Press reports research by the National Association of Theatre Owners that shows that box office rose in five of the past seven recession years dating to the 1960s. MPAA chief Dan Glickman said: "
Most people would believe that offers a very good value. It's certainly much cheaper than a psychiatrist. To go into a darkened room where nobody can find you for two hours is great therapy, particularly when times are bad.
"
---
---
Comic Previews
Comics Continuum has posted preview pages of
Avengers Fairy Tales #1,
---
Dead of Night Featuring Man-Thing #2
,
---
X-Factor #29
,
---
Wolverine #63
,
---
Avengers: The Initiative #10
,
---
Marvel Illustrated: Moby Dick #2
,
---
&
The Last Defenders #1
---
---
---
---