The Incredible Hulk
The Mail Tribune
has posted this interview with actor Ty Burnell, revealing that he is playing Doc Samson. At the same time director Louis Leterrier told Superhero Hype says here about the previously online leaked script, saying that it was "
6 months old and a lot has changed . . . for the better.
"
---
Heroes
Comic Book Resourses News
has printed this new Behind the Eclipse report from writers/producers Joe Pokaski and Aron Coleite while director Greg Beeman has updated his blog with spoilers and Herosite has put up this interview with Kristen Bell and Tim Kring about her character on the show. Kring says: "
She doesn't have many boundaries which I think is the really interesting part of playing this character on this particular show because the whole first season has been about these, you know, fairly good-natured people in trying to embrace these confusing abilities and being very conflicted as to how they should be using them. Elle is not that way at all. She very much enjoys her power and enjoys the emotional power it gives her over other people.
"
---
TV DVD News
TVShowsOnDVD.com
has posted info about "Salvage 1" (Complete Series) here, "Tales of the Gold Monkey" (Complete Series) here, "The Dukes of Hazzard" (Season 2) here, "CHiPs" (Vol. 1) here and "Perfect Strangers" (Early Release) here, "
Hotel Babylon
" (Season 1) here, "The Bronx Is Burning" (Mini-Series) here, "Family Ties" (Season 3) here and "Heroes" (Season 1, Special Marketing) here.
---
Die a Little
Jessica Biel
will produce and star in the adaptation of Megan Abbott's "
Die a Little
" for United Artists. Marcia and Geoffrey Blake will write the script. The story is of a schoolteacher and her brother, an LAPD detective whose life is turned upside down by a beautiful and mysterious woman (Biel).
---
The Brobdingnagian Bards
Few people I know have done more for others than The Brobdingnagian Bards and asked little for doing so. So when you hear that someone has scammed them over the internet, it is truly sad. Here is the story of what happened. If you can help you will be doing a very good thing.
---
---
Mike Fright: Stand Up!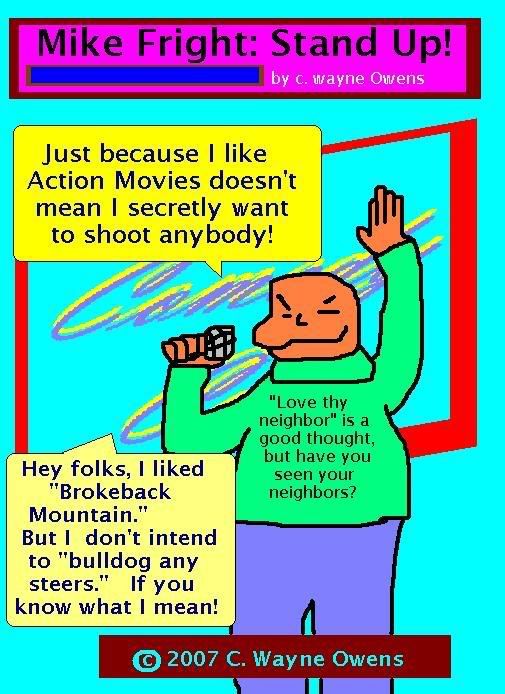 #701
Check Out: The Mike Fright Site!
---
---
Comic Previews
Comics Continuum has posted preview pages of
Black Panther #31,

---
Cable & Deadpool #46
,
---
Marvel Illustrated: The Man in the Mask #4
,
---
Magician Apprentice #10
,
---
&
Moon Knight #13
---
---
---
---