Pushing Daisies
The Ausiello Report
at TV Guide reports that ABC has ordered a full season of episodes for "
Pushing Daisies
." Ausiello writes: "
Multiple sources confirm that ABC has ordered nine additional episodes, for a grand total of 22. Between Viva Laughlin's cancellation and Daisies' extension, this is shaping up to be a great week in TV. Am I right or am I right?!
" At the same time The Hollywood Reporter says that CBS wants four more scripts for "Moonlight."
---
Angels & Demons
Columbia Pictures
has announced that the "The Da Vinci Code" sequel "
Angels & Demons
" will begin production in February. Ron Howard is to direct and Tom Hanks will star, and they hope to have a shooting script before the October 31st expiration of the WGA (Writers Guild of America) contract. The release is slated for December 2008.
---
TV DVD News
TVShowsOnDVD.com
has posted info about "According to Jim" (Season 1) here, "Kyle XY" (Season 2) here, "Army Wives" (Season 1) here, "Steve Canyon" (Best of . . .) here and "The Richie Rich/Scooby-Doo Hour" (Complete Series) here, "The Pebbles and Bamm-Bamm Show" (Complete Series) here and "Frankenstein Jr. and the Impossibles" (Complete Series) here.
---
SAG
& WGA & The Strike
The Screen Actors Guild has notified its members that if the Writers Guild of America calls a strike, the actors under the "
No Strike
" clause in their collective-bargaining agreements must still continue to work and audition for work. The SAG notice did add that actors are encouraged "
on your own time
" to walk WGA picket lines "
to show your support of their effort.
" While talks between the WGA and the producers recessed, the WGA's East and West branches posted this statement on their website: "
We have no intention of discussing the producers' rollback proposals. Not now, not ever.
" Talks resume on Today. The Los Angeles Times said: "
Almost everyone in town is gripped by a sense of foreboding. One literary agent said 'No one knows how this is going to work. Studios are trying to figure out how to do without writers, and everyone out there who writes for a living is trying to figure out how to keep making a living.'
"
---
The Brobdingnagian Bards
Few people I know have done more for others than The Brobdingnagian Bards and asked little for doing so. So when you hear that someone has scammed them over the internet, it is truly sad. Here is the story of what happened. If you can help you will be doing a very good thing.
---
---
Mike Fright: Stand Up!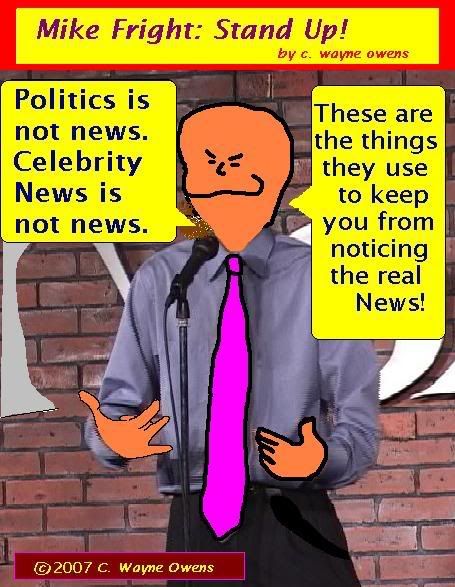 #705
Check Out: The Mike Fright Site!
---
---
Comic Previews
Comics Continuum has posted preview pages of
House of M: Avengers #1,
---
Ghost Rider Annual #1
,
---
Fall of Cthulhu #7
,
---
Potter's Field #2
,
---
Warhammer: Forge of War #4
,
---
&
Warhammer 40,000: Blood and Thunder #1
---
---
---
---