Potter vs. Bond
"Harry Potter and the Order of the Phoenix" has made history for Warner Brothers by becoming the top-grossing franchise in movie history. The combined worldwide box-office for the five Harry Potter films ($4.47 billion) surpasses the box-office totals of all 22 James Bond films and the six Star Wars movies. "Harry Potter and the Half-Blood Prince" will open on Nov. 21, 2008 and the final film, "Harry Potter and the Deathly Hallows," is planned for a 2010 release.
---
The Mummy: Tomb of the Dragon Emperor
Maria Bello
will take over as Evelyn O'Connell for Rachel Weisz in "
The Mummy: Tomb of the Dragon Emperor.
" When Weisz dropped out of the "
Mummy 3
" project "
due to a full schedule,
" Universal picked Bello, and she told SCI FI Wire: "
Evelyn has the same name, but she's a very different character than Rachel played. She's a bad-ass action chick. I had to train a lot. I had to do wushu, a martial-art form, some kick-boxing, swordfighting, rifle training for a couple of months before we even started shooting.
" The film opens August 1, 2008.
---
TV DVD News
TVShowsOnDVD.com
has posted info about "Mystery Science Theater 3000" (Volume 12) here and "Bozo's Big Top" (Volume 2) here, "Kong: The Animated Series" (Volume 3) here, "Project U.F.O." (Complete Series) here and "Are You Afraid of The Dark?" (Season 4) here.
---
Tron
Joseph Kosinski
is in final talks to develop and direct "
Tron
," called "
the next chapter
" of Disney's 1982 cult classic. The original was the first movie to use computer-generated images instead of models and other optical effects in conjunction with live action. Steven Lisberger, who co-wrote and directed the original film, is producing the new film.
---
Stewart To Host Oscars
The New York Times
reports that Jon Stewart will host the Academy Awards next February. Stewart had previously hosted in 2006 while this year's was hosted by Ellen DeGeneres. The New York Times report was sourced to two unidentified insiders, who said an official announcement would be made by the Academy of Motion Picture Arts and Sciences Today. The 80th annual Academy Awards will take place in Hollywood on February 24.
---
---
Mike Fright: Stand Up!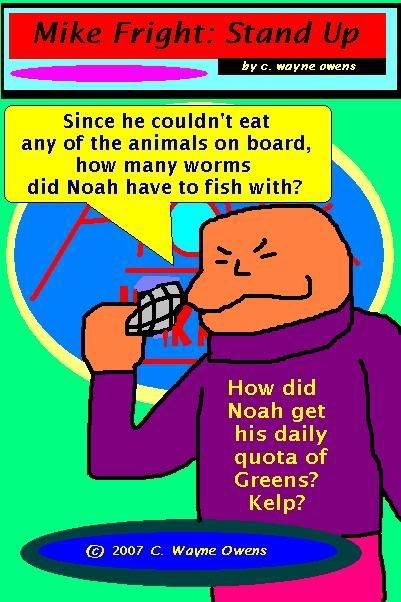 #662
Check Out: The Mike Fright Site!
---
The Hacksaw, the Rose & the Parthenon Parrot
Sebastian Claus was known as an authority on supernatural activity, but, this was something neither he nor his extraordinary team had ever encountered:
a book whose owners all died at the hands of fictional characters.
Even when Paranormal P.I. Harriett Dante was brought into the case,
nobody was aware of just how bizarre this was going to get.
And if they don't solve this riddle, the world will end in fire!
---
---
Comic Previews
Comics Continuum has posted preview pages of
Fantastic Five #5,

---
Heroes for Hire #13
,
---
Marvel Illustrated: The Man in the Iron Mask #3
,
---
New Avengers #34
,
---
The Loners #5
,
---
&
Thor #3
---
---
---
---