Nine
Based loosely on Fellini's "8 1/2" the musical "Nine" has been a long running hit on Broadway. Now it will come to movie screens. Catherine Zeta-Jones and Marion Cotillard have joined the cast that includes Penelope Cruz, Javier Bardem and Sophia Loren in the film to be directed, produced and choreographed by Rob Marshall.
---
Daybreakers
During filming of the story about humans nearing extinction, Ethan Hawke was cracking wise about the movie, now he says: "
I have this dream Daybreakers will be Mad Max and the next will be even better.
" The film shows Vampires who are in crisis as their blood source is drying up.
"
Daybreakers
" opens sometime in 2008.
---
TV DVD News
TVShowsOnDVD.com
has posted info about "Suspense" (Lost Episodes w/Boris Karloff) here and "Outer Limits" (Complete Original Series) here, "Stargate SG-1" (Complete Series) here, "Hercules: The Legendary Journeys" (Complete Series) here and "Xena: Warrior Princess" (Complete Series) here.
---


Indiana Jones and the Kingdom of the Crystal Skull
"I've been sworn to secrecy by Steven Spielberg and George Lucas to not tell you the title of the next Indiana Jones movie, but I'm 21 now, so…" Shia LaBeouf told viewers of the MTV Video Music Awards. Then he announced the final title of the upcoming installment in the Indiana Jones franchise. Paramount Pictures immediately issued a press release. The plot of the fourth film is being kept under proverbial (and possibly actual) lock and key, but Karen Allen's addition to the lineup has sparked speculation that LaBeouf will play h er and Harrison Ford's son, who presumably has been a secret from the archaeologist. The Spielberg-directed film has been scheduled for a May 22, 2008, release.
---
Comics
Yesterday one of the Greatest Jugglers, not just of our time, but dear I say it of all times Brian Wendling, stopped by where I was performing and dropped off a present for me. Knowing what a Comic Book Head I am, he plopped down before me a vast bundle of choice Adventure Comics of the 1960's featuring Superboy and the Legion of Superhero stories. I was so touched I wanted to share them immediatly with everyone. Fortunately many scans of LOSH comics are already available here, not to mention the great amount of other comics available for online reading here (while not LOSH, there are a great assortment). And, of course when I get finished reading them I will be passing them out among our friends.
---
---
Mike Fright: Stand Up!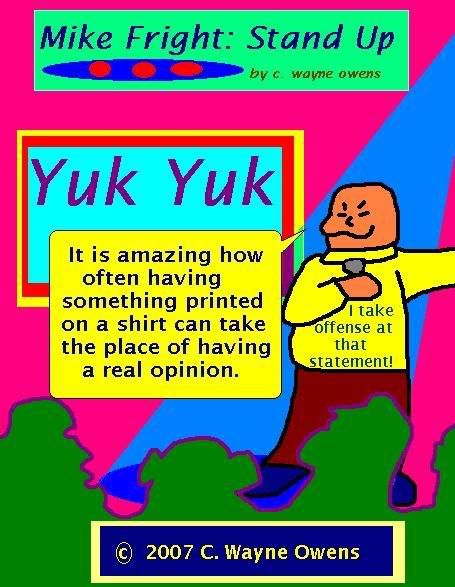 #657
Check Out: The Mike Fright Site!
---
The Hacksaw, the Rose & the Parthenon Parrot
Sebastian Claus was known as an authority on supernatural activity, but, this was something neither he nor his extraordinary team had ever encountered:
a book whose owners all died at the hands of fictional characters.
Even when Paranormal P.I. Harriett Dante was brought into the case,
nobody was aware of just how bizarre this was going to get.
And if they don't solve this riddle, the world will end in fire!
---
---
Comic Previews
Comics Continuum has posted preview pages of
Amazing Spider-Man #544,
---
Incredible Hulk #110
,
---
Daredevil: Battlin' Jack Murdock #4
,
---
Marvel Adventures Spider-Man #31
,
---
Ms. Marvel #19
,
---
&
Wolverine #57
---
---
---
---