Paddington Bear
Variety
reports that David Heyman is moving from producing Harry Potter to working with Warner Brothers to bring Paddington Bear to movie screens. They also say that Hamish McColl will pen the screenplay.
---
Emmys
In case you missed the show, here are a list of the winners.
---
Iron Man
Jon Favreau
countered some rumors printed in Variety, that the flying shots from the trailer would not appear in the movie, and implied that, in fact, the title character wouldn't fly at all. Favreau says: "
It's in the movie. It's true that the shots were rushed for Comic Con, but the F-22 dogfight has been in the works for over a year and was the furthest along of the film's set pieces. That's how we were able to get it on the screen nearly a year before the premiere.
"
---
TV DVD News
TVShowsOnDVD.com

has posted info about "Mork & Mindy" (Next to last Season) here and "Galactica 1980" (Complete Series) here & here and "Mission: Impossible" (Season 3) here.
---
Heroes
Herosite
has posted two official network descriptions for the second season's first two episodes, "Four Months Later" and "Lizards."
---
Bee Movie
Jerry Seinfeld
told the LA Times about the challenges of voicing/writing an animated character when using DreamWorks' "
teleconferencing
" system of video screens. He said: "
I would make faces or I would do gestures, I would make poses. I couldn't understand in the beginning why I was having so much trouble communicating. I guess that image of me was a little '1984,' Orwellian. But after a while, it's like, C'mon, get over it. I'm just another guy.'
"
---
---
Mike Fright: Stand Up!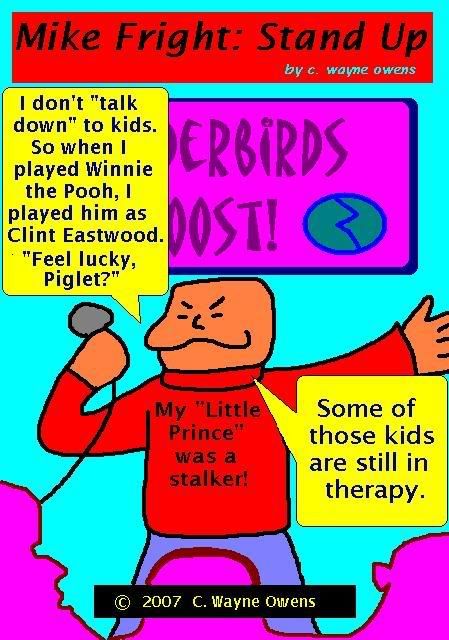 #665
Check Out: The Mike Fright Site!
---
The Hacksaw, the Rose & the Parthenon Parrot
Sebastian Claus was known as an authority on supernatural activity, but, this was something neither he nor his extraordinary team had ever encountered:
a book whose owners all died at the hands of fictional characters.
Even when Paranormal P.I. Harriett Dante was brought into the case,
nobody was aware of just how bizarre this was going to get.
And if they don't solve this riddle, the world will end in fire

!
---
---
Comic Previews
Comics Continuum has posted preview pages of
X-Men: Emperor Vulcan #1,

---
X-Factor #23
,
---
Ultimate X-Men #86
,
---
Ultimate Power #7
,
---
Ultimate Spider-Man #113
,
---
&
Spider-Man Fairy Tales #4
---
---
---
---