Justice League
Variety
says that George Miller is going to direct the DC Comics and Warner Brothers adaptation of "
Justice League
." With a script by Kieran and Michele Mulroney, the film is in initial phases of casting and while it was originally set for a 2010 released, it is hoped that it can beat the looming Writers Guild, Directors Guild and Screen Actors Guild strikes and hit the box office in the summer of 2009. Brandon Routh and Christian Bale will neither appear in the film. There is talk about the film being animated or motion capture technology, but most sources believe it will be live action.
---
The Taking of Pelham 1, 2, 3
Denzel Washington
joins director Tony Scott for the Columbia Pictures remake of "The Taking of Pelham 1, 2, 3." Production starts in early 2008.
---
The Clone Wars
George Lucas
told TV Guide that his animated "
The Clone Wars
" is so unique that "
we're still trying to figure out how to put it on the air.
" Lucas says that the show would be rated PG-13 if it were a movie, and that's why he financing the show out of his own pocket. He told them: "
Everybody's got the same conundrums - - 'How do we program it? Where does it live? Where can we put something like this?' You know, it has to go [on the air] after 9:00 p.m. and it can't be on a kiddie channel. It's Star Wars and it's really good, so I'm sure somehow or another, people will also start thinking outside the box and it will find its home.
" Lucas said he is making 100 animated episodes, as well as 100 episodes of a live-action Star Wars-based series that has not yet begun shooting. "
We're just doing them on the faith that we're going to [sell them]. But I have enough confidence that this is good, and I'll make it really good, so I'm not too worried about that part of it.
"
---
TV DVD News
TVShowsOnDVD.com
has posted info about "Underdog" (Ultimate Collection) here and "Smallville" (Season 6) here, "Aqua Teen Hunger Force" (Volume 5) here, "Wanted: Dead or Alive"(Final Season) here, "Biography"("Saturday Night Live") here and "The Young Indiana Jones Chronicles" (All Three Volumes) here, here and here.
---
Moonlight
CBS
sent me a copy of the pilot for its "
Vampire-Detective
" series "
Moonlight
." This show is obviously aiming for that audience who never watched "Angel" or "Forever Knight," and that particular audience will find it interesting. But, at the same time, there was a reason those folks didn't watch those shows, and this show may suffer from the same problem. Is it bad? No. But it will need to create its own face to survive. One can only hope they do.
---
Gatchaman
IGN Movies
indicates that Paul Dini will collaborate on the screenplay for Imagi Animation Studios' computer animated feature version of "Gatchaman." Directed by Kevin Munroe, the film is scheduled to hit theaters in 2009.
---
---
Mike Fright: Stand Up!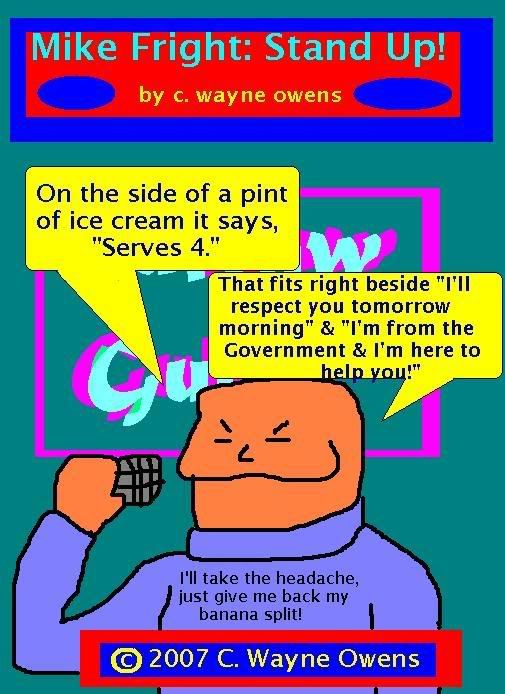 #672
Check Out: The Mike Fright Site!
---
Vishnu's Snooze Alarm
When Vishnu wakes, the world ceases to be. Here is a set of off-the-board stories to sample while you wait for the alarm to go off again. There are possessed shopping malls, vampire industrialists, urban golems, soul vampires and unlucky therapists within these pages. Enter with caution.
---
---
Comic Previews
Comics Continuum has posted preview pages of
X-Men: Die by the Sword #1,

---
Midknight #1
,
---
Sheena: Queen of the Jungle #3
,
---
&
Punisher War Journal #12
---
---
---
---