The Silver Surfer
Fox Studios
has hired J. Michael Straczynski to write a solo Silver Surfer film. They decided that not enough about the character was told in "Fantastic Four: The Rise of the Silver Surfer," so the audience might like more. More? About possibly the single most important comic book creation ever? Yeah, maybe. (Sheesh!)
---
The Historian
Sony Pictures
has hired Brad Caleb Kane to adapt the Elizabeth Kostova novel about a young woman's search for her father. Her father was on the hunt for the grave of Vlad the Impaler, the feudal lord who inspired Bram Stoker's "Dracula."
---
TV DVD News
TVShowsOnDVD.com
has more about the complete series release of "Star Trek: The Next Generation" right here. The groundbreaking "Masada" mini-series is spoken of here and "Daniel Boone" (5th season) finds paths here.
---
A Different Kind of Cell
According to this story in the New York Daily News Paris Hilton will be the heroine of her own animated series, produced by Stan Lee and airing on MTV. No production date has been announced.
---
Young Frankenstein
Cloris Leachman
has challenged theatre star Mel Brooks to a fight to prove she is healthy enough for a role in his forthcoming Broadway musical "
Young Frankenstein.
" Leachman, 81 did so after he learned she had been passed over for the part of Frau Blucher, the role she played in the 1974 movie. The New York Post's gossip column, Page Six quotes insiders as saying: "
(Leachman had) a wonderful audition . . . She was involved in a workshop recently and everyone loved her . . . but it was obvious she was too old.
" Brooks, 80, told Army Archerd, "
We're afraid the show might stop her - it could kill her . . . We don't want her to die on stage.
"
---
---
Mike Fright: Stand Up!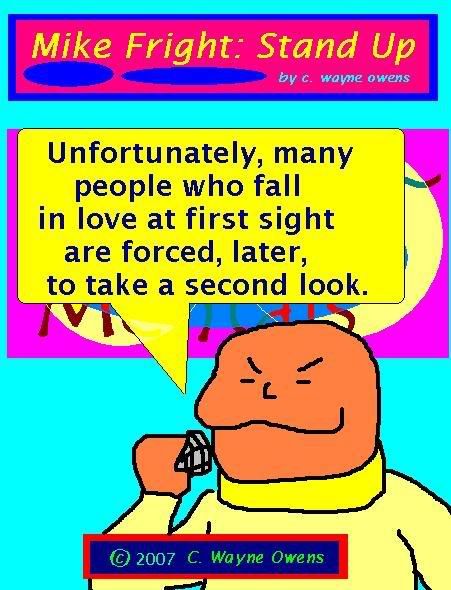 #572
Check Out: The Mike Fright Site!
---
Infinity Express
Cecil W. McCall loved his Uncle Shelby. When the old man disappeared and was presumed dead, it affected him greatly. Then came the package, his uncle's legacy. In the package were Time Bands: devices that promised to take the wearer back in time. But Uncle Shelby hadn't left much in the way of instructions. So when McCall accidentally set them off, he was thrown back into the Victorian era, without much preparation. Being a comic and a trivia expert wasn't a lot of help, but being a history nut was.
When he saw he was in the England of Jack The Ripper
he knew what he had to do. With the aid of
Arthur Conan Doyle & the Real Sherlock Holmes,
he sets out to catch the Ripper, find his Uncle and go home.
On the way he meets
Adam Worth (The Real Professor Moriarty),
Dr. Treves & The Elephant Man,
Bram Stoker, Gilbert & Sullivan,
Gaston Leroux (Creator of "The Phantom of the Opera"),
William Brodie, Rasputin and the Real Dracula.
He also runs into a time-traveling salesman,
Time Police and the forerunners of the Mafia.
And that is only the beginning . . .
---
---
Comic Previews
Comics Continuum has posted preview pages of
Witchblade #107,

---
The Surreal Adventures of Edgar Allan Poo
,
---
Dark Tower: The Gunslinger Born #6
,
---
Deadpool/GLI - Summer Fun Spectacular
,
---
&
Batman/Lobo: Deadly Serious #1
---
---
---
---