Gatchaman
Robert Mark Kamen
will write the CG-animated version of "
Gatchaman
" for Imagi Studios. Based on the anime franchise created by Tatsuo Yoshida in 1972, the feature film will revolve around a team of five young superhero ninjas who must save the world from alien occupation. Release to theatres is planned for 2008.
---
Interworld
Neil Gaiman
has announced on his website that DreamWorks Animation has optioned the rights to his and Michael Reaves' "
Interworld
." He says it was an idea they started to developing together back in 1996. The story they talked about was "
an idea for something that could be a potential animated story, and we began knocking ideas back and forth about what we'd want to see animated and why, and that became an idea about a boy who finds himself in the middle of a war between two equally powerful forces, who joins a super-team consisting of versions of himself from different alternate realities to try and maintain the consmic balance.
" The pair pitched the idea to various studios but no one was interested. Harper Childrens published the book last year and now DreamWorks will turn it into a feature.
---
TV DVD News
TVShowsOnDVD.com
has news about "Bones" (Season 2) here. They also have word about "Danger Mouse" (Complete mega-set) here. They've got "Stargate: Atlantis" (3rd season) here, "Star Trek: The Next Generation" (megaset) here and "Twin Peaks" news here.
---
Watchmen
Paddy Considine
says on his official fan site that Warner Brothers has tapped Jackie Earle Haley for the role of Rorschach in Zack Snyder's big screen version of Alan Moore's & Dave Gibbon's classic "
Watchmen
." Considine had been considered for the part. Superhero Hype's Max Evry spoke here with actor Patrick Wilson about the rumors that he's in negotiations for the part of Nite Owl in the film. Wilson said: "
I don't know if I'm allowed to talk about this stuff. I mean, I would blab my mouth cause I certainly haven't been told to keep quiet. It's just out of respect for them trying to get everybody else on board before I go ahead and blab my mouth, but it's pretty cool.
"
---
The Search for the Next Elvira
Fox Reality
is going ahead with "
The Search for the Next Elvira
," in which Cassandra Peterson will search for "
a surrogate handmaiden with whom to share her personal appearance duties.
" Featuring 13 contestants who are survivors of an open "
casket call
" taking place July 13 at the Queen Mary in Long Beach, Calif., the show will be a competition to see who best can look the part and present the same persona as the Elvira character. Three episodes will air starting at 9 p.m. October 13. Viewers can vote for a winner beginning after the second episode October 20, who will be announced during the live finale on Halloween. Eric Gardner, Peterson's manager, said: "
We receive hundreds of Elvira appearance requests every year. We began dreaming of a world in which there would eventually be legions of franchised Elviras, including one in every shopping-mall atrium in the country each Halloween season. Fox Reality has given us the opportunity to anoint the first recruit.
" Peterson said: "
There are simply too many ghastly engagements for one Mistress of the Dark to entertain. I am searching for someone to share my tricks with -- someone to help spread the Halloween spirit
."
---
---
Mike Fright: Stand Up!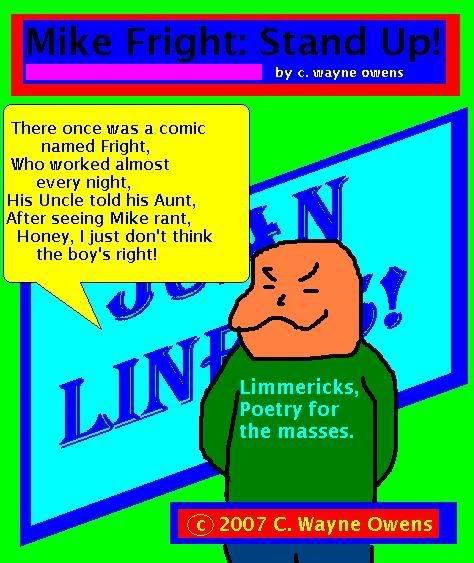 #573
Check Out: The Mike Fright Site!
---
Infinity Express
Cecil W. McCall loved his Uncle Shelby. When the old man disappeared and was presumed dead, it affected him greatly. Then came the package, his uncle's legacy. In the package were Time Bands: devices that promised to take the wearer back in time. But Uncle Shelby hadn't left much in the way of instructions. So when McCall accidentally set them off, he was thrown back into the Victorian era, without much preparation. Being a comic and a trivia expert wasn't a lot of help, but being a history nut was.
When he saw he was in the England of Jack The Ripper
he knew what he had to do. With the aid of
Arthur Conan Doyle & the Real Sherlock Holmes,
he sets out to catch the Ripper, find his Uncle and go home.
On the way he meets
Adam Worth (The Real Professor Moriarty),
Dr. Treves & The Elephant Man,
Bram Stoker, Gilbert & Sullivan,
Gaston Leroux (Creator of "The Phantom of the Opera"),
William Brodie, Rasputin and the Real Dracula.
He also runs into a time-traveling salesman,
Time Police and the forerunners of the Mafia.
And that is only the beginning . . .
---
---
Comic Previews
Comics Continuum has posted preview pages of
Amazing Spider-Man #541,
---
Captain America #27
,
---
Nova #3
,
---
X-Men: Endangered Species
,
---
Hedge Knight II: Sworn Sword #1
,
---
Iron Man #19
,
---
&
Incredible Hulk #107
---
---
---
---