The Swarm
Dino
and Martha De Laurentiis will turn the bestselling Frank Schatzing novel "
The Swarm
" into a big-budget ecological disaster movie. Ted Tally will adapt the script. The book tells the tale of an alien presence that exists quietly on the ocean floor until its eco-system is disrupted by pollution. When the entity moves to destroy the polluters, scientists must race to avert apocalypse.
---
Best & Worst Comic Book Movies
"
Rotten Tomates
" has put together their list of the best and worst big-screen comic book adaptations ever.
They list the best as:
1. "Spider-Man 2"
2. "American Splendor"
3. "Ghost World"
4. "Spider-Man"
5. "X2: X-Men United"
6. "A History of Violence"
7. "Men in Black"
8. "Batman Begins"
9. "Superman: The Movie"
10. "Metropolis" (2002)
Their worst list is topped by:
10. "Monkey Bone"
9. "Virus"
8. "Pathfinder"
7. "Batman & Robin"
6. "Garfield: A Tale of Two Kitties"
5. "The League of Extraordinary Gentlemen"
4. "Garfield: The Movie"
3. "Catwoman"
2. "Elektra"
1. "Son of the Mask"
To see general info and other winners and losers on the list and where they ranked, you can view the full list here.
---
DVD News
TVShowsOnDVD.com
has a lot of genre releases to talk about. First there is "
Legion of Superheroes
" and that's right here. Other subjects are "Doctor Who," here, "Secrets of Isis," here, "
Popeye the Sailor - Volume 1: 1933-1938
, " here, "Ghostbusters," here, "Bravestarr," here, "Wanted: Dead or Alive" Season 2, here and the "Charmed"
final season here.
---
Daybreakers
With "I am Legend" with Will Smith already in production, word comes that Ethan Hawke will star in "
Daybreakers
." His role in the released plot is described thusly: "
He will play researcher in the year 2017, when a plague has transformed most of the world's population into vampires. As the human population nears extinction, vampires must capture and farm every remaining human or find a blood substitute before time runs out. However, a covert group of vampires makes a discovery that has the power to save the human race.
" Sound familiar, Will? Peter and Michael Spierig wrote and will direct the Lionsgate project, which starts production in July in Australia, with Peter Jackson's Weta Workshop doing effects.
---
Rodriguez
Grinding 'Em Out
With the less said about the box office for "Grindhouse" the better, but director Robert Rodriguez is still very much in demand. He is negotiating to direct a live-action feature version of "The Jetsons" for
Warner Brothers
. He has also met with Will Ferrell and Universal executives about a feature version of the 1970s Sid and Marty Krofft TV series "Land of the Lost," for which Ferrell is to star. While no concrete offers have been made, "
Jetsons
" seems to have the edge because its script is farther along. BTW: Empire Movies has a story about the possibility of a "
Grindhouse 2
," (honest!) you can read about it here.
---
---
Mike Fright: Stand Up!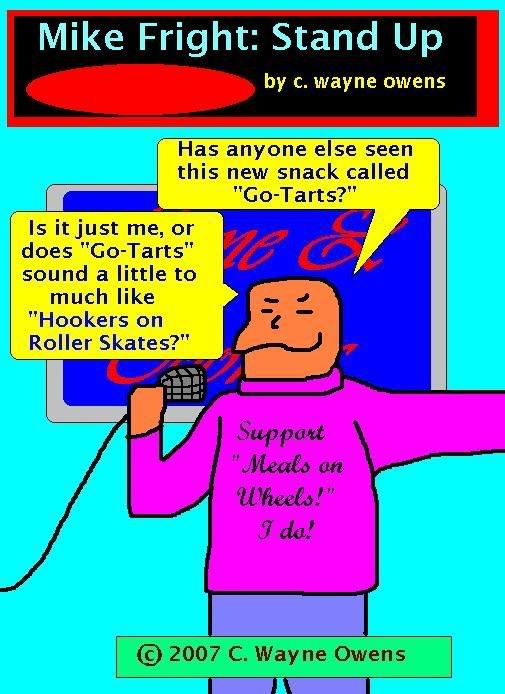 #533
Check Out: The Mike Fright Site!
---
1411657071
Harry Dante was what he wanted to be: a gumshoe. He had wanted to be a detective from childhood, and in the 1940's he was pretty good at it. Then things went wrong. Things started happening that shouldn't be part of a hard-boiled Kansas City private eye's days. Part of that must have been taking that job near Roswell, New Mexico. Strange stuff, strange people, and more mysteries than most people would ever encounter. Everything Harry Dante had going for him might not be enough.
Not by a long shot.
---
---
Comic Previews
Comics Continuum has posted preview pages of
X-Men #199,

---
The Loners #3
,
---
Incredible Hulk #107
,
---
The Miscellaneous Adventures of Stykman #2
,
---
Star Wars: Legacy #12
,
---
Omega Flight #3
,
---
&
Marvel Zombies/Army of Darkness #4
---
---
---
---