The Incredible Hulk
Variety
reports that Tim Roth has been cast as Emil Blonsky (AKA The Abomination) in "
The Incredible Hulk
" across from
Edward Norton
as Bruce Banner and Liv Tyler as Betty Ross.
---
Captain Marvel
This story
at Superhero Hype notes that Dwayne "The Rock" Johnson has been lobbying director
Peter Segal
for the title role. Johnson says: "
John August
is writing the script and he's a tremendous writer, and I'll just wait for the script to come in. But I'd love to work with Pete again, and certainly would want to work with John August. So there's a strong possibility.
"
---
Fangland
Hilary Swank
's production company has optioned the John Marks' novel "
Fangland
." It is the tale of an ambitious associate TV producer (Swank) who accepts a wedding proposal just before flying off to evaluate a possible story on a reputed Romanian crime lord named Ion Torgu. The small, pale Torgu proves to be a sort of terrorist, and infects her "
like a virus
" when she is abducted. She resurfaces months later, recuperating in Transylvania but with no memory of what happened.
---
Terminator 4
, 5 & 6
Mario Kassar
and Andrew Vajna sold the franchise rights intending to make a new trilogy. The deal (said to be in the tens of millions of dollars) is with
The Halcyon Co.
, who plan to start immediate preproduction on "
Terminator 4
," for release in the first half of 2009. The script, by John Brancato and Michael Ferris, was part of the deal. The company is headed by advertising veteran
Derek Anderson
and "Cook-Off!" producer Victor Kubicek.
---
Fantasy Island
Eddie Murphy
will star in
Columbia Pictures
' big-screen version of "
Fantasy Island.
" Murphy is set to play multiple roles in the film, which is described as a family-oriented comedy.
---
---
Mike Fright: Stand Up!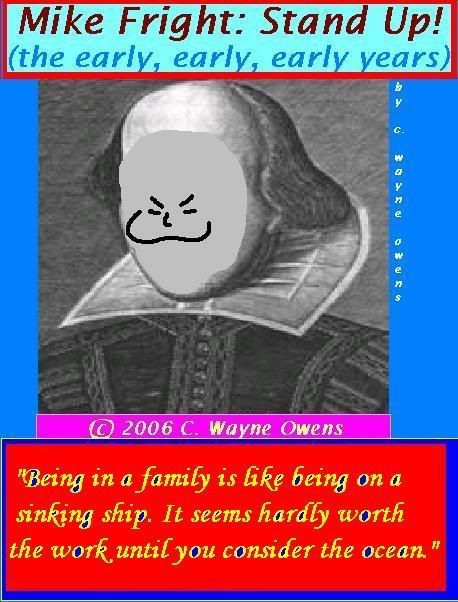 #537
Check Out: The Mike Fright Site!
---
1411657071
Harry Dante was what he wanted to be: a gumshoe. He had wanted to be a detective from childhood, and in the 1940's he was pretty good at it. Then things went wrong. Things started happening that shouldn't be part of a hard-boiled Kansas City private eye's days. Part of that must have been taking that job near Roswell, New Mexico. Strange stuff, strange people, and more mysteries than most people would ever encounter. Everything Harry Dante had goingfor him might not be enough.
Not by a long shot.
---
---
Comic Previews
Comics Continuum has posted preview pages of
Ms. Marvel #16,

---
Ultimate Fantastic Four #42
,
---
Silver Surfer: Requiem #1
,
---
Champions #40
,
---
&
Tales of the TMNT #33
---
---
---
---