Medium
NBC
has announced an early renewal for a fourth season of "
Medium
." Kevin Reilly, president of NBC Entertainment, says: "
Medium is a quality show with an outstanding star that has always delivered a very loyal audience. We are pleased to know that we can look forward to more of its unique storytelling next year under executive producer
Glenn Gordon Caron
's superb creative vision.
"
---
Sci Fi Anime Block
Broadcasting & Cable
is reporting here that the Sci Fi Channel will be adding a 2-hour anime block to its Monday night line up as of June 11. It will come from
Starz Media's Manga Entertainment
, although no titles were available at their press time. Toon Zone has some follow up info here.
---
Lost
ABC
has put forward an end date for "
Lost.
" The last season will finish in 2009-2010. The Emmy-winning TV series will run for 48 more episodes over three uninterrupted 16 episode seasons. Each season will consist of 16 episodes, which will air uninterrupted.
Stephen McPherson
, ABC Entertainment president, says: "
Due to the unique nature of 'Lost,' we knew it would require an end date to keep the integrity and strength of the show consistent throughout and to give the audience the payoff they deserve.
"
---
Spider-Man 4
Freeze Dried Movies
is asserting that, with or without Sam Raimi, a decision has been made about at least two of the villains in "
Spider-Man 4
." They say a source that is said to be 100% reliable, tells them that
The Lizard
will follow a couple of appearances by Dr. Curt Connors (Dylan Baker) in both "Spider-Man 2" and "Spider-Man 3." The other villain is Carnage, who evolves from a piece of alien symbiote much in the same way that Eddie Brock turned into Venom. This time serial killer Cletus Kasady comes under the influence of the symbiote. Black Cat is also rumored to make her first appearance in the film.
---
Money Never Sleeps
The New York Times
reports that
Edward Pressman
and 20th Century Fox have agreed to develop "
Money Never Sleeps
," a sequel to the tale of yuppie greed and excess "
Wall Street
." Twenty years after playing ruthless corporate raider Gordon Gekko in "
Wall Street
," Michael Douglas will star. Interestingly, the film's title was used as the moniker of the "making of" featurette for the original film. Douglas, 62, said: "
I don't think he's much different. He's just had more time to think about what to do.
"
---
---
Mike Fright: Stand Up!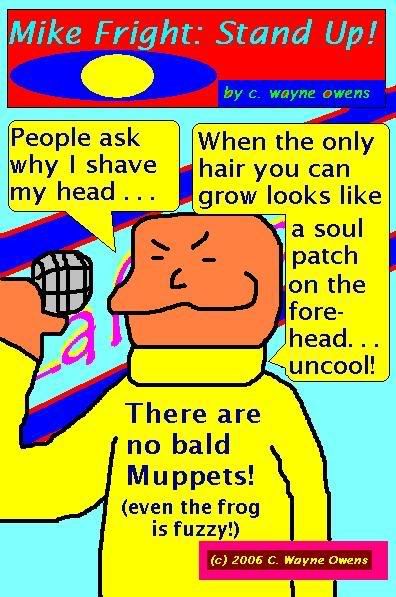 #532
Check Out: The Mike Fright Site!
---
Harry Dante was what he wanted to be: a gumshoe. He had wanted to be a detective from childhood, and in the 1940's he was pretty good at it. Then things went wrong. Things started happening that shouldn't be part of a hard-boiled Kansas City private eye's days. Part of that must have been taking that job near Roswell, New Mexico. Strange stuff, strange people, and more mysteries than most people would ever encounter. Everything Harry Dante had going for him might not be enough.
Not by a long shot.
---
---
Comic Previews
Comics Continuum has posted preview pages of
Sensational Spider-Man Annual #1,

---
Sonic X #19
,
---
Battlestar Galactica: Cylon Apocalypse #3
,
---
Raise the Dead #2
,
---
Jack Kirby's Fourth World Omnibus Vol. 1
,
---
Green Lantern: Sinestro Corps Special
,
---
&
Silverfish
---
---
---
---