SF & F TV Coming
The Hollywood Reporter
tells us that there are going to be a number of Science fiction and fantasy series on the upcoming network schedules this season. ABC has ordered "Cavemen," about the Geico cavemen in 2007 Atlanta, and "Pushing Daisies," about a man who brings the dead back to life. Fox has picked up "The Sarah Connor Chronicles" (based on the Terminator films), and "
New Amsterdam
," about an immortal New York detective. NBC is bringing back "
The Bionic Woman
," "Journeyman," the story of a time-traveling journalist; and "Chuck," about a young computer whiz who becomes a government agent after espionage secrets are downloaded into his mind. More news is expected next week, when the networks unveil their fall lineups to advertisers and the public.
---
The VES 50
The Visual Effects Society
announced this week the VES 50: The Most Influential Visual Effects Films of All Time, which was determined by a vote of their members. The top 5 of the VES 50 are:
1. "Star Wars" (1977)
2. "Blade Runner" (1982)
3. "2001: A Space Odyssey" (1968) (tie)
3. "The Matrix" (1999) (tie)
5. "Jurassic Park" (1993)

The whole list, and more about the awards is
here
and for a pdf with all the particulars from VES click here.
---
Bruckheimer on More Pirates
Jerry Bruckheimer
told the Australian newspaper The Herald Sun that he is planning further "Pirates Of The Caribbean" sequels. While "Pirates of the Caribbean: At World's End," is to be released later this month, Bruckheimer wants spin-off movies, with or without Johnny Depp. He says: "
This is the end (of the trilogy), but whether one of the characters or a couple of the characters continue on, it's a possibility. Certainly, in a moment at the end of the film there is a hope that something else might happen.
"
Geoffrey Rush
adds, "
Inevitably they may think about it, but Johnny may say, 'Pah, I've burnt out Jack. I couldn't go there again.' Or he may not. I certainly know he wouldn't say 'Hey, treble my fee and I'll do it.'
"
---
TV DVD News
TVShowsOnDVD.com
has a bunch of news about genre TV, including a couple of notes about "
Dark Shadows
" you can read here and here. A
"Tales from the Crypt" report here, "Prison Break" is here, "Ghost Whisperer" is here, "Numb3rs" is here & "The Outer Limits" (on HD) is here.
---
The Untouchables: Capone Rising
Nicolas Cage
is set to play Al Capone in the prequel to
Brian DePalma
's "The Untouchables." The movie, also to be directed by DePalma, will show on the early relationship of Capone (
Robert De Niro
in the original) and Irish cop Jimmy Malone (Sean Connery in the original). Both
Sean Penn
and Colin Farrell are up for the role of Malone. Production starts in October.
---
---
Mike Fright: Stand Up!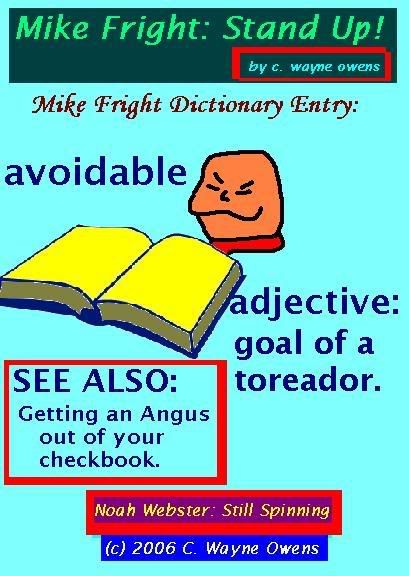 #538
Check Out: The Mike Fright Site!
---
1411657071
Harry Dante was what he wanted to be: a gumshoe. He had wanted to be a detective from childhood, and in the 1940's he was pretty good at it. Then things went wrong. Things started happening that shouldn't be part of a hard-boiled Kansas City private eye's days. Part of that must have been taking that job near Roswell, New Mexico. Strange stuff, strange people, and more mysteries than most people would ever encounter. Everything Harry Dante had going for him might not be enough.
Not by a long shot.
---
---
Comic Previews
Comics Continuum has posted preview pages of
Green Arrow: Year One #1,

---
Black Canary #1
,
---
Exiles #94
,
---
Uncanny X-Men #486
,
---
&
X-Factor #19
---
---
---
---