Robot Chicken
:
Star Wars
The Hollywood Reporter
tells us that
Seth Green
and Matthew Senreich, are developing "
Robot Chicken: Star Wars
," for
Cartoon Network
's Adult Swim. The 30-minute stop-motion special will be directed by Green. The special will involve the voice of
George Lucas
(and the special was made in collaboration with Lucasfilm). The spoof will also feature
Mark Hamill
as the voice of Luke Skywalker in one sketch, and Conan O'Brien, Seth MacFarlane, Robert Smigel, Malcolm McDowell, Hulk Hogan,
James Van Der Beek
and Joey Fatone. The special will debut at 10 p.m. EST, June 17.
---
Mandrake the Magician
Variety
says here that Baldwin Entertainment Group has signed Chuck Russell to direct a live action version of Mandrake the Magician.
---
The Ruins
Jonathan Tucker
will star in the
Carter Smith
directed "
The Ruins
." The DreamWorks film is about a go-getter premed student )Tucker) who, while on a leisurely Mexican holiday, persuades a group of friends go to a remote archaeological dig in the jungle. Then they discover that something evil lives among the ruins, in the screenplay writen by
Scott B. Smith
based on his own novel. Production starts in late May in Queensland, Australia.
---
The Bell Jar
Julia Stiles
plans to star in and produce a new adaptation of
Sylvia Plath
's autobiographical novel "
The Bell Jar
." The drama tells of a young book editor (Stiles), who slowly descends into mental illness. Production starts in early 2008. The book was filmed before in 1979.
---
Spinal Tap
The mock heavy metal group Spinal Tap will reunite for a performance at Wembley Stadium in London as part of the
Live
Earth
concerts scheduled worldwide for July 7. A new 15-minute film directed by Rob Reiner on the band's reunion will play on the first night of the
Tribeca Film Festival
in New York. Reiner spoke to The Associated Press to explain the reunion of the band, saying: "
They're not that environmentally conscious, but they've heard of global warming. Nigel thought it was just because he was wearing too much clothing - - that if he just took his jacket off it would be cooler.
" Reiner provided a sneak peak at the lyrics for the new single "
Warmer Than Hell
": "
'The devil went to Devon, it felt like the fourth degree/ He said, `Is it hot in here, or is it only me?'
" What has the band has been doing with their lives lately? Nigel has been raising miniature horses for racing, but can't find jockeys small
enough to ride them; David is a hip-hop producer but he also runs a colonic clinic; and Derek is in rehab for his addiction to the Internet. Reiner said: "
What I think is going to be nice about this whole effort is there will be marching orders for people. Not only from a personal standpoint of what individuals can do in their lives, but a macro perspective with respect to the public sector and government.
"
---
---
Mike Fright: Stand Up!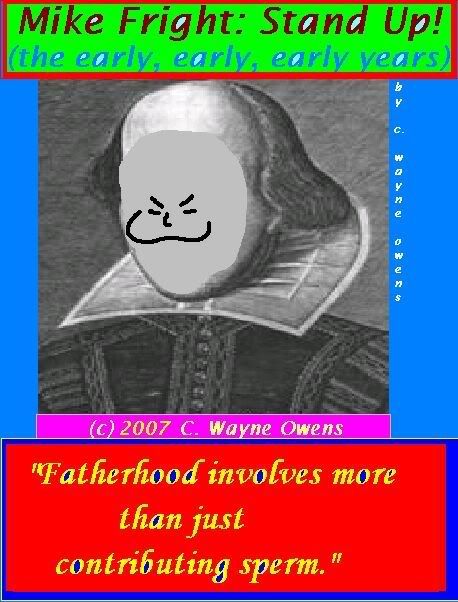 #520
Check Out: The Mike Fright Site!
---
---
Comic Previews
Comics Continuum has posted preview pages of
City of Others #2,

---
Star Wars: Knights of the Old Republic #16
,
---
Samurai: Heaven and Earth Volume 2 #4
,
---
Star Wars: Dark Times #3--The Path to Nowhere
,
---
True Story, Swear to God #5
,
---
&
Hiding in Time #1
---
---
---
---