Hulk Goes Gray?
"
It's a new Hulk
," Avi Arad told SCI FI Wire. He continued: "
A new direction, new size, new color, new attitude. No, anything that was done before is not in this movie.
" Since the original comic book character started as gray and became green later, that would make sense, but right now he's not making that outright statement. "
Uh, we'll see. I don't know. It's a very different kind of Hulk. It's more of a love story. It's a kind of Hulk we loved in the show [the popular 1978 TV series that starred
Bill Bixby
], so it's more influenced by the show than anything else. It's very human, very touching, and [a new direction].
" "The Incredible Hulk" will be released in 2008.
---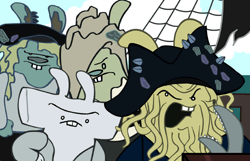 Pirate Bunnies
Angry Alien Productions
,
famous for the "
30 Second Bunnies Theaters
" has a new offering for us. They have combined both the "
Pirates of the Caribbean
" films ("Curse of the Black Pearl" and "
Dead Man's Chest
") into "The 30-Second Bunnies Pirate Movie."
---
The Moon Princess
Variety
reports that Gabor Csupo will direct the live-action family fantasy, "
The Moon Princess
." Based on the book "
The Little White Horse
," it is the story of a 13-year-old girl's who enters a magical world and must banish the ancient curse she encounters there.
Colin Firth
will play the girl's eccentric uncle, and shooting starts this summer.
---
X-Files
Frank Spotnitz
has been talking for over a year about the possiblity of a sequel to the "X-Files" movie. Both David Duchovny and Gillian Anderson have indicated that they would love to return to the roles of Scully and Mulder. Now, on his blog, Spotnitz has written that a script for the movie is underway. He wrote: "
The second 'X-Files' feature is finally in the works. A script is indeed in development, but I'm afraid that's all I can say.
" This is one of those projects for which I hope the best, but fear the worst.
---
Death Race 3000
The Hollywood Reporter
says that
Jason Statham
has been cast in the remake of the Roger Corman cult classic "
Death Race 2000
." Paul W.S. Anderson will update the 30-year old script. Production begins later this year.
---
---
Mike Fright: Stand Up!
#519
Check Out: The Mike Fright Site!
---
---
Comic Previews
Comics Continuum has posted preview pages of
X-Men: First Class Special,
---
Elephantmen #9
,
---
The Ride: Savannah
,
---
Rocketo: Journey to the Hidden Sea, Vol. 2
,
---
&
The Walking Dead, Vol. 6
---
---
---
---