Raimi
&
The Hobbit
Entertainment Weekly
spoke to director Sam Raimi about directing "
The Hobbit
," and he said: "
If
Peter [Jackson]
didn't want to do it, and Bob [Shaye, chairman of
New Line Pictures
] wanted me to do it (and they were both okay with me picking up the reins) that would be great. I love the book. It's maybe a more kid-friendly story than the others.
"
---
Jericho
SyFyPortal
reports here a rumor that CBS plans to renew its "
Jericho
" for a complete second season. The site also states that the network may move the show from its Wednesdays at 8 p.m. slot, opposite "
American Idol
." Formal announcements about series pickups aren't expected to until May.
---
The Wolfman
CinemaBlend
reports that Anthony Hopkins is negotiating to join Benicio Del Toro in the cast of the film to be directed by
Mark Romanek
. The script by Andrew Kevin Walker follows the classic story and shooting is expected to start this Fall.
---
Sony DVD Player Problems
On tech websites complaints have begun to surface about copyright-protection coding on new releases from Sony, including "
Stranger Than Fiction
," "The Holiday," "
Casino Royale
," and "The Pursuit of Happyness," making them unplayable on certain DVD players. On an Amazon.com discussion board someone said that when inserted in Sony's DVP-CX995V player, the disks "
load up to the splash title screen and then load no further, then after about 60 secs the player turns itself off!
" Sony told the writer that the company was aware of the problem and that it was working on a firmware update. He then asked Sony, "
Would it not be a good idea to test changes you intend to make on your DVDs at least on your own equipment so that if you find a problem you could have the firmware update available instead of not only inconveniencing, but alienating your own customers?
"
---
Voyagers
TVShowsOnDVD.com
has great news: fans of the short run show "
Voyagers
" can now get all 20 episodes on July 17th. The whole story is
here
.
---
---
Mike Fright: Stand Up!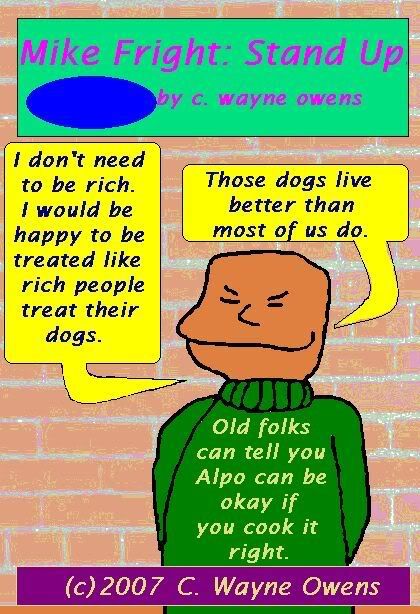 #512
Check Out: The Mike Fright Site!
---
---
Comic Previews
Comics Continuum has posted preview pages of
X-Men #198,

---
X-Factor #18
,
---
X-23: Target X #5
,
---
Squadron Supreme: Hyperion vs. Nighthawk #4
,
---
Sensational Spider-Man #37
,
---
&
Moon Knight #9
---
---
---
---