MGM Direct to DVD
MGM
has announced its development slate for Direct to DVD films, that includes two based on SCI FI Channel's "Stargate SG-1" ("
Stargate: The Ark of Truth
" and "Stargate: Continuum"). MGM will release 12 or more projects per year, primarily based on popular film and television franchises, here is a list of the genre titles:
*"
Audrey Rose
," a remake of the
1977 film
, to be written by Andrea Meyer
*"
Pet
," a horror-thriller written by Jeremy Slater
*"
Angelmaker
," written by Alexander Vesha
*A film based on the Showtime series "Dead Like Me," written by Steven Godchaux and directed by
Stephen Herek
*"
Species: The Awakening
,"
*"Wargames: The Dead Code," based on "WarGames."
---
Marvel Sweepstakes
Marvel Entertainment
is having a sweepstakes in which the top prize will be a walk-on role in an upcoming Marvel Studios film. The sweepstakes will run until 11:59 p.m. ET Aug. 10. Each Fan can enter only once. Other prizes include: Three first-prize winners will win collected editions of Marvel comics, fifteen second-prize winners get a 12-issue subscription to one of Marvel's hottest comic series. Click the headline to enter.
---
Terror Train
Nu Image
is mounting a remake of the 1980 film "
Terror Train
." Writer-director Gideon Raff will begin production this summer in Bulgaria. (Now here's a movie the Muses are screaming for a remake.)
---
The Lightning Thief
Chris Columbus
, once the hottest director in Hollywood, has been missing from the scene since "Rent." Now he is in talks to direct "
The Lightning Thief
" based on the first novel in Rick Riordan's best-selling "
Percy Jackson and the Olympians
" series. The story follows a young boy who discovers that he is the descendant of a Greek god and sets out (with the help of a satyr and a daughter of Athena) to stop the ongoing battle between the gods. The project will be for Fox.
---
---
Mike Fright: Stand Up!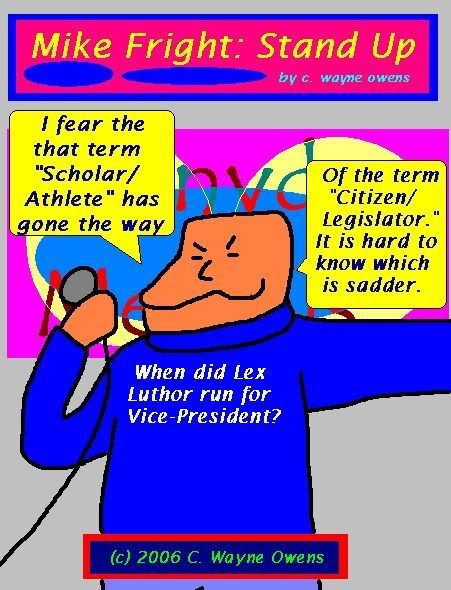 #513
Check Out: The Mike Fright Site!
---
---
Comic Previews
Comics Continuum has posted preview pages of
Cable & Deadpool #39,
---
Anita Blake, Vampire Hunter: Guilty Pleasures #6
,
---
X-Factor #18
,
---
Forgotten Realms: Streams of Silver #2
,
---
R.A. Salvatore's Demon Wars #2
,
---
&
Chucky #1
---
---
---
---