Wayne DVD Releases
Calling it an "
unprecedented initiative
," Warner Brothers and Paramount have announced that they will join together their sales and marketing resources and release a total of 48
John Wayne
movies on May 22 (Wayne's 100th birthday). Thirty-four will come from
Warner Home Video
; 14 from Paramount Home Entertainment. George Feltenstein, WHV's senior vice president of theatrical catalog marketing, called it "
a true testament to the power of Wayne's enduring appeal. By joining forces we're able to bring greater importance and attention to the 100th birthday.
"
IGN
lists the following as a partial listing of the packages: "
The flagship titles in the promotion will be
Rio Bravo
, in both a Two-Disc Special Edition and Ultimate Collector's Edition,
The Cowboys
as a Deluxe Edition, and
True Grit
as a Special Collector's Edition. Warner will also release for the first time its John Wayne Film Collection, a six-disc set that will feature the following films (all new to DVD):
Allegheny Uprising
,
Reunion in France
,
Tycoon
,
Without Reservations
,
Trouble Along the Way
and
Big Jim McLain
. With 34 Wayne films available from Warner and another 14 from Paramount, some of the titles that will be promoted this May include:
The High and the Mighty
(Special Collector's Edition),
Island in the Sky
(Special Collector's Edition),
The Man Who Shot Liberty Valance
,
The Shootist
,
Big Jake
,
Hondo
(Special Collector's Edition),
McLintock!
(Special Collector's Edition), and more.
"
---
G.I. Joe
IESB.net
says that producer
Lorenzo di Bonaventura
, while being not being confirmed by any studio, commented to them about some of his upcoming projects. He said they will start work on "
G.I. Joe
" immediately after "Transformers" wraps. He said he is eyeing Mark Wahlberg for the film. Wahlberg said: "
You know what, I'll do whatever Lorenzo wants me to do; it really depends on the script, obviously, but it's a cool idea. He says it's going to be kick ass, so yeah. But he's already putting that out there, so who knows. He knows how to get me to say 'yes.'
"
---
Sunshine Cleaning
Mary Lynn Rajskub
has joined
Amy Adams
, Emily Blunt, Alan Arkin and Steve Zahn in the cast of director Christine Jeffs' "
Sunshine Cleaning.
" In the film sisters (Adams and Blunt) run a service cleaning up after crime scenes and traumas. Rajskub will play a blood bank technician who is the object of Blunt's sexual obsession. The film currently in production in Albuquerque, N.M.
---
DVD Comics
GIT Corp
, who have been the processors of all the Marvel comic collections on DVD Rom, have posted on their site that they also expect to release (besides the Captain America announced yesterday)an Incredible Hulk box and a
Ghost Rider
box. Rather than calling them "
40 (or so) Years of
" like the others, they are just calling them "
The Complete.
" They cite a Feb. 1, 2007 release on the over 200 issue Ghost Rider collection (with an SRP of $29.99) and a March 1st for the Hulk box (with its $49.99 SRP). Strangely enough their site has nothing about the Captain America collection, though Amazon already lists all three.
---
Harry to the End
A Warner Brothers spokeswoman has confirmed that
Daniel
Radcliffe
will continue his role as Harry Potter in of the final two films in J.K. Rowling's series - - "Harry Potter and the Half-Blood Prince" (2008) and "
Harry Potter and the Deathly Hallows
" (2010). The fifth film in the franchise, "
Harry Potter and the Order of the Phoenix
," is to be released in July.
---
---
Mike Fright: Stand Up!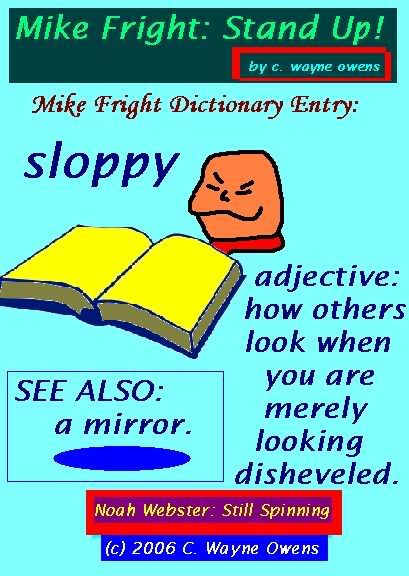 #470
Check Out:
The Mike Fright Site
!
---
---
Comic Previews
Comics Continuum has posted preview pages of
Uncanny X-Men #484,
---
Bullet Points #5
,
---
Newuniversal #4
,
---
Onslaught Reborn #3
,
---
Squadron Supreme:
Hyperion vs. Nighthawk #3,
---
G.I. Joe: Dreadnoks Declassified #2
,
---
&
Sheena: Queen of the Jungle
Preview Issue,
---
---
---
---