Supernatural
SCI FI Wire
spoke to executive producer of The
CW
's "
Supernatural
," John Shiban and he said that answers will be forthcoming as the second season wraps up. Shiban said: "
I think people will be surprised at some of [the answers]. Everybody has their theories, of course. We've got some good twists and turns in there. We've obviously hinted at some big things from the top of the season involving Sam's destiny, involving Dean's mission and what the demon is doing . . . . As usual in our Supernatural world, it's not going to be what everybody expects.
All Hell Breaks Loose
. Those things were done on purpose. At the top of the year we said, 'As we hit our mythology periodically, let's drop this piece of information. Let's let this out or let's let that out, which will set up our ending.' And I'm very pleased with how it played. I think people are not frustrated. They're not feeling we're stringing them along, which I think is good. The sense I get is that they're excited and they want to know more and they're going to get more. It's really been for us creatively real exciting and a real treat. We started out the year saying, 'OK, we're not just going to rest on our laurels.' And we were relatively happy with season one. There were some episodes that didn't work out as well as we hoped, and there were some things we tried that we weren't 100 percent happy with. But we said, 'Let's not just keep doing the same thing. Let's throw some curve balls. Let's open up the world. Let's add characters. Let's find different ways to tell stories, both in the area of what we call stand-alones - -our sort of monster-of-the-week episodes, where we did everything from killer clowns to a demonic virus to the ghost of the serial killer - - [and our mythology episodes].' We try to tell stories in a different way, sometimes with flashbacks, sometimes, [as in] '
The Night Shifter
' that aired recently, where it's sort of
Dog Day Afternoon
and you're telling the story from the middle.
" Supernatural tells the story of brothers Sam (Jared Padalecki) and Dean Winchester (
Jensen Ackles
) and their hunt for monsters. This season, they have been hunting the demon that killed their parents while having discovered that Sam has psychic powers. The demon wants to use Sam and others like him. Throughout the season, "
hints and tidbits
" have been dropped, that will lead up to the revelations in the two part finale. The next original episode ("Hollywood Babylon") airs on April 19 in the show's regular 9 p.m. ET/PT Thursday timeslot.
---
Straw Dogs
The Hollywood Reporter
says that Rod Lurie will direct a remake of the Sam Peckinpah film "
Straw Dogs.
" While the original film told a young American and his English wife moving to rural England and facing increasingly vicious local harassment, the new version will take place in the U.S.. Any other plot details are under wraps.
---
TV DVD News
TVShowsOnDVD.com
has posted news about a new release of the original "Outer Limits" (not a full season, and no extras) here. Season 2 of the cult hit "
The Rat Patrol
" is spoken of here. There is finally news of a release of "Dexter" over here. Other releases coming are "The Odd Couple" here, "Tales from the Crypt" here and the SciFi Channel hit "Eureka" is here.
---
The Best Time of Our Lives
Cillian Murphy
,
Matthew Rhys
, Keira Knightley and Lindsay Lohan will star in "
The Best Time of Our Lives
." The film tells of the relationships among Welsh poet Dylan Thomas (Rhys), his wife Caitlin (Lohan), his childhood friend Vera Phillips (Knightley) and her eventual husband William Killick (Murphy). John Maybury is directing.
---
Star Wars Stamps
On May 25th the Postal Service will issue a set of 15 stamps commemorating the "Star Wars" movies. The public will get to vote on their favorite, to be reissued in late summer or early fall as a single stamp. The stamps feature Darth Vader, Yoda, Obi-Wan Kenobi, Han Solo and Chewbacca, Anakin Skywalker fighting Obi-Wan Kenobi, Queen Padme Amidala, Luke Skywalker, Princess Leia Organa with R2-D2, Emperor Palpatine, Darth Maul, Imperial Stormtroopers, Boba Fett, The Millennium Falcon, an X-wing fighter and C-3PO. David Failor, director of stamp services at the Postal Service, said: "
We're hoping that it really grabs a lot of attention. There are certainly a lot of `Star Wars' fans out there.
" The 15 stamps will be issued on a single sheet made to look like a movie poster. As soon as the stamps are available, people who want to vote for their favorite will be able to do so online at http://www.uspsjedimaster.com.
---
---
Mike Fright: Stand Up!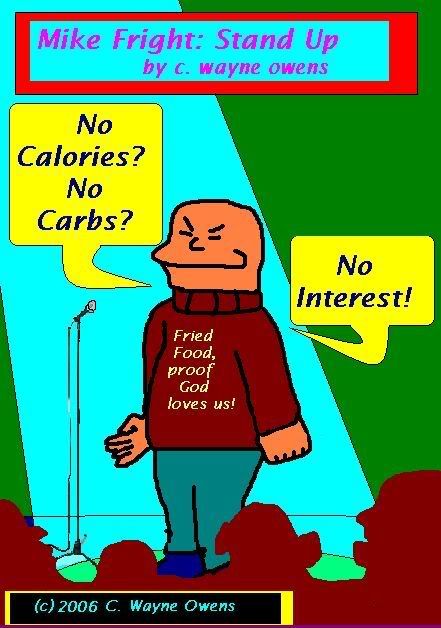 #496
Check Out: The Mike Fright Site!
---
---
Comic Previews
Comics Continuum has posted preview pages of
Fathom: Kiani #1,
---
The Transformers: Escalation #5
,
---
Scarface: Scarred For Life #4
,
---
&
Punisher War Journal #6
---
---
---
---