Lost
SCI FI Wire
spoke to
Naveen Andrews
about ABC's "
Lost
," and he said that the network is thinking about starting the next season in January. The show, which has been renewed, would then run though it's next season without interuption. Andrews said: "
I believe that's the plan. I think they should make it sort of like what it was before. I liked it when it started a little bit earlier, because a lot of the audience are kids, aren't they? I thought, hmm.
" And Andrews' character, the former intelligence officer for the Iraqi Republican Guard? "
It would be nice if he were seen a bit more. That's a start. I loved the first season. Now I'm really proud of it, and I put it up there with the work that I'm most proud of, and we'll always have it. They can't ever take it away. It'll always be there. And, you know, I'm not a writer. It's their choice to do what they want to with that show, and they will.
" "
Lost
" is still in production, with four or five episodes yet to film, and that includes the season finale.
---
Castlevania
Dread Central
reports that
Paul W.S. Anderson
is no longer writing or directing the Rogue Pictures film version of the video game "Castlevania." Described as "
a fresh take on the much-filmed Dracula legend, mining back to its genesis in the story of the Romanian prince Vlad the Impaler
," there is no firther information about the film's progress. Anderson will now concentrate on developing a remake of "Death Race 2000," to be called "Death Race 3000."
---
End of DVD Rentals
Reed Hastings
, CEO of online DVD renter Netflix, says that the end is coming for people renting DVDs through the mail. Hastings told the Wall Street Journal: "
Renting DVDs through the mail in 25 years? For sure, that's not going to exist. If one thinks of Netflix as a DVD rental business, one is right to be scared. If one thinks of Netflix as an online movie service with multiple different delivery models, then one's a lot less scared.
" Hastings said that Netflix is investing $40 million into its Internet delivery system this year, saying: "
We'll be up to 5,000 films by the end of the year.
"
---
The Boy Who Fell Out of the Sky
Niki Caro
is set to adapt and direct
Ken Dornstein
's memoir "
The Boy Who Fell Out of the Sky
" for
Warner Brothers
. It is the story of Dornstein's brother David, who died with 269 others in the 1988 Pam Am Flight 103 airline terrorist bombing over Lockerbie, Scotland. Then Dornstein learns more about his older brother after discovering hundreds of thousands of words that David, a promising writer, left behind. Caro said: "
I'm pretty compelled by material that's real and human. It looks at the emotional consequences of terrorism, but not in a political way.
"
---
Song of the South
The Walt Disney Company's 1946 film "
Song of the South
" has been talked about for a lot of reasons. It was Disney's first big live-action feature and produced one of the company's most famous songs ("Zip-a-Dee-Doo-Dah.") It provided the inspiration for the Splash Mountain rides at Disney's theme parks. But, because its portrayal of plantation life during slavery is obviously salnted by caucasian eyes, it remains a thorn in many sides. It has never been released on video in the United States, the film's 60th anniversary passing last year without a whisper of official rerelease. But Bob Iger, President and CEO, has recently hinted that the company was reconsidering. Over 115,000 people have signed an online petition urging Disney to make the movie available, and out-of-print international copies routinely sell online more than $100. Iger said this month: "
The question of `Song of the South' comes up periodically, in fact it was raised at last year's annual meeting. And since that time, we've decided to take a look at it again because we've had numerous requests about bringing it out. Our concern was that a film that was made so many decades ago being brought out today perhaps could be either misinterpreted or that it would be somewhat challenging in terms of providing the appropriate context.
"
---
---
Mike Fright: Stand Up!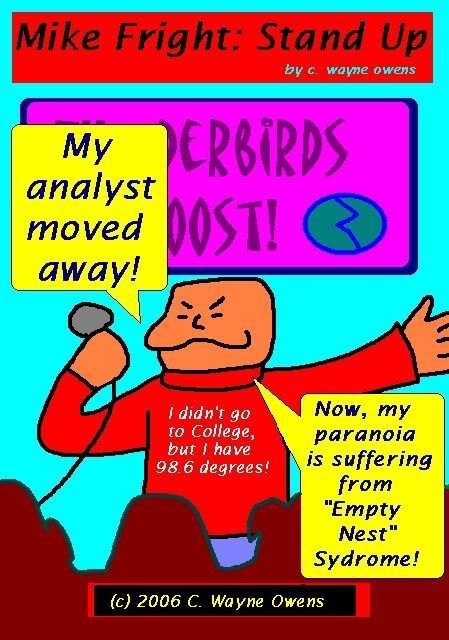 #493
Check Out: The Mike Fright Site!
---
---
Comic Previews
Comics Continuum has posted preview pages of
The Legend of Isis,

---
Vampirella Quarterly: Spring 2007
,
---
The Ride: Die, Valkyrie #1
,
---
Wonder Woman #6
,
---
Moon Knight #9
,
---
&
Dark Tower: The Gunslinger Born #3
---
---
---
---