Pushing Daisies
Bryan Fuller
spoke to
SCI FI Wire
about his ABC pilot "
Pushing Daisies
," saying: "
It's about a pie maker who can touch dead things and bring them back to life. He touches dead fruit, and he puts them in his pies, and he has the best pies in all the land. . . . The rules of the show is: He touches a dead person once, and they come back to life, and then if he touches them a second time, they go back to being dead, and he can never bring them back. And he touches a dead girl, falls in love with her and can't ever touch her again. So it's a romantic comedy.
"
Barry Sonnenfeld
is directing the pilot, which is narrated by Jim Dale. About Dale (the narrator of the Harry Potter audio books), Fuller says: "
He narrates it like it's very much a fairy tale. And it's a lot of fun. We're halfway through filming right now.
" Fuller spoke about his obsession with death: "
When I was a kid, my happiest memories were going to funerals, because that's when I got to see, like, the extended family and the cousins. And I could actually talk about movies and television and things that I was obsessed about. The things that my immediate family didn't want to hear. So they were always very happy occasions. . . . And, also I think the whole death thing - - talking about or examining death - - is a really good way to examine life.
" The show stars Lee Pace, Anna Friel, Kristin Chenoweth,
Chi McBride
, Swoosie Kurtz and Ellen Greene. ABC's decision to pick up "
Pushing Daisies
" should come in April or May.
---
Hermione Done?
WENN
is reporting that Emma Watson has been offered $3.9 million to play Hermione Granger in upcoming Harry Potter films, but declined. Rupert Grint told
News of the World
, "
Emma doesn't want to do it anymore. She's tired of being known as 'that girl from Harry Potter.'
Daniel
and I are distant from her now. We don't text or talk to her when we are not filming.
" One can only hope it is a negotiating ploy.
---
Shazam!
The New York Daily News
reports that executives at
New Line
are desperately trying to get Jake Gyllenhaal to play Captain Marvel in "
Shazam!
" (So much so that IMDb already lists him) A source at the paper says: "
They're ready to spend up to $200 million to get it (the franchise) started.
" Sources say director Peter Segal want to sign the star before
Sam Raimi
can get to him to replace Tobey Maguire in future "Spider-Man" films.
---
Gumby
Clokey Productions
has announced that Gumby will be marking his 50th anniversary with a facelift and a digital premiere. Classic episodes of the Gumby TV series have been made available on Google, YouTube,
AOL/In2TV
, and the
DMGI channel
, after undergoing a digital remastering and audio restoration, in preparation for the fall release of "
The Essential Gumby DVD collection.
"
---
2012
Michael Bay
plan to bring
Whitley Strieber
's upcoming novel "
2012: The War for Souls
" to the screen. Strieber's story centers on an academic researcher who discovers that multiple versions of Earth that co-exist in different dimensions are all are threatened by an apocalypse to occur in 2012 as prophesied by the ancient Mayans. No one has been signed to adapt as yet. Writer/producer
Roberto Orci
said: "
We've been looking for a way to have the kinds of thrillers that we are interested in that still take into account the latest theories and discoveries in Egyptology and in quantum mechanics and all those things that Mr. Strieber is so knowledge about.
"
---
Dolemite
Nothing has ever been brought to the screen that is remotely like the 1975 "
blaxploitation
" film "
Dolemite
." The Rudy Ray Moore character lived in a world that defies definition. He is an ex-con who joins forces with a squad of "
kung-fu fighting girls
" and other allies as he tries to regain control of his nightclub. Moore will now executive produce and might have a role in a remake. Bill Fishman, who bought the remake rights and will direct the film, said: "
I think there is a certain sincerity in the original that is kind of undeniable. (Moore's) a cult figure and a luminary . . . He's an original. (We are) giving enough respect to the original and building on it.
" The film is set in Los Angeles, but some shooting may be done in New Orleans.
---
---
Mike Fright: Stand Up!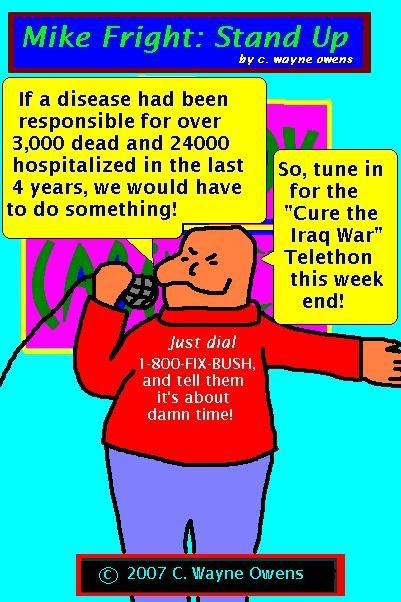 #483
Check Out: The Mike Fright Site!
---
---
Comic Previews
Comics Continuum has posted preview pages of
Ms. Marvel #14,
---
Omega Flight #1
,
---
Runaways #25
,
---
First in Space
,
---
After the Cape #1
,
---
Girls #23
,
---
Gødland #17
,
---
&
The Walking Dead #36
---
---
---
---