Blanchett & Jones
News about the fourth
Indiana Jones movie
has been, to say the least, sparce. We don't even know the real title yet (prospective titles have included "
Indiana Jones and the Ravages of Time
" and "
Indiana Jones and the Lost Continent
") So, when The Hollywood Reporter released word that
Cate Blanchett
would join Harrison Ford in a starring role, the press jumped on it like hungry dogs on a hunk of salami. Everyone, by this time, knows that the project will be produced by Lucasfilm and directed by Steven Spielberg, and the super secret screenplay by is by
David Koepp
. We don't even have a clue what character Blancett will play. Here is what little else we know: Production starts in June in Los Angeles and at undisclosed locations around the world. We also know that Paramount Pictures will release "
Indy 4
" around the world on May 22, 2008. I am now going to make a sandwich.
---
Mad Max
George Miller
has announced his plans to produced a sequel to the Mad Max films. Miller said: "
I have a few projects in the pipeline including an animation . . . but I do want to make another Mad Max movie and get stuck back into that.
" Will Mel Gibson be involved? Miller responded: "
He was 21 when he made the first one, now he's a lot older and his passion is for film making and directing. I don't think he is into acting and I don't think he would be interested in being involved at all
."
---
Bards Get Respect
My buds, the Brobdingnagian Bards got a nice write up at Slice of Sci Fi, and you can read it here.
---
Shadow Puppets
Director and screenwriter Michael Winnick said: "
The film is closing the 25th Annual Brussels Festival of Fantastic Film (BIFFF) on April 16th. And thanks to all of the fan support, in early summer, there will be some limited theatrical screenings. I don't know all the details yet, but the film will definitely play in Los Angeles. And at the end of the summer, there will be a large DVD release. Hope all is well and thank you again for all of your support!
" "
Shadow Puppets
" stars Jolene Blalock, Tony Todd and James Marsters. The story follows eight strangers with no memory of their past or who they are, trapped in an abandoned asylum. Eventually they learn they were subjects of a mind erasing experiment that went bad and now their own shadows have been loosed as a murderous creature out to attack and consume them.
---
DVD News
Fans of early Superheroes animation rejoice! TVShowsOnDVD.com has word on several DVD sets that should make you smile. Before he was Harvey Birdman, he was Birdman of "Birdman and the Galaxy Trio," and info about their DVD set is here. Before he was the host of "Space Ghost Coast to Coast," he was the star of "
Space Ghost
and Dino Boy," and you can return to that Alex Toth incarnation here. Filmation's versions of "The New Adventures of Superman" will be on DVD here, and "The New Adventures of Batman" (with the voices of Adam West and Burt Ward) is spoken of here.
---
Veronica Mars
"
Veronica Mars
" is one of
The CW
shows that is still on the bubble. If it returns creator Rob Thomas has come up with the idea to fast-forward a couple of years and we will find Mars studying at the FBI Academy. Thomas is filming a trailer for just such an alternative fourth season, to be submitted to the CW. The network's executives ultimately will decide whether to pick up the series for another season and, if they do, they can choose to stick to the drama's current plot line or go with the new version.
---
---
Mike Fright: Stand Up!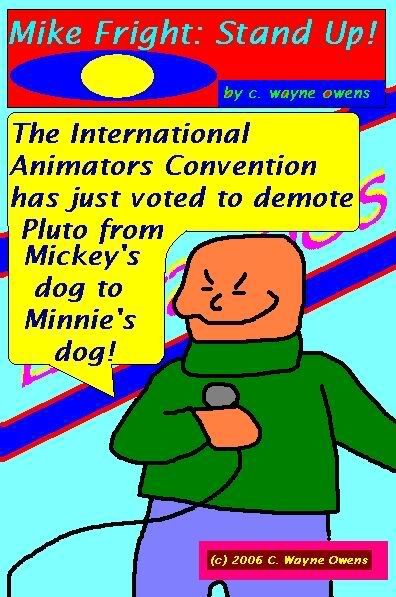 #482
Check Out: The Mike Fright Site!
---
---
Comic Previews
Comics Continuum has posted preview pages of
Marvel Zombies/Army of Darkness #2,

---
Robin #160
,
---
Teen Titans #44
,
---
Grifter & Midnighter #1
,
---
&
Vengeance of the Vapor #1
---
---
---
---