Stardust
Paramount Pictures
has posted the first trailer (at Yahoo!) for "
Stardust
," the new film based on the fantasy novel and then graphic novel by
Neil Gaiman
and artist Charles Vess. Comic Book Resources News spoke to the authors last year, when they told of their involvement with the film adaptation of their Vertigo book and its the cast (including Michelle Pfieffer, Robert De Niro,
Claire Daines
, Ricky Gervais, Peter O'Toole, Rupert Everett, Sienna Miller and Ian McKellen). "
Stardust
" will be released August 10 th.
---
No
Freddy vs Jason
Sequel
Bloody Disgusting
reports that
New Line Cinema
has said that rumors of a "Nightmare on Elm Street" prequel and a "
Freddy
vs Jason
" sequel are false. The site offers: "
We checked in with some peeps at New Line Cinema who confirm everything floating around the web right now is untrue. Sure one day we might see Freddy return to the big screen, but right now the focus is mainly on rebooting Jason Voorhees with a remake of
Friday the 13th
. Hopefully one day something with eventually come into fruition.
"
---
Online Video Guide
So many clips, and complete shows on the net, how to find which ones you want to watch? TV Guide comes to the rescue! They have announced that they will start testing an online video search tool. Richard Cusick, senior vice president of digital media at Gemstar-TV Guide, told Fox News: "
Everybody says, 'Who's going to be the TV Guide of online video?' and we say, why shouldn't it be us?
"
---
Teen Wolf
DarkHorizons.com
reports that Smallville's Tom Welling will be playing as unyet unamed role in the new version of "
Teen Wolf
," the 1985 Michael J. Fox film. They also say that the werewolf of the title will be played by a female.
---
Einstein and Eddington
HBO
will bring together Gollum and Dr. Who to change the world of physics. HBO Films and the BBC will present
Andy Serkis
, as Albert Einstein, and David Tennant, as Sir Arthur Eddington, in a TV movie about the creation of Einstein's theory of relativity. "
Einstein and Eddington
," chronicles Einstein's work on the theory that he began while he was a clerk at the Swiss Patent Office. After a 1905 paper on special relativity, Einstein spent almost a decade developing the theory of general relativity, which introduces the notion of curvature in space-time. British scientist Sir Arthur Eddington was one of the most prominent astrophysicists in the first decades of the 20th century and the first physicist who understood Einstein's idea. The pair kept up a correspondence during the time when their countries squared off in World War I. It was Eddington's 1920 article, which offered proof of the relativity theory of gravitation using data from the 1919 solar eclipse, that introduced Einstein's theory of general relativity to the English-speaking world. "
Einstein and Eddington
" has a screenplay by
Peter Moffat
and Philip Martin will direct.
---
---
Mike Fright: Stand Up!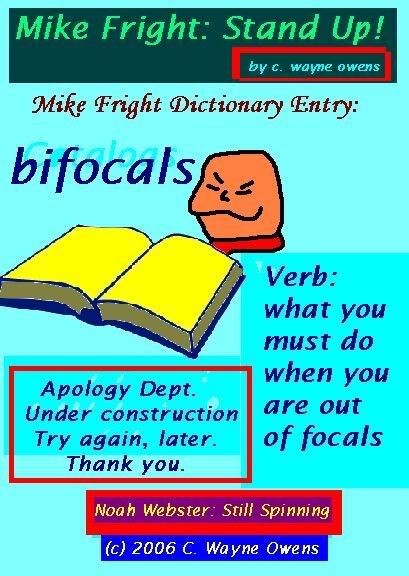 #491
Check Out: The Mike Fright Site!
---
---
Comic Previews
Comics Continuum has posted preview pages of
Mighty Avengers #2,
---
Ghost Rider #10
,
---
Star Wars: Legacy #10
,
---
Usagi Yojimbo #101
,
---
Sonic the Hedgehog #173
,
---
Archie & Friends #108
,
---
&
Archie Digest #233
---
---
---
---