The Talisman
First you can find the above graphic and related images here. Now, The Hollywood Reporter tells us that Turner Broadcasting System has announced that "
The Talisman
" mini-series from
Steven Spielberg
and DreamWorks Television is set to air on TNT in 2008, and could become a regular series in 2009. Spielberg will executive-produce the six-hour miniseries for the summer of 2008. Published in 1984 by Stephen King & Peter Straub, the book tells the story of a boy who (According to IMDb) "
To save his mother from certain death, young Jack Sawyer enters a parallel world known as the Territories in search of a powerful talisman
."
---
Peaceful Warrior
Universal Pictures
did a limited release of "
Peaceful Warrior
" last year. This year they have come up with an unusual plan to try to fill theaters when the film re-opens later this month: They will be giving away $15 million worth of free tickets. In partnership with Best Buy, the film company is giving interested moviegoers as many as 10 free tickets to see it during its opening weekend, March 30 to April 1. The film is based on Dan Millman's novel, "
Way of the Peaceful Warrior
." Adam Fogelson, Universal's president of marketing said: "
We wanted to allow consumers a chance to sample the film and opted to redirect money from a traditional marketing campaign and instead purchase and provide tickets to moviegoers directly. This truly is an example of an offer with no strings attached. The hope is that word of mouth and enthusiasm will sustain interest.
" Tickets are to be available online here, starting Sunday and ending April 1.
---
What's $50 Million to the
Watchmen
?
The Hollywood Reporter says director Zack Snyder is hoping the "300's" success wil allow him to go for a $150 million budget to adapt Alan Moore's graphic magnum opus. Not surprisingly the studio woul like to keep the budget less than $100 million.
---
Monsters vs. Aliens
Variety
reports that DreamWorks Animation is planning to make all it's films in 3-D starting in 2009 and the first of those will be "
Monsters vs. Aliens
" which begins production this spring. The story tells of monster hunter Rex Havoc who responds to an alien invasion of Earth by enlisting some of his former foes, Ick!, Dr. Cockroach, the 50,000 Pound Woman, and Insectosaurus, to battle the aliens. Jeffrey Katzenberg, DreamWorks Animation CEO, said: "
We have not really been enthusiastic about turning 2-D into 3-D in post-production. It doesn't begin to touch the quality of a product that is originated in 3-D.
"
---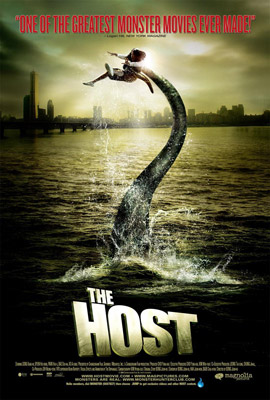 The Host
Sci Fi Wire
says that Universal Studios has acquired the rights to remake the Korean-language monster movie, "The Host." In the film a dysfunctional family that must overcome its differences to save its daughter, who's been grabbed by a creature that an unresponsive government declares is the host of an unidentified virus.
---
Cry Baby
Last night on "The Daily Show" John Waters told Jon Stewart about the upcoming opening on Broadway of the musical version of his film "
Cry Baby
." He said: "
I've been listening to the music and it's great. We've been holding auditions and when you hear songs over and over and they are still good, that's the test.
"
---
---
Mike Fright: Stand Up!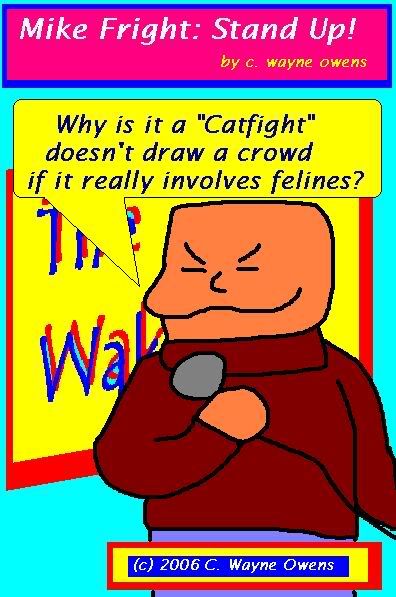 #479
Check Out: The Mike Fright Site!
---
---
Comic Previews
Comics Continuum has posted preview pages of
Thunderbolts Presents:
Zemo - Born Better #2,
---
Spider-Man: Reign #4
,
---
Wolverine: Origins #12
,
---
Archie's Double Digest #178
,
---
&
Archie #574
,
---
---
---
---