Wanted
In an interview with Comingsoon.net, James Macavoy spoke of working on the Mark Millar character, saying: "
They want me to do as much as I can anyway. There's a lot of free running and Parkour and all that kind of stuff. A lot of driving and guns and all that kinda rubbish. But it's quite important for me because the reason I wanted to play this character in 'Wanted' was because it still adheres to what I believe in, that heroes shouldn't always be perfect. We shouldn't always have the six-foot-five, chiseled-jawed, good-looking guy. That's why it's so good that '
Spider-Man
' is somebody like
Tobey Maguire
, and that's why I took this role. They wanted someone geeky. I screen-tested for the movie over a year ago and they never gave me the part. Then, it was about seven months later when they went, 'Look, we've been trying to find someone who's muscle-y who looks good and all that, but it just didn't work with someone like that' so they said, 'Could you come and do it?' They basically just said, 'You're the runt of the litter and that's what makes it work' so yeah, and that's why I like it. So while I'm doing all this physical work, it's important for me to remain small. I'm sure they want me to get all big, but it's important to remain believably geeky.
"
---

Hobbit in 2009

Robert K. Shaye, New Line founder and co-chairman, did an interview in the New York Times, stating that the studio intends to release The Hobbit in 2009. The Times wrote: "And he would not comment on reports in the news media that the 'Spider-Man' director Sam Raimi had been asked to direct 'The Hobbit.' He said, however, that although there was no workable script yet for the film, he intended to release it in 2009."

---
Reaper
Variety
reports that Kevin Smith will direct a pilot for a CW show called "
Reaper
." The show, written by Tara Butters and Michele Fazekas, tells of a 21-year-old slacker who discovers that his parents sold his soul to the Devil and now he must work as a bounty hunter retrieving souls. Smith likens the pilot to "
Shaun of the Dead
," saying is decision to do the show was easy. He said: "
Why am I doing it? a) The script is funny, and b) I've always been curious about trying my hand at directing something I didn't write.
"
---
Charlie Feels
Lost
In an interview with WENN, Dominic Monaghan said he isn't happy with the some aspects of the show. He said: "
They had a beginning and then they had an ending and the studio says, 'Can you expand the middle?' That kinda gets you to a point where it's not as exciting. I'd like them to do four or maybe five great seasons and then we'll do, like, a couple of movies and it'll be like a big event. Stringing it out and losing the quality is not what we want.
"
---
TV DVD News
TVShowsOnDVD.com
has a bunch of news about new releases, like the one about "
Jason of Star Command
" they have here, and "That Girl" stuff over here, "Wanted: Dead or Alive" here and "Avatar: The Last Airbender" right here. They also have some info about "Supernatural" they put up here, and "Dark Skies" rumors here.
---
Weaver
Joins
Avatar
Sigourney Weaver will be joining the cast of James Cameron's 3-D film "
Avatar
." The 20th Century Fox film starts production in April for a 2009 release. Weaver will portray a veteran interplanetary explorer who serves as a mentor to Jake Sully (Sam Worthington), a wounded ex-Marine forced into an effort to explore and exploit an exotic planet rich in biodiversity. He ultimately leads the planet's indigenous race in a battle for survival.
---
---
Mike Fright: Stand Up!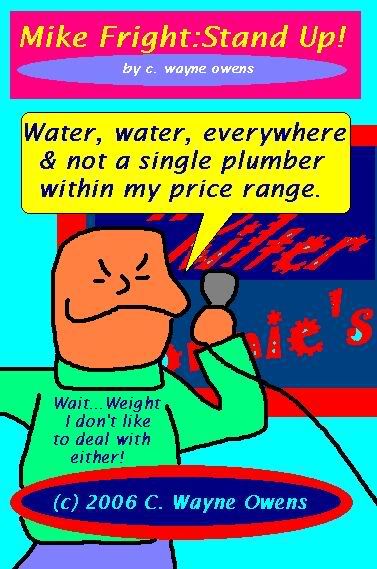 #456
Check Out:
The Mike Fright Site
!
---
---
Comic Previews
Dark Horse Comics has posted


preview pages for


Conan #37,
---
Criminal Macabre:
Two Red Eyes #3,
---
Ghost in the Shell 1.5:
Human-Error Processor,
---
Outer Orbit #3
,
---
Rex Mundi #4
,
---
Samurai: Heaven and Earth Volume 2 #3
,
---
&
Star Wars:
Knights of the Old Republic #14
---
---
---
---