Already Dead
Variety
reports that Phoenix Pictures and
Mike De Luca Productions
have picked up the rights to the Charlie Huston vampire novel, "
Already Dead
." (This is not, in any way connected to the Joe Otting directed film of the
same name
, set to be released this year) Adapted by Scott Rosenberg the story tells of yet another vampire turned private detective. The V.P.I. in this case is hired by a New York socialite to track down her runaway daughter. This city's vampires run in clans and become blood drinkers because of a virus. Things get complicated when a new virus turns victims into carnivorous zombies, and the balance between humans and vampires is threatened.
---

Two weeks ago Viacom ordered all of the clips from its cable networks be yanked from YouTube. Now the Wall Street Journal reports those clips will show up on new video website, Joost. Under this new deal, Viacom has agreed to license hundreds of hours of programming from MTV, Comedy Central, Nickelodeon, BET, Spike, and its other cable networks, plus movies made by Viacom-owned Paramount Pictures. Philippe Dauman, Viacom CEO, said that the deal is non-exclusive and is meant to assure any other "potential partners that we're open for business and that we're able to enter into transactions with companies that respect our content and the considerations of our business."

---
Two-Face Cast
Aaron Eckhart
has been officially announced to play Harvey Dent/Two-Face in "The Dark Knight," a sequel to "Batman Begins." Dent, Gotham City district attorney and Batman ally, goes insane after half of his face is disfigured by acid. Now known as Two-Face, he chooses to do good or evil by flipping a coin. The film sequel, directed by Christopher Nolan, will be released next summer.
---
Prom Night
Hooray, it is time for another totally unnecessary remake! Brittany Snow has been cast in the upcoming remake of the slasher epic "Prom Night," in the
Jamie Lee Curtis
role. In the original 1980 film a group of teen girls is stalked by a masked killer. What an unexpected turn of events! Who could have imagined such a thing? Nelson McCormick is directing and
Neal Moritz
, who produced the original, will produce the remake, expected to debut in 2008.
---
American Girl
HBO Films
has signed a production deal with the Mattel-owned
doll and book retailer American Girl to do films, series, specials and documentaries. First there will be an untitled live-action theatrical film through Picturehouse, based on the brand's Depression-era doll Kit Kittredge. Julia Roberts will serve as a producer.
Bob Berney
, Picturehouse president, said: "
We want to show that Picturehouse can incorporate any genre, any demographic in a really high-quality way. As an indie, to reach a younger girl audience is a really exciting prospect.
" There have already been such telefilms as
Disney Channel
's "Molly: An American Girl on the Home Front" last year and
WB Network
's "Felicity: An American Girl Adventure" in 2005 from the same source.
---
Grey's Anatomy
Spin Off
The Wall Street Journal says that ABC will create a spinoff of its popular medical drama "
Grey's Anatomy
." The show will star Dr. Addison Montgomery-Shepherd, the neonatal surgeon played by Kate Walsh. The two-hour pilot will most likely air in May.
---
---
Mike Fright: Stand Up!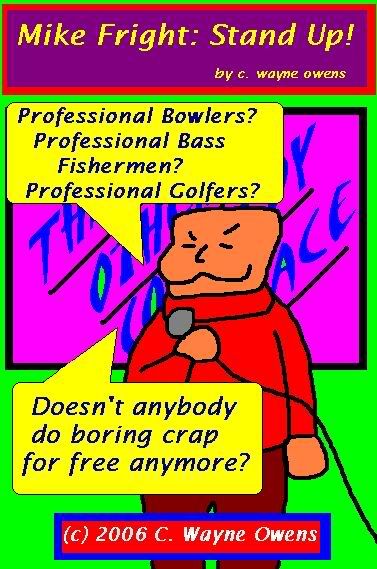 #457
Check Out:
The Mike Fright Site
!
---
---
Comic Previews
Comics Continuum has posted

preview pages for


Ghost Rider: Trail of Tears #2,
---
Punisher War Journal #5
,
---
The Brave and The Bold #1
,
---
Zero-G #0
,
---
Girls #22
,
---
Impaler #3
,
---
Invincible #39
,
---
Jack Staff #13
,
---
&
Brit, Vol. 1: Old Soldier
---
---
---
---