Rambo IV: Pearl of the Cobra
Variety
is reporting that
Matt Marsden
has joined Sylvester Stallone, Kim Dickens and James Brolin in the cast of "
Rambo IV: Pearl of the Cobra
." This new story finds Rambo recruited by a group of human rights missionaries to protect them against pirates. When some of those missionaries are taken prisoner by Burmese soldiers, Rambo must assemble a team of mercenaries (one of whom is played by Marsden) to rescue them. Shooting starts on February 23 in Thailand.
---
Lost "
Lost
"
Film canisters featuring master footage of the TV hit were erased by airport X-ray machines, leading to $300,00 in reshoots. Producers claim security personnel at the Honolulu international airport are to blame because they didn't take notice of warning labels asking them not to put the film canisters through an x-ray machine. But airport insiders state the film canisters were mistakenly mixed in with passenger luggage, leading to the error.
---
The Deal
Based on the Peter Lefcourt novel about a down-on-his-luck Hollywood producer who cons a major studio into financing a $100 million action adventure script about 19th century British Prime Minister Benjamin Disraeli, "
The Deal
" will be filmed in South Africa this March. The story twist is that when the leading man is kidnapped the producer and a Hollywood studio head use the funds to make a completely different picture without telling anyone. William H. Macy and
Meg Ryan
will star in the script by Macy and Steven Schachter (who will direct).
---
Tony Bennett: The Music Never Ends
Netflix
and Clint Eastwood will join to produce an independent film about Tony Bennett. The documentary "
Tony Bennett: The Music Never Ends
" will feature an interview with Bennett conducted by Eastwood, who will also serve as executive producer, and will be directed by Bruce Ricker. Ted Sarandos, Netflix executive said: "
Netflix spearheading this prestigious project showcases our abilities to bring unique content to our subscribers and, in this case, a global audience.
"
---
Milli Vanilli Movie
Variety reports that
Universal Pictures
is developing a film about Milli Vanilli, who lost their coveted Grammy for best new artist in 1990 when it became known that they had never sung on their records. The project will be written and directed by Jeff Nathanson, with the cooperation of Milli Vanilli alumnus
Fabrice Morvan
, as well as the estate of his colleague,
Rob Pilatus
, who died of a drug overdose in 1998. Nathanson says: "
I've always been fascinated by the notion of fakes and frauds, and in this case, you had guys who pulled off the ultimate con, selling 30 million singles and 11 million albums and then becoming the biggest laughing-stocks of pop entertainment
."
---
Area 52
Matthew Lillard will play an Air Force officer in charge of a group of government employees in the Arizona desert who watch over a crashed UFO alien in the
NBC
comedy pilot "
Area 52
."
---
---
Mike Fright: Stand Up!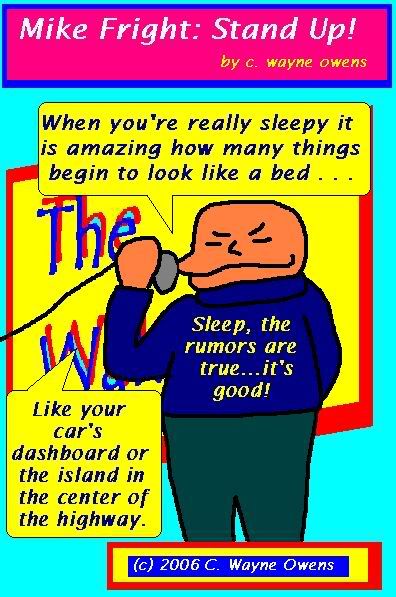 #454
Check Out:
The Mike Fright Site
!
---
---
Comic Previews
IGN Comics has posted

preview pages for


Hellboy Animated Vol. 2:The Judgment Bell,
---
Conan and the Midnight God #2
,
---
Elephantmen #7
,
---
Lions, Tigers & Bears Vol. 1
,
---
Danger Girl: Body Shots #1
,
---
Unravel #1
,
---
&
Savage Red Sonja:
Queen of the Frozen Wastes
---
---
---
---