Tapping Joins Atlantis
Amanda Tapping
will move from SG-1, when it ends, to Stargate Atlantis says the
SCI FI Channel
's news arm SCI FI Wire. Tapping will still play Lt. Col. Samantha Carter, after 10 seasons of SG-1, which goes off the air after completing the final 10 episodes of the current 10th season, in April joining the fourth season of Atlantis. Production starts in Vancouver, Canada next month. Tapping will appear in 14 of Atlantis's 20 episodes. In addition
Jewel Staite
returns to Atlantis and will appear in eight episodes, again playing Dr. Keller, a physician who joins the Atlantis expedition. Staite had also appeared on the series as Ellia, the Wraith child who was transformed into a human in the season-two episode "Instinct." The final episodes of Stargate SG-1 and the fianl episodes of the third season of Stargate Atlantis will air starting April 13.
---
No Galactus?

One of the oddest rumors going around is that the film "Fantastic
Four: The Rise of the Silver Surfer" would not deal with the pivitol character of Galactis at all. Since any comic reader understands that would be like having Superman without talking about Krypton, it has caused a few heads to undergo scratching. Now Doug Jones has given an interview to CHUD.com, where he said:. "So many decisions are being made every day, we went into it with a lot of things not decided. My official answer, that no one has told me I can't say is: it's difficult to introduce the Silver Surfer on film without Galactus having some sort of presence, now, isn't it? There, that's my answer."
---

The Hollywood Reporter says that Marcia Gay Harden and Toby Jones have joined the cast of "Stephen King's The Mist." They will join Thomas Jane, William Sadler, Andre Braugher, Laurie Holden and Amin Joseph in the cast. The film, written and directed by Frank Darabont, starts production this week.

---
Bert, Ernie &
Harvey Weinstein
?
Bob
and Harvey Weinstein have undercut the
Walt Disney Co.
, who own the rights to Kermit and Miss Piggy, by picking up the rights to distribute the shows featuring Elmo, Cookie Monster and Big Bird. Their Genius Products announced hat it had entered into a long-term distribution and co-production agreement affecting four Sesame Workshop franchises, including
Sesame Street
, which premiered in 1969. Harvey Weinstein said: "
I consider this to be one of the most important acquisitions I've ever been involved with, both on an artistic and commercial level.
"
---
March is Movie Month on Toonami
March will mark Toonami's tenth anniversary on March 17, and movies will be the celebration. March 3 features the recently released "The Invincible Iron Man"; March 10 features the world premiere of "
Hellboy: Blood and Iron
"; and Stan Lee's "Mosaic" will debut on March 17. Additionly, back-to-back airings of "Spirited Away" and "
Teen Titans: Trouble In Tokyo
" will end the month.
---
Stewie Gets Talk Show
Stewie Griffin and sidekick Brian will star in "
Up Late With Stewie & Brian
," a 10-minute flash-animated talkshow parody launching on MySpace Feb. 25 at 8 p.m., opposite the Oscars. (though the clip will remain online for a while.) The animated short includes a monologue from Stewie and an interview with Rob Corddry, star of Fox's "The Winner." The cross-promotion for "
The Winner
" is because the show comes from former "Family Guy" scribe
Ricky Blitt
, as well as "
Family Guy
" creator Seth MacFarlane. Plus, "
The Winner
" will air for three weeks starting March 4 at 8:30 and 9:30 p.m., with "
Family Guy
" sandwiched in between. Dana Walden,
20th Century Fox TV
President, said: "
It made sense to us and to our producers to create an environment ripe for parody where the stars of the two shows could interact. These are characters who one would assume are very popular in the online community. It's satisfying to fans of 'Family Guy' and also offers a nice introduction to that world for Rob.
"
---
---
Mike Fright: Stand Up!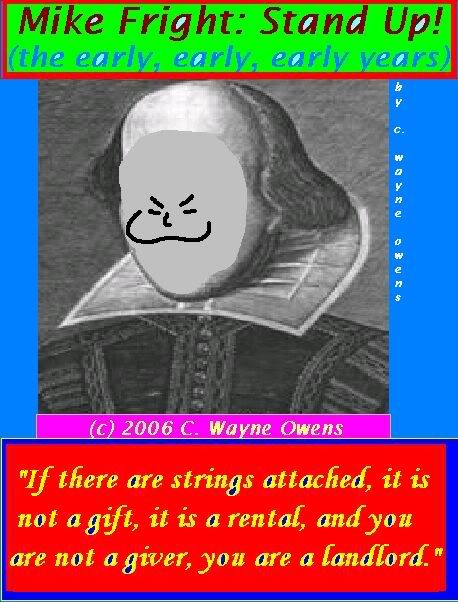 #458
Check Out:
The Mike Fright Site
!
---
---
Comic Previews
Comics Continuum has posted

preview pages for


Moon Knight #8,
---
Friendly Neighborhood Spider-Man #18
,
---
G.I. Joe vs. Tranformers Vol. IV #2
,
---
Wrath of the Titans #1
,
---
Cable & Deadpool #37
,
---
New Avengers: Illuminati #2
,
---
She-Hulk #16
,
---
Silent War #2
,
---
Legion of Monsters:
Werewolf by Night #1,
---
&
X-Men: First Class #6
---
---
---
---