Charlie is Busy
Young Freddie Highmore has told SCI FI Wire that his fantasy slate is full. "Arthur and the Invisibles" is playing around the country, he has already finished the "August Rush" and "
The Spiderwick Chronicles
" and wants to do a sequel to his hit "Charlie and the Chocolate Factory" with or without Tim Burton. He says: "
August Rush we did about this time last year in New York for three months. That was really great fun to do. I got to play the guitar in that, and my character is supposedly orphaned. He thinks he's orphaned at the start and he decides that he's going to try to find his parents because he believes they're still around.
" In "
The Spiderwick Chronicles
," He played the Grace twins, Jared and Simon, who, along with their sister Mallory (Sarah Bolger) move into a dilapidated mansion and discover magical creatures exists all around them. Highmore said: "
That was a really great thing to do because I got to play twins. So it was trying to differentiate between the two characters and make them different. Also, they're sort of opposites to each other, so it was easier to do.
" As for "
Charlie and the Great Glass Elevator
," Highmore opined: "
No one has said, 'Go and do the second one,' But, yeah, I had great fun doing that film and working with Johnny Depp. Tim was great to work with. Yeah, I would do [the sequel].
" "
Spiderwick Chronicles
" opens Feb. 15, 2008.
---
Heroes
Herosite
has an interview with former Dr. Who, Christopher Eccleston. "
What attracted me to 'Heroes' is that they came in for me and I appreciated that. We talked about two roles, and it was Claude that I decided on, the second role . . . there's a possibility that we'll be giving away plot points, but what I will say is that the first role was a villain, and I didn't want to play a villain. I think that it's somewhat of a cliche for European actors to play villains in American culture, and I didn't want to be part of that.
"
Tim Kring, creator and executive-producer of the show said that network renewal for a second season lets the writers to explore more story possibilities. He said: "
In network TV you never take these things for granted. And while we're clearly a success, these things are always fabulous. And I think how early it was done is just a huge show of support for the show. It is forcing these discussions about season two, and that's been actually one of the really fun things about this kind of storytelling. It seems to want to generate ahead far enough so that you're never really in that much trouble. It's amazing. I was sort of panicked by the idea of having to take a break at the end of this season and go off and think about season two, and it's just naturally starting to come up in the writers' room, and we're putting stuff up on the board. While I had big tentpole ideas of where I wanted it to go, the meat is actually getting filled out, and every day I look at that board, and I smile, because it's one less thing I have to think about on my hiatus.
" And, as for the looming apocalypse? It will be wrapped up before the end of this season. "
It's not necessarily a cliffhanger in terms of what has been set up so far, storywise. It's more of a cliffhanger as to the welfare and well-being of several of our characters. But there will be a payoff. . . . It plays into where we kick off at the top of the season.
" New episodes of "
Heroes
" begin Monday Jan. 22 at 9:00 p.m. ET/PT.
---
Jolie Out of Sin City 2?
Cinema Blend
is reporting that Rachel Weisz, and not Angelina Jolie, may be "
A Dame to Kill For
" in "Sin City 2." They say: "
Jolie just hasn't been able to fit it into her schedule. Now, after a lot of delays on the project, it looks like she may have been replaced. Now a disclaimer. I hate anonymous sources as much as anyone else. Don't rely on them, I don't. Please take the above as nothing more than a wild and completely unsubstantiated rumor until we can find some less anonymous confirmation. As for Rachel Weisz, Sin City 2 definitely sounds like the kind of movie she'd be interested in. In that sense the rumor works. But I have hard time picturing her as dame to kill for. I love Rachel Weisz, she's a brilliant and beautiful actress, but she's not exactly the same type of smoking hot bombshell you'd get in Angelina Jolie. If you're looking for someone to play a woman so hot men kill for her, you look for a more smoldering beauty. Scarlett Johansson maybe.
" You can read their full article here. CBR is saying that it could be Rose McGowen here.
---
Song of the South
Song of the South.net
has posted the following report: "
Rare Song of the South Behind-The-Scenes Footage on
Disney.com
. On Disney's official website is an exhibit within the Walt Disney Family Museum section featuring Song of the South. This isn't your everday overview page of Song of the South, however - - on this page there are three movie clips with over 10 minutes of rare behind-the-scenes footage! For any fan of Song of the South or anyone just interested in Disney history, this is a serious must-see. For example, how many of you knew that
Glenn Leedy
(the boy who played Toby) wore glasses off camera? This is an amazing find, and exactly the kind of material we would hope to see on a Special Edition DVD someday. Link:
http://disney.go.com/disneyatoz/familymuseum/

exhibits/articles/songofthesouth/index.html Song of the South DVD Release Possible on New Walt Disney Legacy Series? And speaking of DVDs, there is a new DVD series coming out called the Walt Disney Legacy Collection. Could this series possibly be an avenue to finally release Song of the South? Maerj over at the UltimateDisney.com Forums recently went to a DVD signing with Roy Disney: 'I asked about the possibility of releasing Song of the South on one of these Legacy sets and he [Roy Disney] knocked on the nearest peice of wood and said 'I'm hoping they agree to it.' So it sounds like he is really pushing for it. I think the Legacy sets would be the perfect outlet for the film. Maybe if the fans really started writing in to the right people it might help the process along?' Take it for what it's worth. I'd like to thank the anonymous source that contributed both news reports! Well, this will probably be the last news update until 2007. So until then, I hope you all have a Merry Christmas and Happy New Year!

"
---
Fairness Doctrine
One of the greatest windfalls to ever be given to the right wing was the striking down of the "Fairness Doctrine." Said legislation merely said that TV and radio stations had to run equal time for opposing viewpoints, not an alien idea in a democracy. But with Reagan and Rush the idea of fairness in media went out of the window, and now we have Fox News. Well Ohio Congressman Dennis Kucinich and Sen. Bernie Sanders of Vermont have announced that they plan require the FCC to restore the Fairness Doctrine. Kucinich as chair a new House subcommittee of the House Government Reform Committee will hold hearings on the role of the FCC and consider reinstating the Fairness Doctrine. The rule would have little effect on broadcast television networks, but it would play havoc with talk radio stations, which currently are dominated by conservative hosts. President Bush would almost certainly veto the legislation.
---
Movie Ratings
Variety
reports that the
Motion Picture Association of America
plans to make some alterations in its rating system. The MPAA will now warn parents about R-rated movies are not suitable for younger people - - whether accompanied by an adult or not. Another change allows filmmakers to cite scenes in other films when appealing a severe rating. Dan Glickman said that the organization has heard the criticism of its ratings system presented in the documentary "This Film Is Not Yet Rated," last year.
---
Yahoo! Animation
Yahoo! has signed a deal with anagement/production firm Gotham Group for original animated content to be distributed online. Gotham, which represents much of the top toon talent, will give Yahoo! access to online rights for animated shorts already produced by its clients, as well as new original projects. Ellen Goldsmith-Vein, head of Gotham, said: "
The Internet is the only place where you can make a real business out of animated shorts, which is exciting for the talent we work with.
"
---
24
's No Wait DVD
So, you missed the fist 4 hours of
24
? Not to worry! As DVD promotion revs up, you can get things earlier than ever before. This week, 20th Century Fox released the first four hourlong episodes of Season 6 of "
24
" immediately following the season's two-night, four-hour debut. The $14.98 "
24: Season Six Premiere
" DVD, which went on sale Tuesday, and also includes the first 12 minutes of Episode 5, a week before it airs, and a $10 coupon for any "
24
" complete-season set. Steve Feldstein, senior vp marketing communications at Fox, said: "
Everyone's talking '24,' so what better time to release something on DVD?
" The complete sixth season of "
24
" is likely to be released in the fourth quarter, just before the start of Season 7.
---
Wedding Bells
It is a big show for David E. Kelley veterans. "
Wedding Bells
," a Fox midseason show from producer Kelley, tells of the Bell sisters (KaDee Strickland, Teri Polo and Sarah Jones) who run a family-owned business called the Wedding Palace. Fyvush Finkel, will guest star as an elderly member of the Wedding Palace board who wants to improve the bottom line. Delta Burke will portray a bossy, opinionated mother of the bride, who bullies the Bell sisters into giving her what she wants. And Costas Mandylor will do three episodes as the head chef at the Wedding Palace.
---
---
Mike Fright: Stand Up!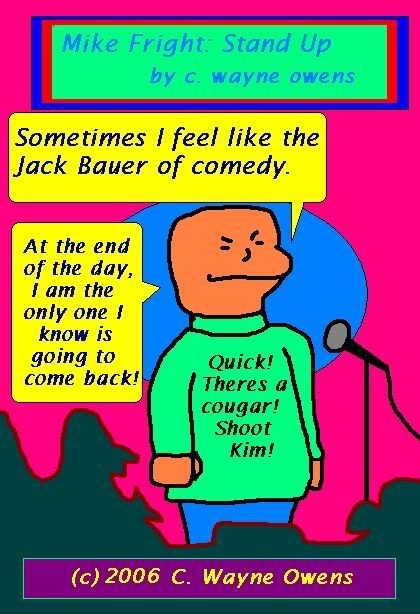 #423
Check Out:
The Mike Fright Site
!
---
---
Comic Previews
Comics Continuum has posted preview pages for
Cable & Deadpool #36,

---
X-Men: First Class #5
,
---
Ghost Rider #7
,
---
Sensational Spider-Man #34
,
---
She-Hulk #15
,
---
& Spider-Man: Reign #2

---
---