Fantastic Four: The Rise of the Silver Surfer
Wizard
spoke to Don Payne about sources for the upcoming sequel, and he said: "
As far as Galactus goes, the essence will be the same. We're also using elements from Fantastic Four #57-60, where the Silver Surfer encounters Dr. Doom. Then there are a couple moments that were inspired by Ultimate Extinction.
"
---
Superman Returns
Sequel
Sci Fi Wire
spoke to Michael Dougherty about "Superman: The Man of Steel" (working title). Dougherty said: "
I think it's going to be a more action-oriented film. Again, the easy comparison to make was [
X-Men
] to
X2
, or
Star Trek [The Motion Picture]
to
Star Trek II
. I mean, I know that
Bryan
has said he's going to Wrath of Khan it, and by that he means, 'Let's take what we've already established - - we've gotten that out of the way - - and let's just make it shorter, tighter and more action-packed.
"
---
John Carter of Mars
Reports are all over the internet that Disney and/or Pixar want to pick up the rights to Edgar Rice Burroughs' John Carter of Mars books. Variety was the first to bring light to the return of the beloved saga into the film world, and Dark Horizons and Mania Movies both have articles tracing the history of the odyssey the project has gone through. C.H.U.D. joins in with more updates. The big question is if these newcomers to the Barsoom world are thinking in terms of animated or live action. C.H.U.D. spoke to producer
Don Murphy and reports that if Disney doesn't go animated they may sit "
on the film for Andrew Stanton, the director of Finding Nemo. Apparently Stanton wants to do a live action movie, and John Carter is what he fancies . . . but he's lined up to do Pixar's post-post-Ratatouille film, meaning he wouldn't get started on John Carter, at the earliest, until next decade.
"
---
Get Smart
Dwayne "The Rock" Johnson
and Terence Stamp have joined the cast for the new version of the classic TV series of "Get Smart." Steve Carell is already on board to play Maxwell Smart and Anne Hathaway will be Agent 99. Johnson will portray Agent 23 (a new character) and Stamp will play the role of "
Evil Leader
." There are few plot details available but there is a promise that the cone of silence and the shoe phone will return. Production begins next month.
---
TMZ
: The Show
They were the ones who first reported on Mel Gibson's DUI arrest and posted video of Michael Richards's racial blast. Now they will become a syndicated daily television show for Warner Bros. TV. TMZ will be coming to Fox-owned stations, though no host has been announced.
---
Iron Man
Variety reports that Gwyneth Paltrow will join Robert Downey Jr. and Terrence Howard in the cast of Jon Favreau's "
Iron Man
." In the film, set to release in May 2008, Paltrow will play Virginia "Pepper" Potts, personal assistant to Tony Stark (Downey). Filming start in March in Los Angeles. Kevin Feige, Marvel Studios president of production, said: "
These are popcorn films designed for broad audiences, but there are multidimensional characters that have brought us the best luck with actors.
"
---
Whose Line Is It Anyway? UK
TVShowsOnDVD.com
has a couple of stories about the upcoming release of Season 1 & 2 of the British version of the Inprov show. The first is here and here is the follow up.
---
---
Mike Fright: Stand Up!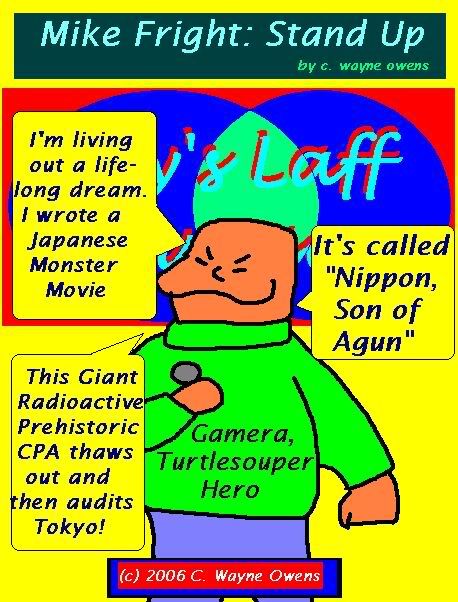 #422
Check Out:
The Mike Fright Site
!
---
---
Comic Previews
Comics Continuum has posted preview pages for
Ghost Rider: Trail of Tears #1,
---
VIII TPB,
---
Girls #21
,
---
Witchblade #103
,
---
The Iron Ghost: Geist Reich TPB
,
---
&
Liberty Meadows, Vol. 4:
Cold, Cold Heart TPB
---
Here is an archive of older articles
---
---
---