Bob
Terrence Mann
thought his job on "The Dresden Files" (which premieres Jan. 21 at 9 p.m. ET/PT.) was going to be a simple voice-over gig. As Bob, an air spirit trapped in a skull, he serves as the confidant of private investigator Harry Dresden (
Paul
Blackthorne
). Mann said: "
They thought it was going to be a voice-over and just this spirit in a fire and a glow of some kind of light. Then they realized they had to personify it and make it into a person, so they had to scramble to get it cast. So it all kind of happened very fast, within a couple of weeks. You've got to make some choices and just kind of go with it. But playing a 500-year-old wizard named Bob who lives in a skull, that's a challenge. It's not like doing The Odd Couple. I would say [Bob] is very intelligent, and he's got an ego, and he knows what he knows. He was very powerful at one time; that's why all the other wizards took him down. The great thing about it is that he and Harry are really a good match for one another. They go at it with each other, and that makes for some good conflict and good chemistry in doing what they do in the episodes.
"
---
Ghost Rider
Director Mark Steven Johnson told Sci Fi Wire that Nicolas Cage had a great idea on the set one day. He said: "
Nic convinced me that, although Johnny may be in pain, the Ghost Rider is actually happy about the transformation, and it probably feels really good for him to be unleashed after all this time. And so the screaming with horrible pain that I imagined turned into this maniacal laughter. That made it so much better. We know that the transformation scene is the most important scene in the whole movie, so it was important that we get it right.
" There is a new TV spot on YouTube.
---
Shantaram
Variety
says that Mira Nair will direct Johnny Depp in "
Shantaram
" for Warner Brothers. The film is about an Australian heroin addict who escapes from a maximum-security prison and reinvents himself as a doctor treating the destitute in the slums of Bombay. To procure medicine he ends up dealing with counterfeiting, gun-running and smuggling. Production begins this fall with 2008 eyed for release. The script was adapted by Eric Roth from novel by Gregory David Roberts.
---
21
The Hollywood Reporter
tells us that
Laurence Fishburne
is in final talks to join Kevin Spacey in the cast of Columbia Pictures and Robert Luketic's "
21
." Based on Ben Mezrich's "
Bringing Down the House: The Inside Story of Six M.I.T. Students Who Took Vegas for Millions
," the film is a Vega blackjack tale in which Fishburne plays a Vegas security chief who hunts down the group. Production starts next month.
---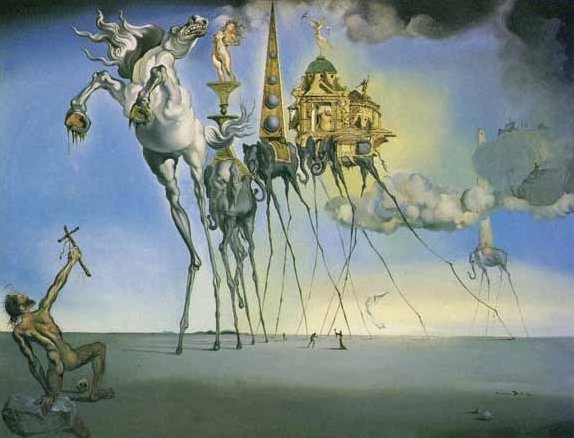 Dali and I: The Surreal Story
Andrew Niccol
will direct Al Pacino as Salvador Dali in "
Dali & I: The Surreal Story
," scheduled to begin production in June. The movie covers the years between the 1960s-80s, a time when most of Dali's great work was behind him and he became more flamboyant.
---
100 Years . . . 100 Movies Update
The American Film Institute
first compiled its "100 Years . . . 100 Movies" list in 1998. Now they are doing an update and plan to repeat the process each decade. Jean Picker Firstenberg, AFI president and chief executive, said: "
So much has changed in our country. Let's just hope there's not another 9/11, but clearly that shifted everything in our lives and shifted everything for anyone who chronicles the human condition. Will war films have a different prominence 10 years later? Will new voices be more dominant than we might have thought? Will films that were lower on the list rise higher?
" "100 Years . . . 100 Movies - - 10th Anniversary Edition" will debuts as a three-hour TV special on CBS in June.
---
---
Mike Fright: Stand Up!
#426
Check Out:
The Mike Fright Site
!
---
---
Comic Previews
Comics Continuum has posted preview pages for
Xena Annual #1: Strange Visitor,

---
New Battlestar Galactica #5
,
---
True Story, Swear to God #3
,
---
Drain #2
,
---
Noble Causes #26
,
---
Occult Crimes Taskforce #3
,
---
Invincible #38
,
---
PvP #30
,
---
&
Mike Carey's One-Sided Bargains
---
---