Genre TV Round Up
Here's what's happening with your returning TV shows:
"
Heroes
"
: Greg Grunberg, the mind-reading cop Matt Parkman on the NBC series, spoke to SCI FI Wire and says that his character is going to come to the forefront in the story line and that a big secret will be revealed about Matt's wife, Janice (
Elizabeth Lackey
). Grunberg said: "
She has a huge secret from me. Huge. I mean, when I read that, I was like, 'Are you kidding me?' [It's] bigger than [her] having an affair. Yeah, much bigger . . . . You'll have to watch . . . . It's pretty great. It's pretty great. And it affects everything . . . . And she's really happy. Usually, I shoot three out of the eight days [of production in a typical episode]. I mean, [I'm in] every single scene . . . . I'm working every day.
Clea
and I are working more and more together, which is great.
" About rumors of romantic sparks between Du Vall's Audrey Hanson and Parkman? "
We'll see. So far, we haven't [gotten together], but people are constantly asking me that, you know? Which I said earlier was, like, just [attributable] to our chemistry, I think.
" "
Heroes
" will return on Jan. 22 at 9 p.m. ET/PT.
"Jericho": Lennie James, Rob Hawkins on the CBS show said that writers will begin to fill in his character's history when the show returns next month. James said: "
He's got a storyline that's kind of coming up, [where] he goes someplace where you really didn't expect him to go. And maybe Hawkins will come back around. And also one of the other things that's happened is that, because of where we've come back, in episode 12, there's an arc that happens for Hawkins and his family that drags us to episode 15 [and then episode] 16. For the first five episodes of Jericho, I had no idea about my backstory, because I didn't want to know. I wanted to remain in ignorance. Don't ask me why. It was a really bad idea. But I thought it would make the producers think I was a really deep actor. But after that, I couldn't play the part without knowing it, so I did know his backstory, and I kind of know what's revealed in [episode] 12 and beyond, because that's not even half of it. And so I do have a kind of sense of who he is and what he's up to now, so I wasn't taken by surprise at all.
" An upcoming revelation he describes as "
a doozy
," he went on to say: "
It was really exciting, because it gives a lot of levels to play. And that's the enjoyable thing about playing Robert Hawkins: . . . that in every situation - - if someone says good morning to him - - he has to have three conversations with himself before he answers, and that's what I enjoy. And his backstory, his secret, just brings that deeper and deeper and deeper. Back home in England, a season is six episodes. So this is already the longest I've played a character, ever. And I mean, like, ever. But there's still half the cast I haven't done any scenes with. So that's great, because there's still stuff you're going to find out about yourself.
" Skeet Ulrich revealed: "
I think the deeper stuff that we've sort of developed over the past three months has yet to be seen. It's sort of why these things happen. There's an interim between me leaving Jericho and the past five years. That is the evolution of this story. It becomes clear where he'd been, certainly for a portion of that five years. But not unlike Hawkins' backstory, it's sort of one layer of what's been going on. I mean, you learn in episode 14 quite a bit more than you do in 12. But the thing I love about the character is you never know what's true and what's not. I mean, certainly the obvious question, 'Was he a soldier? Was he not a soldier?' [plays] into a lot of different scenes, and a lot of different ways of handling different characters, other characters. So, yeah, you definitely want to know.
" "
Jericho
" will return with a recap episode Feb. 14. Then new episodes start the following week at 8 p.m. ET/PT.
"Lost": Daniel Dae Kim, Jin on the ABC series said that the second half of this third season will focus on the entire cast, rather than just the story of Jack, Kate and Sawyer. He said: "
It's been a season of transition, I think. Because we went from an ensemble show to one that focused on a smaller number of characters. So for a lot of us, it's meant having more free time than we originally thought. But now it's changing again, and we're getting back to the island, and we're finding a rhythm
." Kim is bilingual but his character is just beginning to learn English. The actor says: "
It's something that the producers and I have been talking about for a little while. It just leads to different kinds of interaction with the other characters on the show. I think it would be great to have a change of pace for Jin in that way . . . . Part and parcel of speaking English is becoming involved with the main action of the island. Right now, I don't think Jin and Sun are that involved with the mythology of the show. They have a kind of separate subplot that exists independent of what the other characters are doing a lot of the time. And I'm looking forward to seeing how they fit into the big picture. Everyone talks about the island having redemptive qualities. And I think it was redemptive for their relationship as well. As far as where their relationship goes from here, I'm curious to see myself. I'm sure a baby will change our dynamic. It generally does . . . . We've already shot a few things where it's lighter. It's a different kind of feel to a scene with Jin in it. It's a welcome change.
" Impending character deaths? Kim said: "
Our show for some reason has taken on this mystery of who's going to die next. And I'm not sure how that happened or why it's happening. And I'm hoping that it doesn't become the main focus of what the audience is looking for.
" "
Lost
" returns in its new, later timeslot, 10 p.m. ET/PT on Feb. 7.
---
Ghost in the Shell
Variety
reports Production I.G. has picked up the rights to the animated Ghost in the Shell and has set into motion their plans to re-make it in live action. Production I.G did the animated "
Ghost in the Shell
" 1995 as well as the follow-up, "Innocence," and the animated TV series.
---
The Departed
AceShowBiz
says the Martin Scorsese film "
The Departed
" is on its way to becoming a trilogy. Mark Wahlberg said: "
We may do another one, because it's based on a Hong Kong film ['
Infernal Affairs
'], and there is a trilogy. So we may do a sequel with a new cast, and a prequel and bring back the rest of the guys. They're talking to
Robert De Niro
and a couple of other people. Anybody who is anybody wants to work with Marty
."
---
Hamlet
; Silent, In Color & Cross-Dressed?
The Berlin film festival
said that it plans to present a "rediscovered" color version of German version of Shakespeare's play produced in 1920/21 starring an actress, Asta Nielsen, in the title role. The film, originally shot in black and white and colored in post-production, had been released, but the color version had been considered lost. The news release from the festival explained the controversy of the film's original release, saying: "
To secure the succession to the throne, the Queen of Denmark disguises her daughter as a boy.
"
---
Destino
The Disney animated film, begun by Salvador Dali in 1945 and completed by Roy Disney 58 years later, will be screened at the
Tate Modern art museum
in London in June in the exhibit titled "
Dali & Film
." It debuted at Cannes in 2004 and was nominated for the Oscar that year. It was also shown with the movie "The Triplets of Belleville" in the U.S. in 2004. The film was reconstructed from story boards Dali created 1945 and 1946.
---
Sin City 2
Brittany Murphy
says about her Sin City character: "
I love Shellie so much.
Frank
has a soft spot for the character of Shellie. He wrote Shellie into every single one of his graphic novels, and she's the only single character that he wrote into every single one. So I'd like to see Frank be pleased with whatever Shellie's doing and the amount of whatever Shellie's doing. I would pop into any of the Sin City movies and say one line. I love being a part of it, and I have the real blessing of having had the stamp of approval from Frank Miller for his favorite character.
"
---
Teen Avengers
Craig Kyle
, vp of creative development for animation at
Marvel Studios
, told IGN.com that they are working on an "
Satuday morning cartoon style
" animated direct-to-video project with a working title of "
Teen Avengers
." Kyle said : "
It's a chance for us to kind of take some of the classic Avengers elements but then add them to another generation of heroes. And this isn't based on Alan [Heinberg]'s excellent YOUNG AVENGERS series. It's a wholly original project that we're trying to break for DVD.
"
---
---
Mike Fright: Stand Up!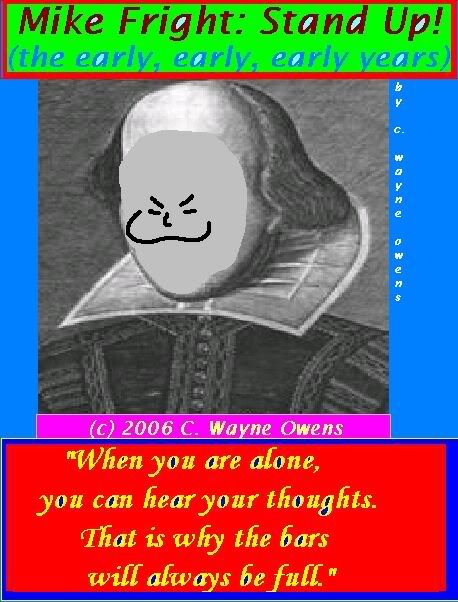 #427
Check Out:
The Mike Fright Site
!
---
---
Comic Previews
Comics Continuum has posted preview pages for
Iron Man: Hypervelocity #2,
---
Friendly Neighborhood Spider-Man #17
,
---
Dark Tower: The Gunslinger Born #1
,
---
Highlander #3
,
---
Red Sonja:
She-Devil with a Sword Annual #1,
---
&
Classic Battlestar Galactica #3
---
---