Watchmen
The New York Times reports here that Zach Snyder told them that he will not helm a sequel. Snyder said: "
Listen, they own the rights. If they wanted to go and hire some guy to make them a sequel to 'Watchmen,' I don't know that they would get any of those actors to do it, and I know that I wouldn't have anything to do with it. But they own it. They can do whatever they want. They can make a movie -- I've spoiled it, I think, a little bit. Do you leave that film going, 'Man, I wonder what the next chapter is?'
"
---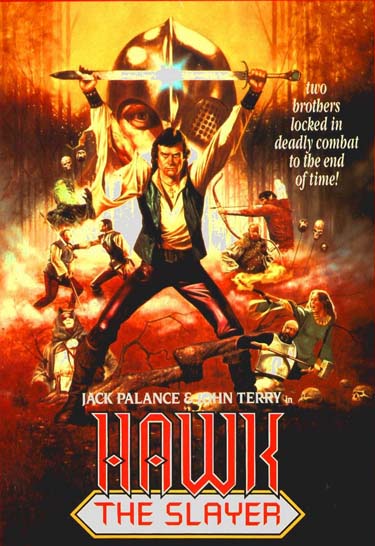 Hawk the Hunter
Word of the "Hawk the Slayer" sequel (no, I'm not kidding) is spoken of here at C.H.U.D.. Original director Terry Marcel will be back but Tom Hardy will be the new Hawk in the film with a $10 million budget. The site even has a trailer you can watch.
---
TV DVD News
TVShowsOnDVD.com has posted info about "Comics Without Borders" (Season 1) here, "The Rez" (Complete Series) here, "Voltron: Defender of the Universe" (Vol. 7) here, "The Smurfs" (Vol. 1) here, "Alvin & the Chipmunks" (The Mystery of the Easter Chipmunk) here, "Wings" (Season 8) here.
---
The Flash
IESB.net says here that the 2010 film finally has a writer and it's Dan Mazeau. They say: "
We've double checked with multiple sources and can say with 100% certainty that Mazeau is currently writing a script for the lightening fast superhero.
"
---
Iron Man 2
MTV has an interview here where Mickey Rourke talks about the rumors that he may play The Crimson Dynamo or Whiplash in the film. He also touches on the plot, but only lightly.
---
Comic Previews

Comics Continuum has posted preview pages of
The Boys #27,
---
Dead Irons #1,
---
Man with No Name #6,
---
Red Sonja #41,
---
Zorro #10,
---
Conan the Cimmerian #8,
---
Gigantic #3,
---
The End League #7,
---
& Buffy the Vampire Slayer Season 8 #23
---
---
---
---
---