The Voyage of the Dawn Treader
A month ago Disney dropped its backing for the third "
Chronicles of Narnia
" installment, and now Fox 2000 will pick up the project. Fox and Walden Media will split production costs which are expected to reach $140 million. This is less than the $215 million or so spent on the last film in the franchise. All of the cast from the first two installments are expected to return.
---
The Green Hornet
Now this from The Los Angeles Times saying that, not only is the project not dead, but now they are adding Adam Sandler. The Gods are angry!
---
The Story of Bonnie and Clyde
The Hollywood Reporter says here that Tonya S. Holly is directing and that Hilary Duff & Kevin Zegers are in talks to play the title characters in the 2010 project. They also say: "
The makers are stressing that the new film is not a remake and are promising to showcase times in the couple's lives not seen onscreen before. Holly first became interested in the story of the fugitive lovers after finding old newspaper articles about their exploits in an abandoned house on her family's property.
" Yet another remake crime (Despite what they say).
---
TV DVD News
TVShowsOnDVD.com has posted info about "Voltron: Defender of the Universe" (Collection 7) here, "The Dana Carvey Show" (Complete Series) here, "Tiny Toon Adventures" (Season 1, Vol. 2) here, "The Clone Wars" (A Galaxy Divided) here, "Dynasty" (Season 4, Vol. 1) here, "Charles in Charge" (Season 4) here.
---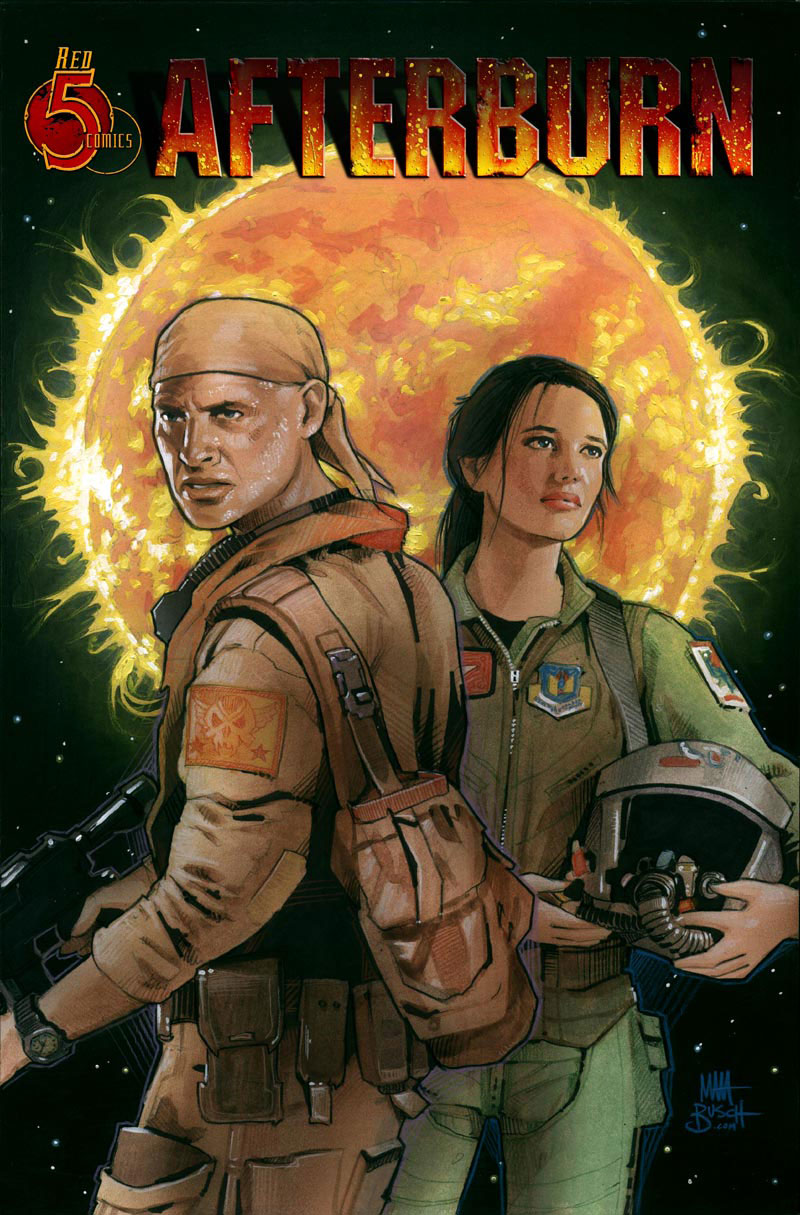 Afterburn
Superhero Hype says here that Matt Johnson will write the adaptation of the Red 5 Comics book into a 2010 film for Relativity Media. The story is of a postapocalyptic Earth whose Eastern Hemisphere was destroyed by a massive solar flare. What life remains has mutated from radiation and fallout. Now a group of treasure hunters seek such treasures as the Mona Lisa, the Rosetta Stone and the Crown Jewels while battling rival hunters, mutants and pirates.
---
Fleming
John Orloff has been hired by Leonardo DiCaprio's Appian Way to write the screenplay for the 2010 biographical film about Ian Fleming.
---
Remake/Sequel Mania
Other than the ones we've already talked about here are a few others: "The Thing Prequel" is still moving forward, "Ghost Rider 2" (w/Nicolas Cage) is happening, a "Predator" remake has been annouced and, of course the Lara Croft reboot. Original ideas anyone?
---
Comic Previews

Comics Continuum has posted preview pages of
Dark Tower Treachery #5,
---
The Stand: Captain Trips #5,
---
Irredeemable,
---
Uncanny X-Men #506,
---
Witchblade #124,
---
Wildcats #7,
---
Final Crisis #7,
---
& Archie Digest #251
---
---
---
---
---