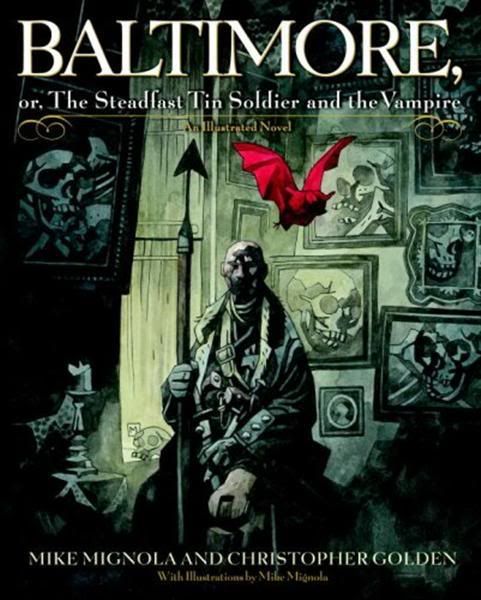 Baltimore, or the Steadfast Tin Soldier and the Vampire
Mike Mignola
has been talking about the movie adaptation of his vampire-themed graphic novel, which David Goyer is slated to direct, even though no shooting date has been settled upon. Migola said: "
We're taking it in a different direction. The book is very complex and involved and kind of a story-within-a-story thing, and I think we've come up with a way to streamline it so that it's filmable. . . . Right now the ball is in our court to sit down and write the new version of the screenplay. At this point it's just keeping the studio interested in it, because it's gone on for a while and we've gone in a couple of different directions with the screenplay. I've never been involved in anything like this. With
Hellboy
, it was entirely [
Guillermo] del Toro
doing these meetings and stuff. I've never been in this place, meeting with studios and meeting with directors and that kind of stuff, so I have no idea how the hell this kind of thing works.
"
---
Suck
The Hollywood Reporter
says here that Malcolm McDowell, Dave Foley, Moby, Iggy Pop, Alice Cooper, Carol Pope and Henry Rollins have all signed on to do writer/director Rob Stefaniuk's horror-comedy. It has nothing to do with Ben Ketai's 2007 vampire film of the same name. Described as a film about "
rock 'n' roll wannabes in search of fame and vampires.
" Shooting starts later this month in Toronto.
---
TV DVD News
TVShowsOnDVD.com
has posted info about "Swingtown" (Season 1) here, "Battlestar Galactica" (Season 4.0) here, "Phineas and Ferb" (Vol. 2) here, "Wizards of Waverly Place" (Vol. 2) here, "Night Gallery" (Season 2) here, "Mystery Science Theater 3000" (Vol. 14) here.
---
Kick-Ass
Mark Millar spent an hour chatting here on the "Wanted" website about this film. The material will be featured on a special edition DVD of "Wanted," but you can see it right now.
---
Supernatural
SciFi Wire
has posted here a ton of
spoilers
and promises that the show "
tells all
" about its mysteries. If you're a fan you should give it a look. (Includes video).
---
---
Comic Previews
Comics Continuum has posted preview pages of
Black Terror #1,
---
The Lone Ranger #15
,
---
Savage Dragon #140
,
---
Youngblood Vol. 1
,
---
I Kill Giants #5
,
---
Jack Staff #19
,
---
&
Bruce: The Little Blue Spruce
---
---
---
---
---