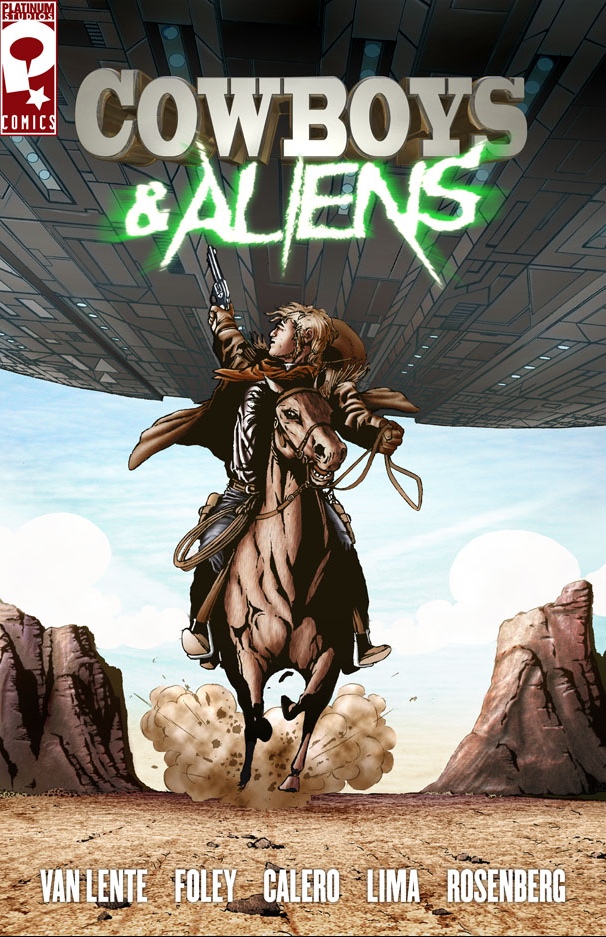 Cowboys and Aliens
The two writers of the unlikely adaptation talked to MTV over here. Hawk Ostby said: "
As far as we know, it's all a go. We're just hoping it does because it felt like the right time for this kind of film and I just want to see how we'll pull off all the cool stuff in it. It's ridiculous. It's one of those movies that every idea that you can come up with is actually something you can pull off these days. There's no reason to edit yourself.
" Originally Robert Downey Jr. was listed as the possible star, has that changed? Mark Fergus said: "
It's not an official thing, but I think what they're getting into now is a timetable for all these things. Probably in a little while we'll know for sure what's what.
" Ostby added: "
We finished our draft and it all seems to be a go in terms of casting. I think Robert's doing 'Sherlock' and 'Iron Man 2' next year, so that's thankfully someone else's problem to figure out how to make all that work, but the script is done...
"
---
War Heroes
After selling both "Wanted"and "Kick Ass" you wouldn't think Mark Millar could go for the trifecta, but Sony/Columbia bought Millar's "
War Heroes
" which isn't even done with its 6 issue run at
Image Comics
yet. Sony is looking for someone to adapt the comic, which has published only two issues so far.
---
TV DVD News
TVShowsOnDVD.com
has posted info about "The Doris Day Show" (Complete Series) here, "Family Affair" (Complete Series) here, "Son of the Beach" (Vol. 2) here, "Gimme a Break!" (Season 3) here, "Matlock" (Season 2) here, "The Powerpuff Girls" (Complete Series) here.
---
Blade Runner 2?
Peter from SlashFilm said here that he got an e-mail from someone who had attended a screening of "Eagle Eye" for Creative Screenwriting magazine. During the Q&A following the film Travis Wright said that he has been writing a sequel to "Blade Runner." The site says they confirmed with others in attendance that the report was correct. Warner Brothers said nothing official, so it appears that Wright and co-writer John Glenn are writing this entirely on their own without the studio being involved, but they have started contacting producers.
---
Marvel Movie Update
SPOILER ALERT!
DON'T READ ANYMORE IF THAT FREAKS YOU!
Paramount
has released updated release dates for their big movies coming from Marvel Studios over the next three years. It lookes like this:
"Iron Man 2" release date moved: From April 30, 2010 to May 7th, 2010
"Thor" release date moved:From June 4th, 2010 to July 16, 2010
"The First Avenger: Captain America" release date: May 6, 2011
"The Avengers" release date: July 15, 2011
BTW:
Variety says that Kenneth Branagh may direct "
Thor
," and the character of Dr. Donald Blake will not be included in the film.
---
---
Comic Previews
Comics Continuum has posted preview pages of
Anita Blake, Vampire Hunter: The Laughing Corpse #1,

---
Venom: Dark Origin #3
,
---
New Exiles #12
,
---
Marvel Apes #3
,
---
Eternals #5
,
---
Civil War: House of M #2
,
---
&
Cable #7
---
---
---
---
---