Watchmen
David Hayter
was interviewed by This Week In Geek, and here is a full transcription. He said: "
It was protecting the integrity of the project from all the different studios we took it to. I had it at four different studios and it would inevitably come down to the same notes, which were 'It's a six-person movie, can we make it about one person?' and 'We don't like all these flashbacks, can we get rid of these flashbacks?' Well, we're stretching over events that reach for 40 years, so we kind of need the flashbacks, and it's not about one person, it's about six people. So, I can write you a movie with no flashbacks and only one main character, but that's not Watchmen, that's a different thing, and you're gonna have to pay me again. So eventually, we would part ways with each successive studio as they lost their nerve to make that movie and what we knew. But the entire time, what it was really going to come down to was a super-hot director coming in off of a huge success so that he couldn't be messed with and somebody that was a huge fan of the comic book itself. And like a miracle from the sky, '
300
' comes out, opens to $70 million in March, of all months, and suddenly,
Zack Snyder
is this huge director and he's a massive fan of the material. He came in and was really our white knight. He got it made the way it needed to be made.
"
---
Potter Prequel
J.K. Rowling
has answered a charity auction group in the UK to write a short story to be auctioned. She has surprised everyone by announcing that she will write a prequel to the world of Harry Potter. It is just 800 words long and was penned in the last month and written on a number of A5 size story board cards. The prequel will not be published. Philip Errington, Sotherby's auction house specialist, said: "
There is just no telling how high the bidding might go. Given the enormous interest we have seen in recent times for autograph work by JK Rowling, the prospects for her storycard are good to say the least.
" Sotherby's will auction the 13-card short story on June 10. Rowling, who has earned a more than $1.2 billion from the seven Potter stories, insists that this latest instalment will not be developed further. At the end of the story, written on both sides of an A5 storycard, she writes: "
From the prequel I am not working on - but that was fun!
"
---
TV DVD News
TVShowsOnDVD.com
has posted info about "Afro Samurai" (Mini-Series) here, "That Girl" (Season 4) here, "M.A.N.T.I.S." (Complete Series) here, "Beetlejuice" (Remastered film include cartoons) here, "Will & Grace" (Season 8) here, "The Hudson Brothers Razzle Dazzle Show" (Complete Series) here, and "Pushing Daisies" (Season 1) here.
---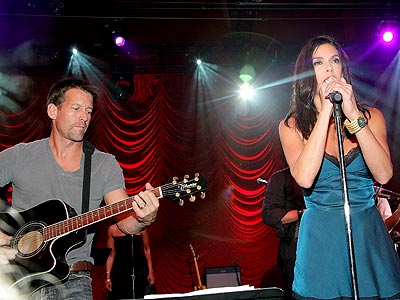 Band From TV
"Heroes" actor Greg Grunberg has been offered work by Ricky Gervais - but wants the British funnyman to join band. Grunberg, "House, M.D." star Hugh Laurie and "Desperate Housewives" performers James Denton and Teri Hatcher to form Band From TV. Grunberg says that he will make a guest appearance on Gervais' hit TV show Extras, if Gervais will return the favour. He says: "

Ricky's always asking me to do stuff. But I want him in my celeb band.

"
---
Beverly Hills Cop 4
Variety
reports that Eddie Murphy will return as Axel Foley from "Beverly Hills Cop." Brett Ratner is set to direct the film that will be shot next year in time for a 2010 release.
---
---
Comic Previews
Comics Continuum has posted preview pages of
Ray Harryhausen Presents:
Jason and the Argonauts: Kingdom of Hades #4,

---
Insane Jane #3
,
---
Ray Harryhausen Presents:
Flying Saucers vs. The Earth #2,
---
Ray Harryhausen Presents:
Sinbad, Rogue of Mars #3,
---
Jughead #189
,
---
Sonic X #33
,
---
&
Jughead & Friends Digest #28
---
---
---
---
---