Y: The Last Man
Shia LeBeouf
said here at Comingsoon.net about the possibility of playing Yorick Brown for director DJ Caruso: "
Yeah, we've been talking about it. 'Y: The Last Man' is cool. I don't know when I would do that though or how I would fit it in. It would be kind of ridiculous to keep doing the same deal over and over. 'Y: The Last Man' is kind of similar to some things. We're both huge fans of that comic book.
"
---
Transformers 2
Michael Bay
is preparing the sequel, strike be damned, or so he told Variety in their story here: "
We knew from early on that the writers strike could get ugly, and this has got to bring a little sanity to the situation.
I can't do the movie without my writers, but I have been prepping. I'm not in the guild, but I've been writing every day. This strike (is) insane, and a director's responsibility is to the 50 crew members who depend on you for their livelihoods. We've got battle plans ready for the possibility of an actors strike. Somehow, you've got to keep the ball rolling.
"
---
TV DVD News
TVShowsOnDVD.com
has posted info about "The Waltons" (Season 7) here, "Are You Afraid of The Dark?" (5th Season) here, "Oban Star-Racers" (Vol. 1) here & here, "Justice League" (New Frontier HD) here, "Comanche Moon" (mini-series) here, "American Dad" (Vol. 3) here and "Mystery Science Theater 3000" (Vol. 10.2) here.
---
Strike News
The biggest news today is that according to this story in Rueters, the Alliance of Motion Picture and Television Producers has asked the Writers Guild of America back to the negotiating table for informal talks. This after the Directors Guild of America and the AMPTP signed a 3-year pact that raised directors' residuals for shows sold on the Internet. DGA President Michael Apted said: "
This was a very difficult negotiation that required real give-and-take on both sides.
" Alliance President Nick Counter said: "
Both parties were determined to focus on the core issues that are most important to all of us.
" The agreement was that the studios and production companies will pay a residual of about $600 whenever ads are sold on a one-hour program that is streamed over the Internet for more than 17 days. More payments are spelled out for programs that are streamed for more than 26 weeks. This deal also doubles the residual rate for paid downloads of TV shows and movies, based on distributors' grosses, after the first 100,000 downloads (50,000 in the case of feature films), and also calls for doubling the residual rate on DVDs. Writers Guild of America West President Patric Verrone said about the deal: "
I don't want to prejudge it.
" Doug Allen, executive director of the Screen Actors Guild said: "
I have only seen a press release and want to see more specifics.
"
ALSO:
CBS has trimmed its development slate by 20 projects, most of them dramas. CBS said: "
Due to the ongoing writers strike, our development needs for the upcoming pilot season have changed, and we have released some comedy and drama scripts. This year's pilot season, at best, will be played out in a very compressed time frame. In this landscape, we are better served creatively, financially and strategically by focusing our development on a more targeted number of projects.
" Other networks declined comment or were unavailable for comment. This comes on the heels of the termination of about 70 overall deals by the five major TV studios.
---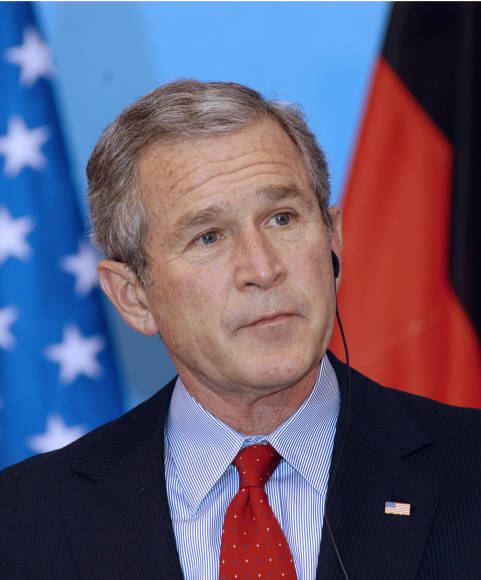 Bush
Oliver Stone
will film a biography of U.S. President George W. Bush, with Josh Brolin to play the sitting president. Stanley Weiser has written the screenplay and Moritz Borman will produce. Variety reports that they hope to begin shooting by April in time for a November or January release. Stone says: "
Bush will be a behind-the-scenes approach, similar to Nixon, to give a sense of what it's like to be in his skin. I'm a dramatist who is interested in people, and I have empathy for Bush as a human being, much the same as I did for Castro, Nixon, Jim Morrison, Jim Garrison and Alexander the Great. I want a fair, true portrait of the man. How did Bush go from an alcoholic bum to the most powerful figure in the world? It's like Frank Capra territory on one hand, but I'll also cover the demons in his private life, his bouts with his dad and his conversion to Christianity, which explains a lot of where he is coming from. It includes his belief that God personally chose him to be president of the United States, and his coming into his own with the stunning, preemptive attack on Iraq. It will contain surprises for Bush supporters and his detractors.
"
---
---
Comic Previews
Comics Continuum has posted preview pages of
Penance: Relentless #4,

---
Amazing Spider-Girl #16
,
---
Ultimates 3 #2
,
---
World War Hulk Aftersmash: Warbound #2
,
---
&
Wolverine: Origins #21
---
---
---
---