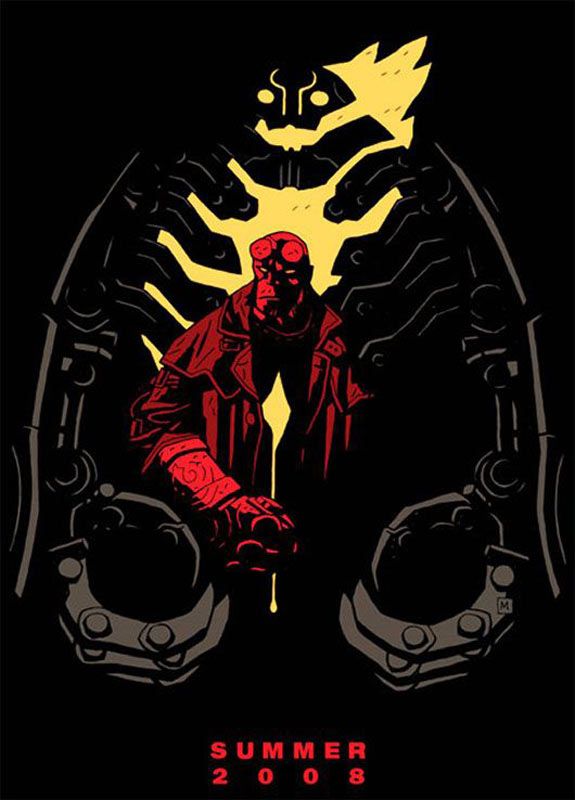 Hellboy: The Golden Army
Doug Jones
spoke to IF Magazine in this article and said: "
The third movie was talked about the entire time. In fact,
Guillermo
has been talking about 'Hellboy 1, 2, and 3' since we were filming 'Hellboy'. He said he had three 'Hellboy' movies in him then. Now, as the footage was being edited and put together and the studio was getting more and more excited about what they were seeing, now we're all excited for 'Hellboy 4, 5, and 6' even! If it can keep going why not? I can't speak for everyone, but I did here lots of speculation about how long this can go. It's very exciting. So we don't want to put limits on it if we can help it.
"
---
Marvel Zombies
Shock Til You Drop
says in a story they posted here that Marvel has a "Marvel Zombies" direct-to-DVD feature in development. "
Marvel Zombies
" started as a mini-series that featured "
zombified
" versions of superheroes. It happens in an alternate universe and has recently introduced Ash (from the "Evil Dead" franchise). The fans once again beat the big guys to the idea, as you can see in this online film posted here.
---
TV DVD News
TVShowsOnDVD.com
has posted info about "Fat Albert and the Cosby Kids" (Vol. 1) here, "Degrassi: The Next Generation" (6th Season) here, "Saturday Night Live" (The 80's) here, "Hell's Kitchen" (Season 1) here, "Bionic Woman" (Vol. 1) here, "The Drak Pack" (Delay) here and "Crossing Jordan" (Season 1) here.
---
Strike News
Michael Ausiello
said, in his column at TV Guide: "
Nothing's official, but the buzz is that a tentative agreement has been reached, with an announcement coming as early as tomorrow. But it's hard to tell what's solid intel and what's just spin. To wit: In the past 24 hours, one source close to the negotiations insisted that talk of a resolution was way premature. 'There's no deal,' maintained my spy. 'That's just misinformation put out by the AMPTP to pressure the WGA.' But moments before I put this column to bed, I heard from another very plugged-in source that the deal is done. Short story shorter: There's cause for optimism, but not celebration. Yet.
"
---
A Nightmare on Elm Street
New Line
is negotiating with Platinum Dunes to re-begin the "
A Nightmare on Elm Street
" franchise. Partners Michael Bay, Brad Fuller and Andrew Form will produce. A writer will be hired after the strike.
---
---
Comic Previews
Comics Continuum has posted preview pages of
House of M: Avengers #4,

---
Marvel Adventures Fantastic Four #32
,
---
Mighty Avengers #8
,
---
Red Prophet: The Tales of Alvin Maker #12
,
---
&
Ultimate Spider-Man #118
---
---
---
---