Serenity 2
Alan Tudyk
told Moviehole. in this story (from a phone conversation) that the studio had to produce more of the new "Serenity" dvd when they ran out, and that a sequel is very possible. Tudyk said: "
They had to put [the new DVD] out because they've been selling out of the other one and so Universal's like 'So, let's do another one.' And now . . . there's now a chance there's going to be another movie.
" Even if the sequel is a direct-to-DVD movie, there is no shame in that since the whole DVD sequel is a big trend."
It really is!
" he says, "
Everybody in the Firefly crew - - and that includes the ones who died in the movie - - are excited about the prospect of doing another.
" Speaking of Nathan Fillion, Tudyk said: "
We were out a couple of weeks ago together at a party and there was a bunch of people there, and he was like 'Oh, look we're Browncoats.'
"
---
Fragile
This story
in Variety reports that Eduardo Rodriguez is directing the movie adaptation of the Stephano Raffaele graphic novel. Rodriguez says: "
'Fragile' gives me the opportunity to explore the horror we're used to in the genre but set in a unique post-apocalyptic world where zombies aren't the monsters anymore.
"
---
Sweeney Todd: The Demon Barber of Fleet Street
A trailer for the film is now up here.
---
TV DVD News
TVShowsOnDVD.com
has posted info about "Denver, the Last Dinosaur" (Limited Run) here, "Gunsmoke" (Season 2, Vol. 1) here, "Hawaii Five-O" (Season 3) here, "The Odd Couple" (Season 3) here and
"Sabrina, the Teenage Witch" (Season 3) here, "The Charlie Brown/Peanuts Specials" (Remastered) here and "The Six Million Dollar Man" (Finally?) here.
---
House, M.D.
Kal Penn
, Olivia Wilde and Peter Jacobson have signed on as House regulars. Season four of Fox's hit medical drama began with House being coerced into hiring a new staff to replace Foreman (Omar Epps), Chase (Jesse Spencer) and Cameron (Jennifer Morrison). Penn told Entertainment Weekly's Website his alter ego is "
a fan of trying random methods of exploration and life saving.
" He went on: "
When you start out on a show, nerves can run high, but with House, everyone was so welcoming, I felt like part of the family. Psyched does not even begin to describe it. Awesomeness and thankfulness probably.
" How House arrives at his decision is still unknown, even to him. The Hollywood Reporter says that the script for the hiring episode is being passed out this week. Producers had originally planned to hire two new players fulltime, but instead decided on three. Carmen Argenziano has also been cast as House's "Assistant."
---
Jericho
TV Guide
printed here that Carol Barbee, executive producer of "
Jericho
," said that she shot an alternate ending to the upcoming second season that will wrap up the show in the event it isn't picked up for a third season. She said:
"
The ending that we planned was always meant to be a payoff for the seven-episode arc. It won't close off the whole story, but it will show you where we would go in a third season. It gives you a huge mythology so that you understand so much about what has happened. We [left] on the brink of war with New Bern. The government has broken up into factions, and there are several people claiming to be the legitimate government. One of them is in Cheyenne, Wyo., so the Cheyenne government comes to town. They're there to stop the war with New Bern, but they're also there for a secret agenda.
"
---
---
Mike Fright: Stand Up!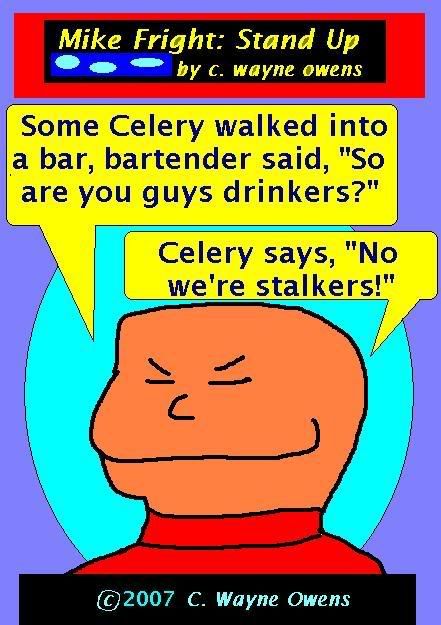 #686
Check Out: The Mike Fright Site!
---
Vishnu's Snooze Alarm
When Vishnu wakes, the world ceases to be. Here is a set of off-the-board stories to sample while you wait for the alarm to go off again. There are possessed shopping malls, vampire industrialists, urban golems, soul vampires and unlucky therapists within these pages. Enter with caution.
---
---
Comic Previews
Comics Continuum has posted preview pages of
Infinity Inc. #2,

---
Lobster Johnson: The Iron Prometheus #2
,
---
Deadlanders #1
,
---
Witchblade #110
,
---
Bomb Queen IV #2
,
---
&
Strange Girl #18
---
---
---
---