The Incredible Hulk
Mania Movies
says here (
Warning! Spoilers!
) that the first scene in the Green Goliath's film is rather intese and includes the debut of the Hulk right out of the box. Robert Sanchez says at IESB. that those sequences, along with other action scenes are filming this month in Hamilton, Ontario.
Plot Spoilers
: "
Banner is in Brazil working at a bottling plant staying under the radar in hiding. Living a quite, invisible, life Banner is searching for exotic flowers that he believes will help destroy the gamma radiation in his blood to end the struggle he's lived with for the past 5 years. He tries desperately to always remain calm through the use of mediation and a pulse monitor.
" There is more here. "
The Incredible Hulk
" smashes box offices starting June 13, 2008.
---
The Queen
Sequel
Empire Movies
says here that Peter Morgan is beginning to write a sequel to "
The Queen.
" The story will follow the further relationship between prime minister Tony Blair and presidents Bill Clinton and George W. Bush. The film will focus on Blair's reaction to the transition of power between Clinton and Bush. Michael Sheen is expected to play Blair once again. Morgan is doing the research the project and plans the writing to start by the end of the year.
---
Near Dark
The Hollywood Reporter
says that Rogue Pictures is talking to Sam Bayer about directing their remake of 1987's "Near Dark." Christopher Landon writing the script.
---
TV DVD News
TVShowsOnDVD.com
has posted info about "SeaQuest DSV" (Season 2) here and here, "C.S.I.: Miami" (Season 5) here, "C.S.I." (Season 7) here, "Avatar: The Last Airbender" (Bk 3, Vol. 2) here and "Hawaii Five-O" (Season 3) here, "The Odd Couple" (Season 3) here, "Kung Fu" (Complete Series) here, "Gilligan's Island" (Complete Series) here and "Wonder Woman" (Complete Series) here.
---
Trouble At Mill
The Hollywood Reporter
has announced here that Nick Park is bringing Wallace and Gromit back to the small screen in "
Trouble At Mill.
" The half-hour featurette should be ready next fall for screening on the UK's BBC1, but no word yet if it will compete for short subject Academy Award recognition. Fans can can find out more at Aardman's official Wallace & Gromit website.
---
Dual DVD Disc Delayed
Samsung
's dual-format player (capable of playing either Blu-ray or HD DVD discs) will not show up this month, but rather in December. LG, also a Korean firm, is the only company at this time manufacturing and marketing a dual-format player, but that system costs enough that it is cheaper to by the two different players.
---
---
Mike Fright: Stand Up!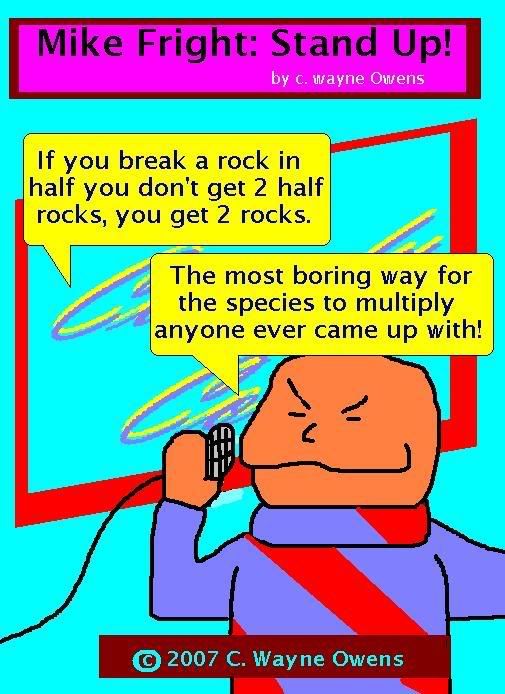 #681
Check Out: The Mike Fright Site!
---
Vishnu's Snooze Alarm
When Vishnu wakes, the world ceases to be. Here is a set of off-the-board stories to sample while you wait for the alarm to go off again. There are possessed shopping malls, vampire industrialists, urban golems, soul vampires and unlucky therapists within these pages. Enter with caution.
---
---
Comic Previews
Comics Continuum has posted preview pages of
Mighty Avengers #5,
---
Amazing Spider-Girl #13
,
---
Highlander #11
,
---
Army of Darkness: From the Ashes #2
,
---
&
Terminator 2: Infinity #3
---
---
---
---