Heroes
TV Guide
confirmed in this article that Nichelle Nichols joins the cast in a recurring character named "
Nana
." She will portray the New Orleans-based grandmother of another new character named Monica (played by Dana Davis). BTW: Here is an interview with Masi Oka from YouTube.
---
Isle of the Dead
The Hollywood Reporter
is reporting that RKO Productions is planning a remake of the 1945 film, "
Isle of the Dead
.
" Brian Horiuchi and Matt Lazarus will write the screenplay that moves the story from a Greek island during the first Balkan War (1912-1913) to Afghanistan.
---
The Black Panther
John Singleton
, while still refusing to comment on if he'll do "Luke Cage" or "
The Black Panther
" first, has suggested that he would like Chiwetel Ejiofor to play the King of Wakanda. The Browncoats might take offense at the offhand remark thrown by "
Thomas
" from ReelzChannel: "
Ejiofor has the pedigree as well as the acting chops to handle the Panther role. And anyone who's seen Serenity (all seven of you) knows he can handle action. Just ask the browncoats.
"
---
Escape From New York
Len Wiseman
is in final talks to direct a remake of John Carpenter's "Escape From New York" for New Line. Variety reports that the new film will star Gerard Butler and have a screenplay by Ken Nolan.
---
The Unforgettable
Tarsem Singh
has been tapped to direct "
The Unforgettable
," for Warner Brothers Pictures. The film, originally titled Species X, centers on a cop who realizes that he is not human and uncovers a war between aliens. Based on the Warner Brothers Interactive Entertainment video game The Condemned: Criminal Origins, the script will be by Kurt Sutter.
---
---
Mike Fright: Stand Up!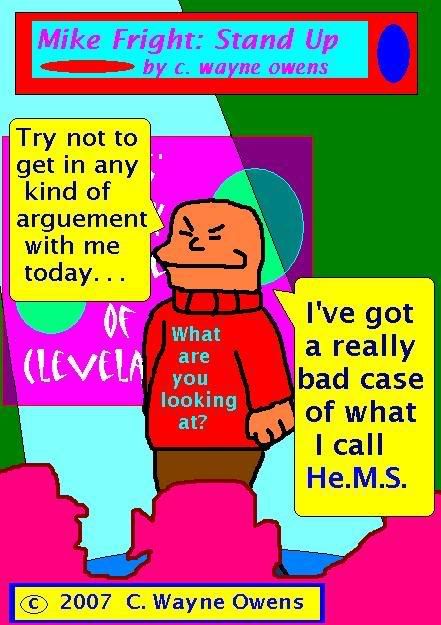 #631
Check Out: The Mike Fright Site!
---
The Hacksaw, the Rose & the Parthenon Parrot
Sebastian Claus was known as an authority on supernatural activity, but, this was something neither he nor his extraordinary team had ever encountered:
a book whose owners all died at the hands of fictional characters.
Even when Paranormal P.I. Harriett Dante was brought into the case,
nobody was aware of just how bizarre this was going to get.
And if they couldn't solve the riddle, the world would end in fire!
---
---
Comic Previews
Comics Continuum has posted preview pages of
Wolverine: Origins #16,

---
Ultimate Spider-Man #112
,
---
Marvel Illustrated: Treasure Island #3
,
---
Terror, Inc. #1
,
---
Super-Villain Team-Up/M.O.D.O.K.'s 11
,
---
Sub-Mariner #3
,
---
Spider-Man Family #4
,
---
&
Red Prophet: The Tales of Alvin Maker #10
---
---
---
---