Doctor Strange
"Doctor Strange" has just been released on DVD, and now there are rumors that a live action version was being talked about by Marvel Studios. Robert Sanchez at IESB says that there may be a completed script ready.
---
Awaken the Dragon
"Enter the Dragon," is being remade by Warner Brothers, where it will be called "
Awaken the Dragon
." The film will be written and directed by Kurt Sutter, but there is no news on casting choices, budget or shooting schedule.
---

Colm Meaney is in final talks to co-star opposite Jason O'Mara in the David E. Kelley drama pilot for ABC. It is based on the BBC sf series about a detective who is transported back to 1972 after his girlfriend is kidnapped.Meaney will play Detective Hunt, the head of the homicide unit in 1972 who clashes with Sam.
---
24
The seventh season of "
24
" is facing yet another production setback.
The show was scheduled to start filming August 27, but that has been pushed back to September 10 so that the writers can complete enough scripts for the new plot. Production first set to begin in late July-early August, but the original set-in-Africa story line was dropped, and they had to start all over again.
---
Fantastic Voyage
Variety
reports that Roland Emmerich will be the director of a remake of "Fantastic Voyage" at 20th Century Fox. Marianne and Cormac Wibberley are writing the script.
---
---
Mike Fright: Stand Up!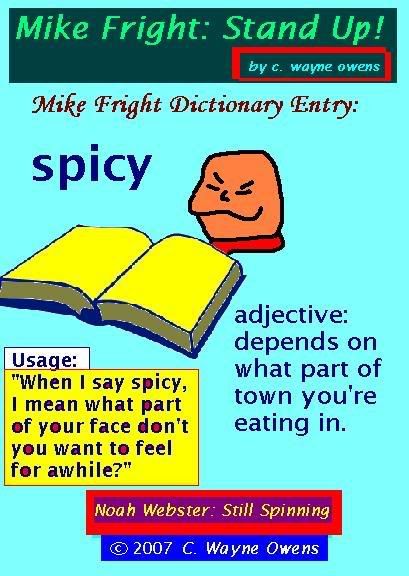 #635
Check Out: The Mike Fright Site!
---
The Hacksaw, the Rose & the Parthenon Parrot
Sebastian Claus was known as an authority on supernatural activity, but, this was something neither he nor his extraordinary team had ever encountered:
a book whose owners all died at the hands of fictional characters.
Even when Paranormal P.I. Harriett Dante was brought into the case,
nobody was aware of just how bizarre this was going to get.
And if they don't solve the riddle, the world will end in fire!
---
---
Comic Previews
Comics Continuum has posted preview pages of
Annihilation: Conquest -- Quasar #2,
---
New X-Men #41
,
---
Marvel Adventures Hulk #2
,
---
Friendly Neighborhood Spider-Man #23
,
---
&
Captain America #29
---
---
---
---