Supergirl Hits
Smallville
People Magazine
revealed here that Laura Vandervoort will be playing Kara, who is cousin to Kal-el.
---
Cougars in the "
24
" Feature?
Elisha Cuthbert
has been talking about the film version of the TV show "
24
," but she wants a bigger part. She said: "
There's definitely room for (a movie). But it depends on whether or not Kiefer can take it any more! The poor guy's been hacking away at Jack Bauer for years. If he's into it, it'll be great, because everything he does is awesome. People love to watch my character Kim, but she's also a bit of a spanner in the works and I wouldn't want her to be that. Three years ago I wanted her to be Jack's partner and kick a**, but to the producers it was like, 'We've got to be realistic about this.' But if the movie comes round and it works to have her there, then I'd love to play her again.
"
---
Online Radio
Slice of SciFi
has posted an article here about the Congressional Hearings that seem to save Web Radio.
---
Looney Tunes Golden Collection 5
Warner Brothers has announced the upcoming release of the fifth volume of the Looney Tunes Golden Collection. The set will be released on 10/30/07. Here is the breakdown of the discs:
* Disc 1: Bugs Bunny and Daffy Duck
* Disc 2: Fairy tales
* Disc 3: Bob Clampett
* Disc 4: Porky Pig & other classics
The SRP is $64.92. While not all of the special features have been announced, but one is "
Chuck Jones: Extremes and In-Betweens, A Life in Animation
", a 2000 PBS documentary.
---
Criminal Minds
E!
reports that Mandy Patinkin didn't show up for the table read (an initial run-through of the script) for CBS' "
Criminal Minds
." There have been rumors of friction between Patinkin and producers since last summer. This episode had been written featuring few scenes with Patinkin, a possible foreshadowing that the show is preparing for a possible future without him.
---
---
Mike Fright: Stand Up!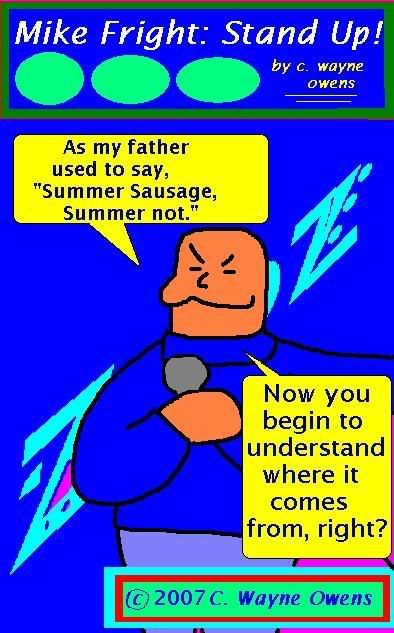 #600
Check Out: The Mike Fright Site!
---
The Inheritors
What if you always dreamed of becoming a superhero? What if, instead of that dream coming true, you found you had gained the power to make other people superpowerful? And what if dark forces and monied interests wanted you to work for them, at any cost? On top of that, what if you were just a kid?
---
---
Comic Previews
Comics Continuum has posted preview pages of
Spider-Man Loves Mary Jane #20,

---
New Excalibur #21
,
---
Nova #4
,
---
Omega Flight #4
,
---
Ultimate X-Men #84
,
---
&
X-Factor #21
,
---
---
---
---