Silver Surfer
Avi Arad
spoke to MSN and confirmed that a number of upcoming projects will be filmed in Australia because of their talented film crews and the proximity of so many special effects houses. He confirmed that he will be filming "
Silver Surfer
" for those reasons. He also said that an Australian born director will direct the project. The entire article is here.
---
Yes Man
Jim Carrey
will star in "
Yes Man
," about a guy who wants to change his life by saying yes to everything. Peyton Reed is the director. Production of the film, based on the book by Danny Wallace, will start in October.
---
TV DVD News
TVShowsOnDVD.com
has posted info on "Doctor Who" (Season 3) here, "Stargate Atlantis" (Season 3) here, "Voyage to the Bottom of the Sea" (Season 3, Vol. 2) here, "Torchwood" (Dr. Who spin-off) here, "The Simpsons" (Season 10) here, "How I Met Your Mother" (Season 2) here, "Stargate SG-1" (Season 10) here, "King Kong" (Animated Vol. 3) here and the "Godzilla Power Hour" (Vol. 3) here.
---
Nine Mile Falls
Microsoft co-founder Paul Allen's production company has picked up the rights to Deb Caletti's five-book series for young adults "
Nine Mile Falls.
" The Seattle-based Vulcan Prods. will turn the novels into a series of TV films, but has yet to sign a deal with any network for co-producing the films. The stories follow the challenges of 16- to 19-year-old girls in the fictional town of Nine Mile Falls. Richard Hutton, Vulcan Vice President of media development, said: "
They are tough, smart young women navigating the minefield of growing up
."
---
Sylar as Spock?
The E! Online column Watch With Kristin reports an oft heard rumor that "Heroes" Sylar Zachary Quinto is a signature away from playing Spock in the J.J. Abrams "Star Trek" film. Abrams and his team have declined comment on casting or storylines, but Paramount is expected to be unveiling details about the movie at Comic-Con International in San Diego on July 26.
---
---
Mike Fright: Stand Up!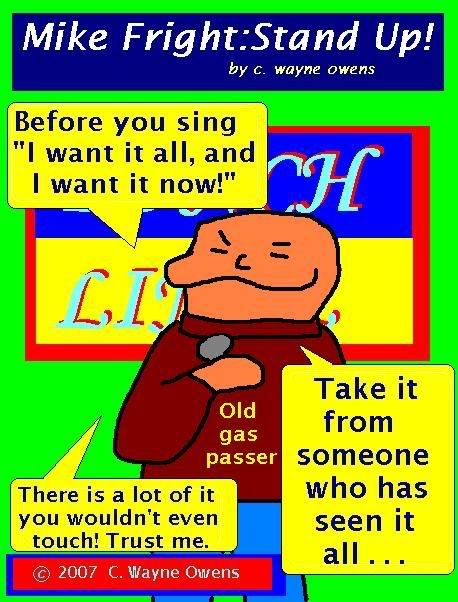 #610
Check Out: The Mike Fright Site!
---
The Long Summers of the Setonville Murders
Hannibal Agamemnon is just a small town sheriff. He was going to be a lawyer, but he was drawn back to the little town he came from and they made him sheriff. Ten years ago, a series of vicious child murders grabbed the national headlines and brought the FBI into quiet little Setonville. The murders were never solved, and after a while things died down. Hannibal retired, and he and his wife were happy. And now it is all starting again.
---
---
Comic Previews
Comics Continuum has posted preview pages of
Mighty Avengers #4,

---
Spider-Man Fairy Tales #3
,
---
Annihilation: Conquest -- Star-Lord #1
,
---
Ultimate Fantastic Four #44
,
---
Wolverine #55
,
---
&
X-Men #201
,
---
---
---
---