Jericho
Carol Barbee
, executive producer of the CBS show "
Jericho
," says that the writers have condensed a 22-episode arc down to seven episodes when the show was brought back from cancellation. Nina Tassler, president of CBS Entertainment, has admitted to reporters that the network contributed to Jericho's ratings decline by taking it off the air for a months-long hiatus in the middle of its first season. She said: "
In hindsight, maybe it wasn't good for the show. I think it may have had an impact, which is why we reconsidered and are putting the show on in midseason. We said, 'Look, maybe that did have an impact.'
" Tassler said that "
Jericho
" had struck a chord, which she recognized when she heard from strangers, including a clerk at a camera store and even her physician, who gave her a bag of peanuts during a checkup. Tassler said: "
We've really said to the fans, who have been incredibly loyal and incredibly devoted, 'You have got to be our 'Jericho Rangers.' You've got to recruit more viewers'. And, so far, it looks like that's what we're going to do.
" Jericho will return midseason next year. Barbee said: "
The story we pitched to them for season two was going to take place in three different locations - - Jericho, this new Cheyenne government, and coming from New York, which survived. When we got the short order, we said, 'OK. We'll focus on Jericho.' So we're telling that story, and, yes, we're still burning through more story than we would normally, because it would have been a 22-episode arc, and now it's seven, but I think that's going to be very satisfying to the fans, because it's going to go like that.
"
Skeet Ulrich
said: "
What you see now in one episode, ideally, would have taken two or three to develop, and that's just the nature of how we're going to have to work for a little bit. So it's going to be interesting. But the script [for the first episode] still, in itself, stands on its own, and it's really compelling. And as the arcs were laid out to me, the seventh will blow away the 22nd in terms of cliffhangers.
" Barbee gave some
!!
about the second-season premiere paying off the cliffhangers set up by the end of the season-one finale, that includes the clash between the town of Jericho and its neighbor, New Bern. Carol Barbee said: "
We [left] them with the new government from Cheyenne, Wyo., coming in to stop the battle between New Bern and Jericho. And when we start season two, that Cheyenne government is here, and they're helping us rebuild. There are revenge killings going on between Jericho and New Bern. There's still problems there. They're sort of like warring tribes a little bit, but there's this occupying force that's trying to bring stability to the area. And then that becomes the new [question]. Are these guys good or are these guys bad? What does it feel like to be the people who are having to be held apart and be sort of occupied? This is their government, it's not this foreign occupation, but it's somebody coming in and saying, 'Hold on,' and, 'I'm going to tell you what to do for a little while until you can calm down and we can make this work.'
"
---
The Green Hornet
Seth Rogen
and his writing partner, Evan Goldberg, are in final talks to take over co-writing and co-executive-producing "
The Green Hornet
" for Columbia Pictures. After having been through a number of good hands (including Kevin Smith) the project will also slate Rogen to star as the radio then serial then comic book then TV crime-fighting hero. Some sources think this will take the hero into more "
comedic
" grounds. We must pray this is not the case.
---
TV DVD News
TVShowsOnDVD.com
has stories on "Magnum, P.I." (Season 7) here, "Full House" (Full series) here, "Heroes" (HD release) here, "Alfred Hitchcock Presents" (Season 3) here and "Gilmore Girls" (Complete series & season 7) here.
---
Guerrilla
Benicio del Toro
playing Argentine revolutionary Ernesto "Che" Guevara in the Steve Soderbergh film "
Guerrilla
." The Spainish-United States co-production is to be filmed entirely in Spanish. This will be the second biography about the famous Argentine guerrilla in recent years following 2004's "The Motorcycle Diaries."
---
Emmy Nominations
In case you missed them, here is the official place to download (in PDF, HTML or WORD) a complete list of the primetime nominations.
---
---
Mike Fright: Stand Up!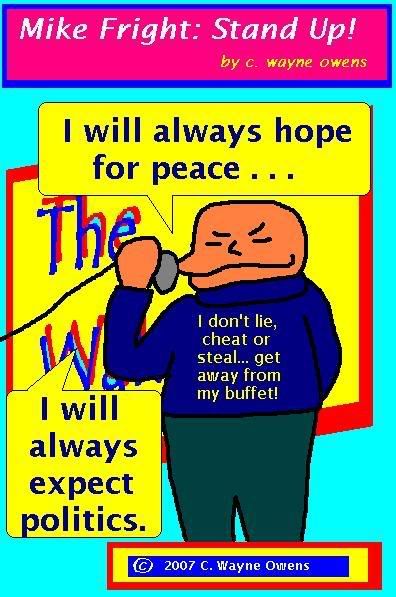 #607
Check Out: The Mike Fright Site!
---
The Long Summers of the Setonville Murders
Hannibal Agamemnon is just a small town sheriff. He was going to be a lawyer, but he was drawn back to the little town he came from and they made him sheriff. Ten years ago, a series of vicious child murders grabbed the national headlines and brought the FBI into quiet little Setonville. The murders were never solved, and after a while things died down. Hannibal retired, and he and his wife were happy. And now it is all starting again.
---
---
Comic Previews
Comics Continuum has posted preview pages of
Witchblade #109,

---
Unholy Union #1
,
---
Punisher War Journal #10
,
---
Star Wars: Rebellion #9
,
---
Astronaut Dad #1
,
---
Uncanny X-Men #489
,
---
&
X-Factor #22
,
---
---
---
---