The Dark Knight
Lots of stuff on the Bat Front. First Maggie Gyllenhaal said here in The Guardian: "
Doing 'Batman' has shocked me at every turn. When I started, I thought, 'Well, it's a huge movie, I'll just do my best to put what I can into it.' But, in fact, they've been really hungry for my ideas, for my views. It's great! They've been asking for more!
" Next, CBR News says here that Anthony Michael Hall will be among a number of foes for the World's Greatest Detective. Here they have an exclusive set report complete with photos of Lt. Jim Gordon. Finally, Batman-On-Film has a scooper reporting here on filming with Christian Bale in costume and an appearance of the Gotham City PD SWAT team.
---
Brotherhood of the Rose
Warner Brothers
has picked up the rights to do a theatrical feature based on the David Morrell CIA novel. There was a 1989 mini series that starred Robert Mitchum & Peter Strauss about these two orphan brothers (Romulus and Remus) raised to be assassins. When the two brothers find themselves targets the real fireworks begin.
---
Black Water Transit
Aisha Tyler
will play a police detective in post-Katrina New Orleans tracking down a man trying to free his junkie son from prison. "
Black Water Transit
" stars Laurence Fishburne and Karl Urban and is to be directed by Tony Kaye.
---
Harry Potter and the Order of the Phoenix
The New York Post
reports that if you see the film in IMAX theaters you will see the last 20 minutes of the in 3-D. Veronika Kwan-Rubinek of Warner Brothers International says that the process: "
is similar to the one used in IMAX screenings of last year's
Superman Returns
and requires a painstaking frame-by-frame conversion.
" Also: Sci-Fi Wire says here that film makers dropped a character from the upcoming movie, but the author showed them the error of their thinking.
---
Personal Injury
Dustin Hoffman
is set to direct, star, produce and co-write "
Personal Injury,
" which is based on a book by Scott Turow. The story follows a womanizing, multi-million dollar personal injury lawyer caught offering bribes. Now forced to wear a wire he throws his friends, his enemies, his city and a particular FBI agent into a crisis of conscience and law. The movie will open by next June, unless the threatened strike by the Writers Guild delays production.
---
---
Mike Fright: Stand Up!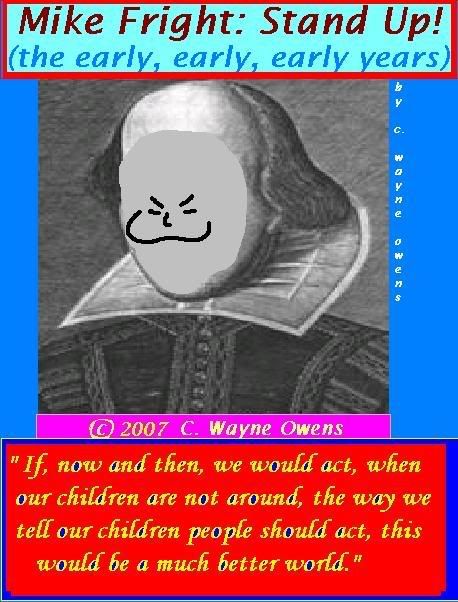 #595
Check Out: The Mike Fright Site!
---
The Inheritors
What if you always dreamed of becoming a superhero? What if, instead of that dream coming true, you found you had gained the power to make other people superpowerful? And what if dark forces and monied interests wanted you to work for them, at any cost? On top of that, what if you were just a kid?
---
---
Comic Previews
Comics Continuum has posted preview pages of
Star Wars: Legacy #14,
---
Champions #39
,
---
Liberty Comics #2
,
---
The Transformers Spotlight: Galvatron
,
---
Annihilation: Conquest -- Star-Lord #1
,
---
&
Archie & Friends #111
,
---
---
---
---